---
Greece 2002
---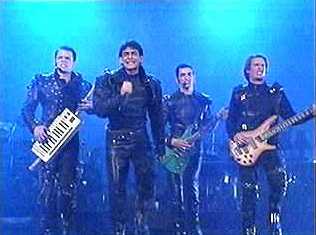 Michalis Rakintzis will perform his own composition S.A.G.A.P.O. in Tallinn
The show was broadcast on ERT Sat (Hotbird satellite), but delayed, and thanks to mistiming by ERT we got to see the news programme with the result before we saw the contest!
Some terrible songs in here, perhaps cruel to single out any, but "Pension Sweet Home" had really bad English lyrics about somebody learning English. However songs 5 & 6 were good.
Of the winning song, Sagapo, well if you like Depeche Mode or Gary Numan you might like this faint copy. There's a Depeche Mode club in Tallinn, so a good place for any Greek party, I think.
The songs of the Greek Final 2002 broadcast 26 February:
Song No.

Title

Music & Lyrics

Performer

1

Let Me Be The One

Kostas Bigalis

Kostas Bigalis& Mirella Fragkopoulou

2

Tu non c'eri qui (You Were Not There)

Haralampos Persidis

Veroniki Bielitsa

3

Pension Sweet Home

Hristos Konstantinidis & Panagiotis Kalkos

Yiannis Kokkinos, Flora Theodorou, Ermioni Komninou, & Tolis Kokkinis

4

Proti fthinoporini vrohi (The First Autumn Rain)

Christos Yiannopoulos

Christos Yiannopoulos

5

Yia na maste mazi/To Be Together

Nikos Terzis & Antonis Pappas

Maria-Louisa (MLV) & Not 4 Sale

6

Love Is A Wonderful Thing

Thanos Kalliris

Pegky Zina

7

Beautiful Life / Omorfi zoi

Konstantinos Cheleste Papakonstantinou & Hro Trugoni

Elina Konstantopoulou & Marian Yeorgiou

8

S.A.G.A.P.O. (I.L.O.V.E.Y.O.U.)

Michalis Rakintzis

Michalis Rakintzis

9

Miazei na nai cinema / Y tu cruel
(It Looks Like Cinema / And You The Cruel One)

Ioannis Stigkas, Dimitras Sotakis & Ksenofon Halatsis

Katerina Topazi

10

Fire

Yiannis Methenitis

Motive
Taking their cue from Sweden, they had a second round in the show. Five songs were voted on again:
| | | | |
| --- | --- | --- | --- |
| Song No. | Title | Performer | Picture |
| 1 | Let Me Be The One | Kostas Bigalis& Mirella Fragkopoulou | |
| 5 | Yia na maste mazi/To Be Together | MLV & Not 4 Sale | |
| 6 | Love Is A Wonderful Thing | Pegky Zina | |
| 8 | S.A.G.A.P.O. (I L-O-V-E Y-O-U) | Michalis Rakintzis | |
| 10 | Fire | Motive | |
If you have any news or updates on this country's National selection I'd like to hear about it. E-Mail me, Geoff Harrison, at my contact page