---
Malta 2002
---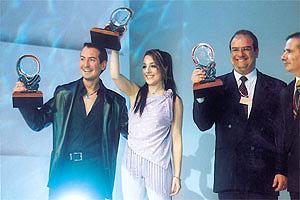 Ira Losco won the Maltese contest on February 16th with "7th Wonder", and will be in Tallinn for Malta.
Noel Zarb (who also sent me the picture) E-mailed me this:
The winner of the "Maltasong for the Eurovision" has been annoucned. The winner is Ira Losco with the song 7th Wonder. Composed by Philip Vella and written by Gerard James Borg. She scored full points from the jury (20x5) plus the maximum from the televoting (60). Ira is a 20 year old, from the small village of Sliema, this was her fourth time in this festival. She started off in 1998.
This year she made Maltese music history in what regards the festival, as she placed both 3rd and 1st.
In 2nd place there came Karen Polidano with "When Comes my Lover". Included you have a picture of Ira holding her trophy.
The rest of the page remains unchanged awaiting some more time! More details soon.
---
Sixteen songs for February 15 & 16 in Valetta:
Think Of You - Nadine Axisa


What Happened To Our Love - Lawrence Gray

Theresa - Karl Sptteri & Andreana Debattista

One Step Away - Ira Losco

Moment Of Truth - Lawrence Gray

Wanna Hold You - Gunther Chetcuti

Give Me Wings - Olivia Lewis

Secret To Share - Julie Zahra

Hide And Seek - Fiona Cauchi

Dazzle Me - Paula

A New Day Is Dawning - Annalise Ellul

Seventh Wonder - Ira Losco

Romantic - Nadine Axisa

When I'm Near - Roger Tirazona

When Comes My Lover - Karen Polidano

Heaven In My Life - Fiona Cauchi
As ever, lots of familar faces - count 'em
If you have any news or updates on this country's National selection I'd like to hear about it. E-Mail me, Geoff Harrison, at my contact page