---
Switzerland 2002
---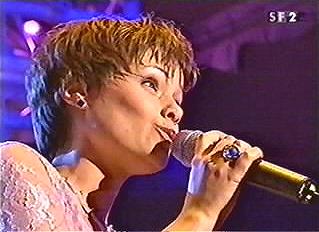 Taken from the ESC fans Switzerland site, below the line-up for February 2nd, with links to the performer's web sites.
A rather mixed bag this contest - some excellent pop fare like ex Swiss big-brother contestant Tanisha's My Little Freaky Boy, through old-fashioned Italian tenor Luciano de Soria, talentless and hopeless Marc Neff & Friends, acapella A-Live and bizarre nonsense in German from Nina Dimitri. A special mention also to Fuego Latino by Amanda, a nice lively Latin-inspired number, even if we have heard too many of those of late.
A two stage contest - votes took it down to 3, there was a circus act (!) and then there was more voting (no more performing!) There was also an appearance by Lys Assia (pictured below the score table)
I wanted Tanisha to win, but we will see Francine Jordi (left) perform her own song (Francine Lehmann is also her name) Dans le jardin in Tallinn. A sort of schlager, it reminds me of German Michelle's song last year, but isn't as good. Old-fashioned, but creditable. I wish her well.
No

Title

Music

Lyrics

Singer

Place

Picture

1

Via dal buio

Matteo Mazza

Matteo Mazza

8

2

First Love

Pascal Camenzind & Martin Gisler

Pascal Camenzind

-

Performer withdrew due
to ill-health

3

Dans le jardin

Francine Lehmann

Francine Lehmann

1

4

It's a perfect day

Marc Neff

Marc Neff

5

5

Fuego Latino

Amanda Blatter & Urs Wiesendanger

Amanda Blatter

6

6

Mia vita

Bernardos Yorgos

Luciano de Soria

Luciano de Soria

7

7

My little freaky boy

Martin Kohler

Tanisha Ammann

4

8

Cosa

Peter Zehnder

Peter Zehnder

2

9

Die Engel tanzen um Mitternacht per te

Véronique Muller

Véronique Muller

3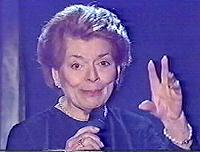 Lys Assia (right) winner for Switzerland of the very first Eurovision Song Contest in 1956 performed a number of songs in the Swiss final including Mein Papa.
If you have any further news or updates on this country's National selection I'd like to hear about it. E-Mail me, Geoff Harrison, at my contact page