---
United Kingdom 2002
---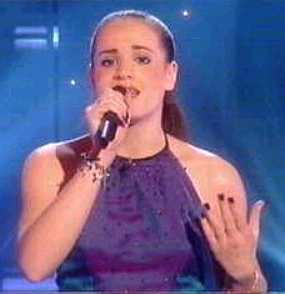 21-year old former Pop Idol contestant from Swansea Jessica Garlick (right) will sing "Come Back" for the UK in Tallinn.
May 15: Last week Jessica & some other 2002 entrants (like Rosa & Malene) made a promotional tour of Malta. It was featured on BBC's Liquid News. Click here to see the 3 minute feature in Real Player.
The story:
No great surprises on the procedure
These were the final eight songs for Song for Europe 2002:


Songs were played on Radio 2 week beginning 28th January, with a radio semi-final on 1st February.
TV final with the final four songs was broadcast 3rd March.
Pretty much a bit of a farce in some ways, but perhaps the best song came through.
Lovestruck was an early victim to the army of rule-loving Eurovision fans who found the song had been out in Sweden, so it was disqualified, and Never In A Million Years turned out to be on some obscure Hungarian album heard by more self-important fans, so out it went.
By the TV final, the much less powerful Radio 2 audience had removed When You're Around & Fade Away, leaving us to choose from
1st Jessica Garlick - Come Back (67798 televotes)
2nd Tricia Penrose - DJ Romeo (28621 votes)
3rd Level Best - Every Step of the Way (8927 votes)
4th I Give In - Surf N' Turf (no voting figures given)
Tricia Penrose plays a barmaid in the TV series "Heartbeat", and this was another failed try at a career in music for her, and Surf N' Turf were a joke band from ITV journalist Pete Maitland.
Leaving us with Jessica Garlick, who was on ITV's Pop Idol show, before being voted off just before Christmas. She also appearred on "Star for a night" with Jayne McDonald in 2001 singing 'Like a Prayer' (picture above). The 20-year old from Swansea was asked at the last minute to record "Come Back", and surprisingly, says it is her dream to sing for Britain. Writer Martyn Baylay, an airline pilot, has tried several times before to get a song through. The song is produced by the team behind Atomic Kitten's number one song Whole Again.
Easily the best performer of the 4 finalists, she should do well in Tallinn with this fine ballad.

Check out the BBC Eurovision website, or the BASCA site who organise round 1
If you have any news or updates on this country's National selection I'd like to hear about it. E-Mail me, Geoff Harrison, at my contact page