So sorry I haven't updated since Monday. I have done some radio, and quite a few parties and there just isn't enough time!
What can I say now?
Tuesday - Second day of final rehearsals was excellent.
Albania's Ledina Celo told me that when she was the host of Albanian 2004 selection it was the first time she had done that, and she knew it wasn't for her - she preferred just to sing. In the Albanian party on Wednesday she did plenty of that including "Its raining men" which i think she sang in that 2004 Albanian final as party of the Interval act. Her father is a tenor singer. Asked about crazy fans she said one wanted to bump his car into hers. The song is about leaving home to be independent, which she did 10 years ago.
(picture below at Wednesday's Albanian party)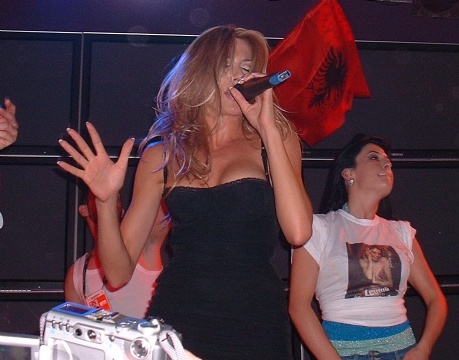 It was clear that Turkey's Gulseren expresses herself through percussion. She had a hard childhood in Paris, but singing helped her.
Greece's Helena was asked to sing a song in Swedish as she is a Swedish-born Greek, and she sang a little of Benny Andersson's "Alska Mej".

A few of us stayed late for the Bosnia rehearsal which was fab. In the press conference afterwards they brought on a cake for Eurovision's 50th birthday. The writer, Andrej Babic, who is from Croatia, is a self-confessed fan, and had a song which came second in the sloeven final, and also wrote the 2003 Croatian song for Riga. A very lively conference.

(picture below - Femminem for Bosnia-Hercegovina at the Tuesday UK-France-Spain party)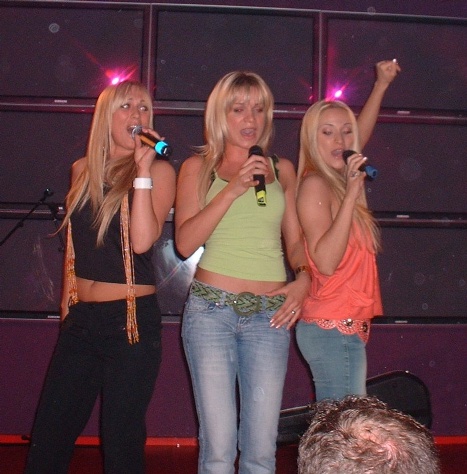 Then onto the Euroclub where Ruslana's concert was finishing, and onto parties. The UK, France, Spian, Monaco one was really good with virtually every one of this year's acts going on the stage to perform an unplugged version of their song. Perhaps the most memorable was Marian van der Wal for andorra who included "Tulips from Amsterdam" in her collection, but was a little upstaged by backing singer Anable Conde who gave a power performance of "Vuelve Conmigo", her 1995 song for Spain. She was backed on the keyboard by Andrej Babic.

(picture below Anabel Conde at the party)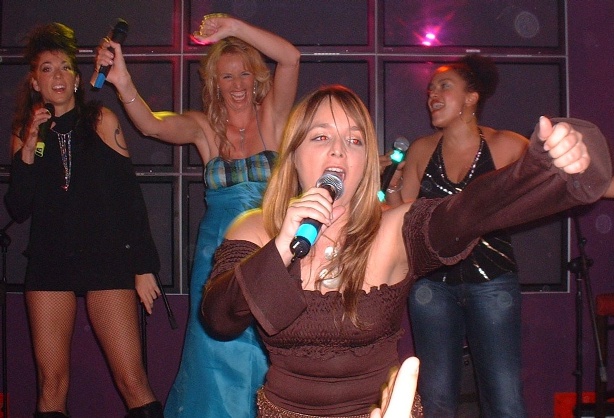 Alex Panayi, backing Greece's Helena, also gave a performance of his 1995 song for Cyprus, "Sti Fotia". It was a great party with many false endings!
Wednesday saw the first rehearsals of the semi-finals, and everything went pretty smooth.
Earlier I'd taken a stroll down to Freedom Square where videos of the songs play on a giant screen and orange Eurovision 2005 T-Shirts are 2.5 pounds. For 4 pounds there's the double Eurovision CD, but with Cyrillic text. I also got the album of Ani Lorak, who'd come second to Greenjolly in the Ukrainian final.
The semi-final show's opening is very weak with 4 different "maybe we should do it like this" with Chiors or something. Just seems poor to try all the ideas they had, and not fix on one. They then say its on with the songs. Attendance for both Wednesday rehearsal was poor, particularly the late one - perhaps 20% full.
Presenters Masha & Pasha are OK, but Pasha's strange American accent somehow jarred a little.
I noticed Norway had an orange scarf on the microphone stand on the first one, but it was silver by the second rehearsal last night - probably too political. Plenty of hair from Portugal on Luciana. The audience loved Moldova when the old lady comes out to bang her drum, and Poland's lively gypsy tune went well too. Switzerland's Vanilla Ninja had smoke & sparks from their costumes and guitars, and sounds very strong.
Distractions abound in a few. I love the Romanian song, but through all the clanging and marching by Sistem, I'm not sure anyone will notice the song. Croatia has the drummer doing a handstand, and there are stilts again like last year - but fortunately only in the voting interval.
Andorra now sports topless guys and a belting performance by backing singer Anabel Conde, but I still think it will fail to qualify.

(pictured below - Shiru Marmon for Israel in the dress rehearsal Wednesday - let's hope she makes the final)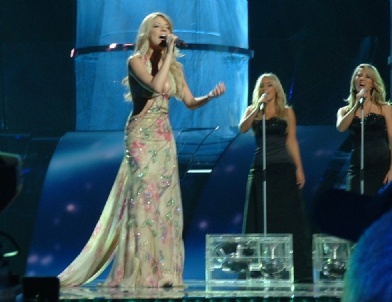 Most agree the same fate will befall Lithuania's Laura & the Lovers. Laura struts around in her short white dress, but whilst I like it very much, it does seem rather bland.
Look out for the black ribbon on the dress of Monaco's Lise Darly in memory of the late Prince Rainier. Lise gives it a great performance, but iis rather too old fashioned. Hungary looks like the video, but the vast stage & hall diminish it despite fine dancing & singing. We will see.
Iceland's Selma is in red for "If I had your love", but I fear this just seems rather flat.
(picture Below - Selma in Wednesday's rehearsal)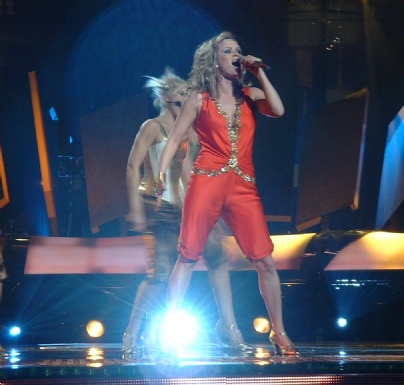 Not sure how Macedonia will fair. He doesn't move well, but has a nice drum banging bit. His dancers work very hard, but they have very short dresses, and you can see their knickers throughout the song, and one has a her backside on view at the end. Bit brave I think.
Seems like all the winning acts will come on stage for the end with the envelopes.
My forecast for the 10 to get through to Saturday is:
Switzerland, Belarus, Poland, Moldova, Croatia, Norway, Israel, Netherlands, Hungary, & Ireland.
There was also the Macedonian party which was somewhat odd in that Martin Vucic (singer) didn't arrive for many hours - I'd gone - and the Meditteranean party which, when i got there, had Ukraine's Greenjolly singing their song with Malta's Chiara. upstarirs the Albanian party was still in full swing, and Ledina was singing "Its Raining Men". There was also a Russian party which I missed, but it featured Phillip Kirkorov singing "Die For You" in Russian, and three songs by Varvara, who came second in the Russian final. Kirkorov also turned up at the Mediteranean party, and had been the previous day at the second Belarus party (for Angelica's birthday) with his wife Alla Pugacheva (who, it is said, looked ill) on a riverboat. I missed that one.
Tonight live semi-final on BBC-3 in the UK at 8pm - and there are still more parties - Serbia & Montenegro tonight - they're not in the semi.
Can't say when the next update.