---

2005 Eurovision Song Contest,
19th/21st May, Kiev, Ukraine

---
New 2006 page
This 2005 page remains a bit unfinished, but we are about to start the 2006 season, so click here and go to my 2006 page with news on the Albania selection.
Congratulations - Abba won!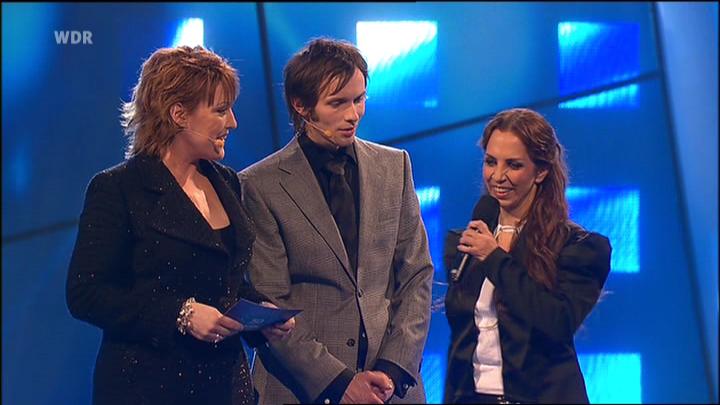 Shock result - Abba's Waterloo is the best Eurovision song of all time. Well, I think most people would have been surprised if it did not come out that way in the 50th Anniversary Eurovision show, Congratulations!, which aired on October 22nd from Copenhagen, Denmark.
Fourteen past Eurovision winners competed with the vviewers selecting the best Eurovision song of all time in a show hosted by Katrina Leskanich and Renars Kaupers, both Eurovision veterans themselves. There were videos, live performances, and other songs appeared in medleys.
Unfortunately, although most of Europe showed the contest live, the BBC did not show it on any channel.
It was a pretty good show - all of the competing songs except "My Number One" were presented on video with dance on stage, but many performers appeared at song's end. Then a version of the famous Riverdance interval act came on stage. The competition part was perhaps the least interesting part - the best parts were the live performances of famous Eurovision songs, like Dana International performing "Parlez vous Francais?", Sandra Kim with "Non ho l'eta", Anne-Marie David with "Apres Toi", or Marie Myriam singing "L'Amour est bleu". Some acts did short versions of their own songs - like Alsou, Bobbysocks, and Fabrizio Faniello. We also had Nicole & Hugo perform their so famous 1973 song "Baby, Baby" in purple flared trousers just like the old days!
Congratulations DVDs
I have now sold my stock of Congratulations TV show DVDs. Thanks to all the buyers.
Her

e a list of the fourteen competing songs in October 22nd's Congratulations TV show:

The official web site has links to buy the 50 year compilation DVDs & CDs which feature 100 Eurovision songs out of the 965 or so songs which have vyed to win the contest.

Greece is the word!
Yes, as I'm sure you all know by now, Greece won the 2005 Eurovision Song Contest with "My Number One", sung by Helena Paparizou. My reports from Kiev blog has now been moved here in preparation for the much delayed update of the report with more photos, and (finally, I hope) reports on my trips to the National Finals of Malta & Sweden in 2005.

Official Sites
The BBC has an excellent site at http://www.bbc.co.uk/eurovision, and don't forget the official site at http://www.eurovision.tv
The official site plans web streaming of both the Semi-Final & Final, so those of you outside Europe may want to make use of that to see the show.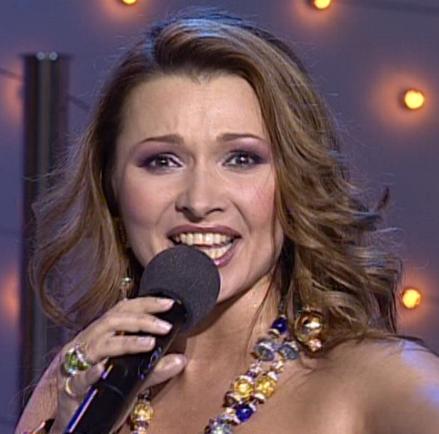 Croatian TV sneak preview
On Saturday May 7th Croatian TV channel HRT-1 entertainment show "Studio 10" featured 14 acts from this year's contest in the Zagreb studios. Although the songs were seemingly mimed to the CDs, we did have a chance to see the final appearance of many acts. On the right is mother-of-three Angelica Agurbash who showed off an impressive dance routine for her song for Belarus "Love Me Tonight". I think she may do surpisingly well. Russia's song "Nobody hurt no-one", is sung by Natalija Podolskaya, actually also from Belarus, and she had a new look. Click here to see a still frame.
Kiev gears up for Eurovision
Click here to see a BBC News report (May 1) on this with some depressing views of the venue. (Windows Media - if you're not on broadband you might want to right-click and save-target-as to download the file.). It does seem there has been progress since this report.
Compilation CD out!
You can now order the Eurovision 2005 Double CD from Amazon.co.uk for a measly £8.99. Came out May 2nd! Just click on the cover above or just click here!
Malta & Sweden
I was hoping to write up my Malta & Sweden trips over the upcoming Easter Break, but I have updated the songlist page to have the complete list, and they are now in running order after the draw 22nd March. There will be more here eventually.
Lebanon withdraws
Lebanon has officially withdrawn its entry because Lebanese TV was unable to show the Israeli entry in the contest, and therefore could not show the complete show. Its a real shame as the song was very good. Politics should never interfere with the show, but it does.
Tickets & Hotels
The ticket situation remains a total fiasco, but maybe at some point you & I really will be able to buy tickets at this site, which when I last looked had comedy English. The price range for the final is breathtaking - up to £150! Good luck!
Hotels are also proving difficult and expensive. I have booked using a company called Bob Sopel Travel in Oldham who specialise in the Ukraine, but the proof will come in May.
Back to 2004
Over on my 2004 page you can catch up with the scores of the 2004 contest, and I've expanded my 2004 Reports from Istanbul, and added some exclusive pictures.
Back to the future....
And now we are already into the 2005 season!
This is also the 10th Season for the Eurovision Database! Yes, this site first appeared in early January 1996, and some of the original pages are still here! OK, its old-fashioned, but at least its fast!
I attended the Maltese National Final on February 19th, and was at the United Kingdom Final (Making your mind up!) on March 6th, and also the Swedish Melodifestival the weekend after that. There'll be reports here eventually.
But what of 2005? - this will be the biggest ever year with 39 countries taking part in the 50th contest - so many it has been decided again to split the show into a semi-final on May 19th with 25 competing to join the 14 confirmed for the grand final on May 21st by virtue of their high scores in 2004 or financial contribution to the contest. The show will be held in Kiev after Ruslana won the 2004 contest for The Ukraine with "Wild Dances". She has already made a good start to the 2005 National Final Season (the biggest ever!) by appearing in the 2005 Albanian National Final on 18th December 2004, and has turned up in many of the other National Finals since.
OK, so what do we need? - a list of known songs and perfomers is here, and a calendar of upcoming events sounds good, so here it is:
| | | |
| --- | --- | --- |
| Date | Country | Event |
| Thu 19 May 2005 | Kiev, Ukraine | ESC 2005 Qualifier Round |
| Sat 21 May 2005 | Kiev, Ukraine | ESC 2005 Grand Final |
Webmaster, Geoff Harrison: my contact page