---

2006 Eurovision Song Contest,
18th/20th May, Athens, Greece

---

A warm welcome from The Eurovision Database!
This site first appeared 10 years ago in early January 1996, and the 2006 contest will be the 11th to be covered live! The 2006 Contest will be in Athens thanks to Helena Paparizou who won the 2005 contest in Kiev with "My Number One". I'm really looking forward to the 2006 show and will be there for my 14th contest!
December 29th 2006
I guess its well past time to put the 2006 contest to bed so I've incorporated the Reports from Athens blog into the site. Soon be time for the 2007 contest. Meanwhile the rest of the page is only slightly changed.
Off to Athens!
I flew out to Athens on May 12th, and provided my traditional blog reports from the rehearsals and parties.
I have done this every year since 1997, and even in 1996 managed to get one report through - they only put the internet into the press centre on the Friday before the show! How things have changed!
I couldn't update this particular page from Athens, so I uploaded news and pictures at my blog site, & you can click the link above/right! Its now part of my site!
I'll still be checking email, but can't promse to reply to all, and was on BBC Local and National radio again bringing the show home to everyone in Britain. Just remember it was on at 8pm May 21st - we ignored the Prince's Trust thing - the show from Athens was the real deal!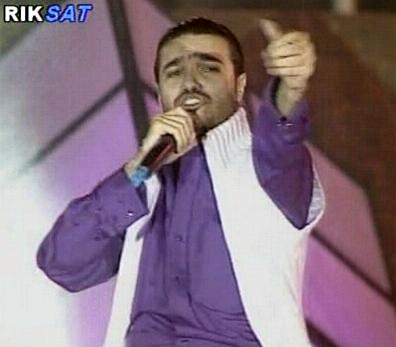 Cyprus parties!
On May 6th Cypriot TV held a live outdoor party in Nicosia and invited numerous acts from this year's Eurovision to perform. In the ebd we had the acts from Armenia (Andre, right), Bulgaria, Netherlands, Poland, Russia, Malta, Cyprus, & Romania, plus special messages from Croatia's Severina, Belgium's Kate Ryan, and Latvia'a Cosmos. Despite heavy rain and a power failure that stopped the show for an hour, it was great to see here in England.
CDs out
Our UK hope, Daz Sampson's CD "Teenage Life" was out on May 8th, along with the 37 track Eurovision Compilation album for Athens.
Both are musts'!. Click on the links to see the listing at Amazon and pre-order if you're keen.
Preview videos
All the songs are now chosen, and you can see stills from the oh-so-rare preview videos on my songlist page.
A calendar of upcoming events is always useful, and here it is:
Sadly I won't be able to add more parties to this list from Athens, but there's some of the week's events and TV shows here:
| | | |
| --- | --- | --- |
| Date | Place | Event |
| Sat 13 May 2006 | Bocca, Athens, Greece | Cypriot Party, 10pm |
| Mon 15 May 2006 | Zappeion Hall, Athens, Greece | Official Welcome Party, 9pm |
| Tue 16 May 2006 | Euroclub, Athens, Greece | Daz's UK party with guests Spain, France, Germany, 8pm |
| Tue 16 May 2006 | Euroclub, Athens, Greece | Greek Party, 10pm |
| Tue 16 May 2006 | BBC-1 TV | Boom-Bang-A-Bang - Eurovision retrospective 10.40 pm |
| Thu 18 May 2006 | Athens, Greece | Semi Final Eurovision 2006, 8pm (BBC-3) |
| Thu 18 May 2006 | Euroclub, Athens, Greece | Semi Final Party |
| Thu 18 May 2006 | BBC-3 TV | Daz's Eurovision, 10.45pm |
| Sat 20 May 2006 | Athens, Greece | Grand Final Eurovision 2006, 8pm (BBC-1) |
| Sat 20 May 2006 | Euroclub, Athens, Greece | Grand Final Party |
I'd like to hear about it. E-Mail me, Geoff Harrison, at my contact page