I'm a bit distracted at the moment because I lost an old but personally valuable camera last night on the official shuttle bus, and the help I'm getting is practically nil. The buses have been the disaster of the whole Eurovision with infrequent and irregular timings, so to lose anything on this shambles is doubly bad, since the drivers have no procedures, speak little English, and the tour company office keeps cutting me off when I ring them! Most else works fine, but few of us will forget the buses which are a must as the venue is a long way from any hotels or the party venue - The Euroclub - great looking, but itself pretty poor as you can't buy drinks - they give you tokens to exchange - except tokens are hard to find. Crazy!
The show itself is so very professional, however, and you're in for a great night tonight. A spectacular opening which has figures dropping from the roof and others on a orange ball travellling across tthe stadium.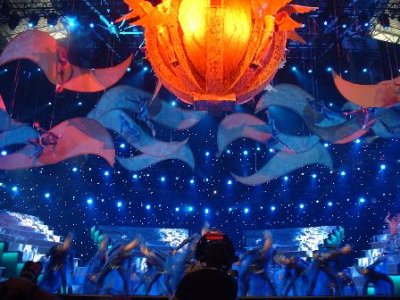 Our presenters then appear from left & right on wires!
Sakis & Maria look great, but Maria does seem to be having problems remembering what she is doing. Sakis seems more of a natural. We'll see how they are tonight.
Anyway let's cut to the main track - who's gonna win - its really tough. I like the Russian performance, Bosnia goes down well, Greece is a terrific performance (picture of Anna Vissi below), and everybody seems to like Romania. Along with Finland, those are the real contenders. Possibly Sweden also, but I think its not so special. I put a small bet on Lithuania, as it shouldn't be in the final so anything is possible.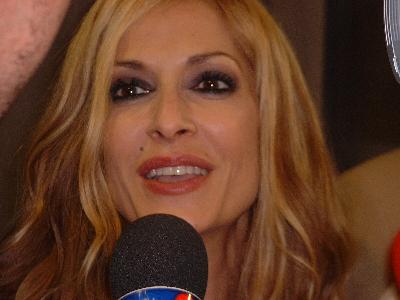 I met Lordi on Friday evening and am totally bowled over by them. Mr Lordi designs all the outfits & makeup, and they were staying in it all day yesterday & today. They are not satanists - the songs are all about the devil as a loser. Mr Lordi was asked if he was concerned people always asked about their makeup rather than their songs, but he said that was OK - it was their calling card. The other members are given names by Mr Lordi, and some have been replaced over the years. When that happens a new name & creature design is created. Its all in the name of entertainment!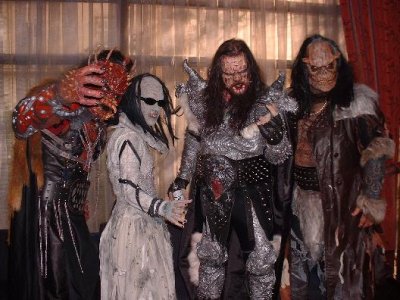 Back to the show, here's one of the favourites, Romania, from yesterday's rehearsal - goes down great!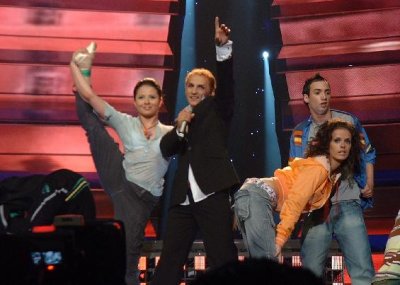 Bosnia's Leilja from Hari Mata Hari is not one of my favourites - simple presentation, but it surely will do very well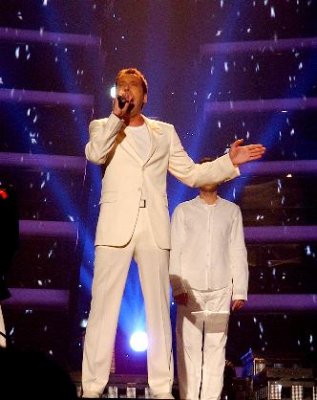 Watch out for Helena Paparizou opening the show with "My Number One", and she also sings her new song "Mambo" after the reprise of clips. Thatr's after the voting starts which is started by Nana Mouskouri.
Just remember to tune in! Last rehearsal is on right now, loos fine. I'm off for dinner. Hope to post something after the show but can't promise - there will be the post show party to go to.
Enjoy!