---
Reports from Helsinki - Eurovision 2007
---
All photos and text Copyright © G Harison 2007
Sunday, May 20, 2007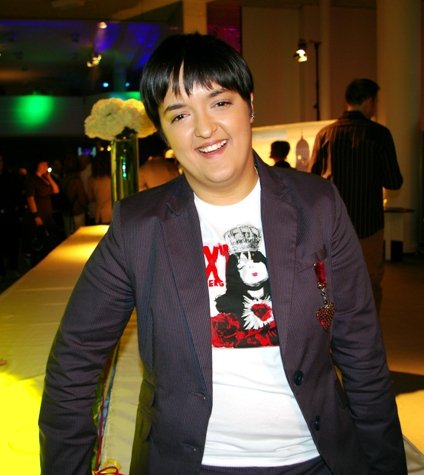 Serbia won!
Well, I'm really sorry I couldn't keep up with everything on the blog!
The long walks and security checks between press centre and venue were wearing for an old fellow like me, and I was also doing local radio and photos for magazines.
As you all know by now Marija Serafovic won last Saturday for Serbia with Molitva, with Ukraine in 2nd place. I didn't think she could break the mould so I never put money on a non-English ballad with no real stage act to win, so I lost all my bets. The UK came 23rd with a great performance but really a song for an earlier era. I was pleased to see my own favourite Natlaia Barbu's "Fight" for Moldova do so well (10th), particularly as she'd had to spend he own money - Moldovan TV is broke! The Russian girls Serebro came 3rd, but Russian Philip Kirkorov was furious his protege Dimitri Koldun had only come 6th with "Work Your Magic" for Belarus. I though that was a good result - a better choreography (Kirkorov's work) would've helped.
So Serbia next year. Odd that the one-time enemy of so much of former Yugoslavia still is accused of getting friendly votes from its neighbours. In truth, it was a strong song, and with so many of the 42 voting coutries coming from the Balkan region, clearly a good song has an advantage, but it still has to be good. Finland won last year, and nobody said the contest had moved east then. Enjoy it for what it is.
It was not the best show ever to be at - the cool and regimented Finns saw to that, but it was good as my 15th contest. Thanks to all the people that may it happen for me - you know who you are.
Next year Belgrade, and hopefully not this football statium proposed - last time it was a football stadium (2001) it was a football crowd - rowdy. We'll see.
12:55 PM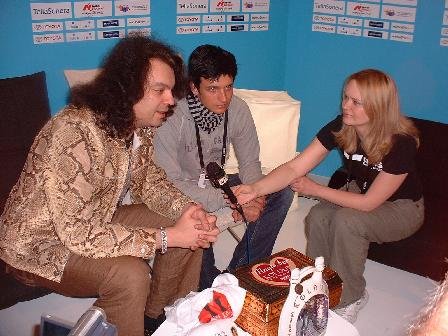 Thursday, May 10, 2007
Well things happened after the 1st rehearsal - I did the Radio interviews (am due to be on Radio Leicester 1035 Friday too) and they uploaded some photos to a magazine and was offered a ticket for the evening rehearsal and took it. Its a great show - good presenters and everyone performs well. Anyway Thursday was a day of city tours and boat trips, but all too soon its time for the Semi-final. Friday should be quieter
7:58 PM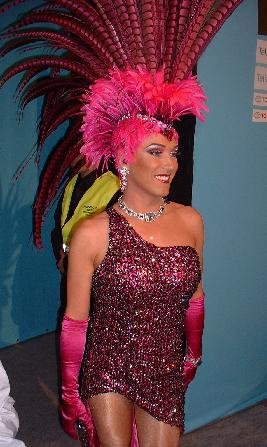 Wednesday, May 09, 2007
Sorry for no news for a few days - its gets so hectic. I had a boat trip Monday, on what was one the few fine warm days, and then we had the official reception that night. Tuesday night was a night of parties, I attended the Nordic, Czech, Big 4, and Slav ones and they were great. My current tips to win are Ukraine, which I loathe, but goes down a storm as a party song, Serbia, which everyone likes (except me) and Latvia. Iäve also put money on the under-rated Bosnia which will surprise us I think. First Semi-Final dress rehearsal in under an hour and then I'm booked on BBC Local radio until 4.30 UK time, so I hope to updatea little after the show.
Anyway, must go now on the long walk to the venue
11:06 AM
Sunday, May 06, 2007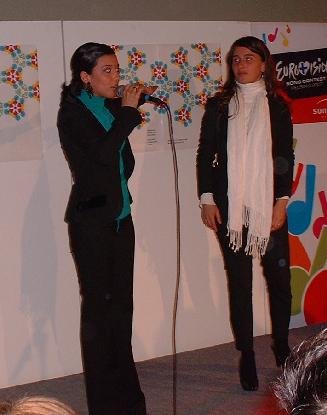 Its now almost 2 days since i arrived in Helsinki and its been very cold, but today is much warmer, but its still cool. its a bright evening as I reflect on those last two days. We're back where we started having just seen Alenka Gotar rehearse for Slovenia again (all the Semi-Finalists rehearse twice two days apart). Tomorrow sees the start of the Finalists rehearsals, but lets look back first before we look forward.
As you may know Belarus represenetative Dima Koldun is a protege of Philip Kirkorov who represented Russia in 1995, and Kirkorov is everywhere. Here he is taking the lead in an interview with Koldun with Macedonian TV's Milanka Rashic asking the questions. Kirkorov explained that he is the writer, the producer and the choreographer. The dancers cling to moving walls as part of the choreography - its different.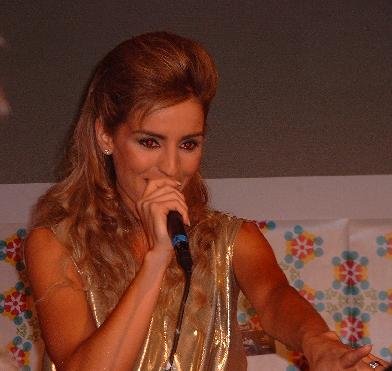 Denmark's DQ is certainly different, and had a good turn out for the press conference. The stage show involves a quick robe-remove and dancers, although DQ is mostly stationary. There's a large crown on stage.
Last night's best party was probably at the Eurocafe which is part of a cinema, I think.
I managed to miss the Serbian singer who was on very early, but I did see Georgia's Sopho perform her song, Visionary Dream, along with two songs from her upcoming English album which was recorded in London. Apparently Georgian-born English singer Katie Melua dropped in on the recording sessions to wish Sopho well. Anyway, Sopho is making a good impression for Georgia, and even if it doesn't make the final she will be remembered. Here she is with her interpreter on the Eurocafe stage.
We also had a guest appearance from Portugal's Sabrina who charmingly sand her song in the excellent English version, "Let's dance together", and then, as she described it, the official version - ie bilingual. Charming performance in a gold dress. In her press conference today she said they were only aiming to be in the final. Let's hope it happens for this nice song, and for Portugal - so unlucky in Eurovision.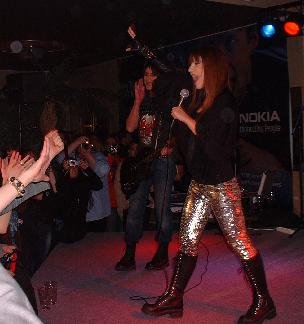 We also had a song from Evridiki, and I really do like this slice of Europop. Surely it will get through with 12 points from France and Greece, and a few from the UK?
Sunday's rehearsals started with the favourite from Serbia, "Love Prayer" by Marija Serifovic. Nothing much to see on stage - some pretty girls move and sing a little, but its mostly Marija belting it out. I can't see what the fuss is about - its good, but not a winner, but time will tell.
Eurovision fan Peter Fenner, has been writing song lyrics for a few years and has got luky a few times, and this year is one of them, as he has written the English lyrics for the Icelandic entry "Valentine lost". Seems several Englsh lyrics were submitted after the song won the Icelandic final, but Peter's was the best. Let's hope it breaks Iceland's recent poor record.
I think Macedonia will do rather better with Karolina's Moj Svet or My World. Confident performance, as ever, this will score very well in the Balkans, and why not, she's a big star there.
Anyway, it's taken longer than I wished to write this as my tired laptop in hotel crashed earlier, so no more time. There's three parties at the same time this evening - 9pm sees the Macedonian, the Bulgarian, and the Georgian. The last is nearest. I hope to catch more than one.
6:24 PM
Friday, May 04, 2007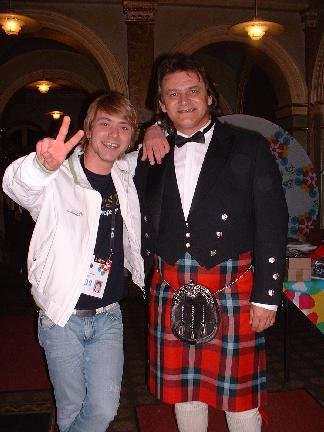 Flew out this morning. I got up to the press centre around 3.45 just as Olivia Lewis for Malta was finishing her press conference.
The Press Cente is large and airy and the press conferences I saw were well attended. I'd gotup this morning at 2am so wasn't gonna stay long tonight, but took a look at the hall itself as Slovenia's Alenka Gotar was performing. Its a longish journey from the Press Centre up to the venue itself, but yoou can take a seaside-style train. This was a good idea today as it was freezing with rain! We're only allowed in a long, long way back, but i think Alenka was there with a LED flower thing on her hand. Apparently she will have a operatic diva's dress on the night. Back at the Press Centre Slovenia's songwriter Andrej Babic expressed his unhappiness that a lot of attention in Slovenia was focussed on his being a Croat, much as he'd had with Feminnem in Kiev.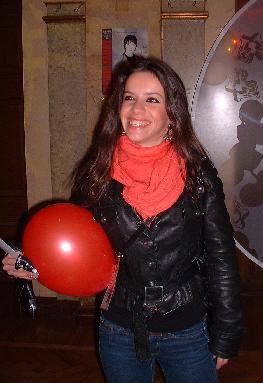 There was the Montenegrin party tonight at the Euroclub and I stayed for a while although I was very tired. Stefan Faddy's dad (& manager) was there in a kilt - apparently part of the McClean clan. Stefan gave a spirited performance of his own song Adje Kroce after songs by Robbie Williams and Bryan Adams. The Bulgarians were in the audience and I had a brief chat with a cheery Elitsa. Pictures tomorrow, bedtime for me, been up for weeks.
9:57 PM
Wednesday, April 25, 2007
Almost ready to go!
I've got my hotel & flights booked, my all-important pass and am ready to fly out to Helsinki on May 4th for the 52nd Eurovision Song Contest - my 15th. Its sobering to realise I've been to over a quarter of all the shows there's even been!
Keep watching!
6:58 PM
E-Mail me, Geoff Harrison, at my contact page