---

2007 Eurovision Song Contest,
10th/12th May, Helsinki, Finland

---
A bit late, but watch this space as, like the daffodils, the Eurovision Database rises from its long slumber since Athens to once more cover the Eurovision bash, as it has done every year since 1996 - the oldest Eurovision Web Site (and it shows, I know!).

There's a list of songs at the Songlist page as ever, with still frames from the all too rare videos. However, you can always watch them on the official site at http://www.eurovision.tv

Be ready on the big night with my print out and fill in ScoreSheet (but you'll need to add the countries winning a place to the final when we know on Thursday night) and there's also my Excel Spreadsheet which will calculate the results in you put the points in.

Well time has passed so fast and I'm almost ready to go to Helsinki. I fly out on May 4th.
In recent years I've had this page go static and have linked to a Blog page for my time at the contest. This year. is no exception, so I'm proud to ask you to click here, or on the Finnish flag above to read my Blog from Helsinki - Reports From Helsinki.

Rehearsals start on May 3rd, and the official reception is on Monday May 7th. I will be there, and hope to report on it for you.

I am booked on BBC Local Radio once more, and all you have to remember is BBC3 8pm on the 10th for the Semi, and BBC1 at 8pm on the 12th May. Miss it at your peril!

Eurovision 2007 Official CD
Now available from Amazon.co.uk
£8.99. Just click it!

The UK Entry! Flying the Flag for You
Released May 7th in both CD & DVD
Both £3.99 Just click it!

The Eurovision Song Contest: The Official History
by John Kennedy O'Connor £10.49 Just click it!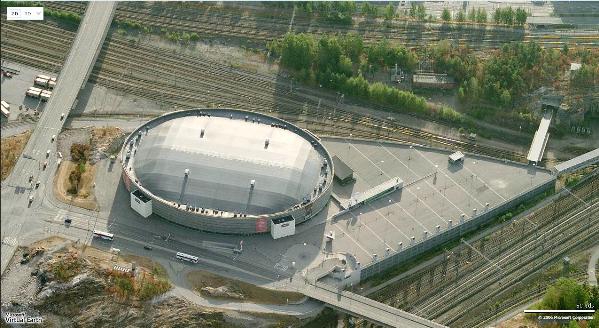 And here you see an aerial view of the venue - looks like an oil drum to me, and the Press Centre is not very nearby so I think we'll be using those bridges, but I am sure we'll have a great time as ever watching the rehearsals and press conferences and bringing back as much of it as I can to you in the UK via the blog in readiness for May 12th.
Helsinki is almost as far north as the Eurovision has been - Bergen in Norway in 1986 was a little further north, and this the 6th successive year the contest has been held in the +2 hours time zone - proof, were it needed that the contest has moved decidedly East. For us in Helsinki the final will be at 10pm local time.
You can always contact me - can't promise a quick reply but I'll try,
Looking forward to the show!