---
ABBA before ABBA
---
The page that takes you back to the days before the Swedish quartet became internationally famous!

This page is still under construction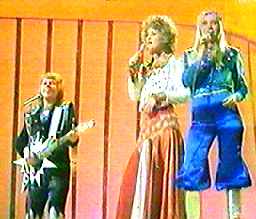 There are millions of ABBA fans all over the world. The band that effectively disbanded in 1983 still has faithful fans, and through movies like 'Muriels Wedding', bands like Erasure, and more to my taste, Björn Again they have new fans.
There are plenty of web sites covering ABBA, but I haven't yet found one giveing any information of their work before they became ABBA.
This list is by no means exhaustive - the albums listed are the ones most easily obtained. There are other deleted ones, and, of course, some are being reissued on CD in Sweden.
Agnetha Fältskog
Agnetha was born on April 5th, 1950, in Jonköping in the south of Sweden.She sang with bands from the age of 15 onwards, and topped the Swedish singles chart for the first time before she was 18. She was, until the ABBA days, a prolific songwriter.
Her solo albums:
Agnetha Fältskog from 1968, this was her first album containing her first hit 'Jag var så kär'
Agnetha Fältskog Vol. 2 from 1969. Her last solo album before ABBA formed. She appearred in the Swedish version of 'Jesus Christ Superstar' in 1971. The cast album has only just been re-released in Sweden.
Elva kvinnor i ett hus from 1975. Just after ABBA became famous this album was issued in Sweden. The title means 'Eleven women in a house', and is a concept album - aspects of life of eleven different women reflected in thier songs. The Swedish version of S.O.S is on this album.
Agnetha has had 5 solo albums since 1981, plus numerous compilations. One of the most interesting of these is 'Sjung denna sång' which has real rarities, including long forgotten singles in Swedish, and English.
Anni-Frid Lyngstad
Anni-Frid was born in Norway, near Narvik, on November 15th, 1945. She moved to Sweden in 1947, and grew up in Eskilstuna, about 100 miles from Stockholm. She was vocalist in the Anni-Frid Four from 1964, and won a talent contest in 1967 on the night Swedes changed from driving on the left to the right.
Her solo albums:
Frida - from 1971. Has some reworkings of other people's somgs in Swedish, including a version of 'The sound of silence', and also a version of Björn & Benny's 'Lycka'.
Min egen stad - from 1971 produced by Benny Andersson, the title is one of Benny's compositions for The Hep Stars, as a Swedish version. The Hep Stars version is called 'Its nice to be back again'. There's also a Swedish version of 'Surround yourself with sorrow'
Frida Ensam - from 1975. Like Agnetha, Frida had a solo album in Swedish at the start of Abba's fame. However this album is mostly Swedish versions of other songs, including 'Life on Mars'. There is the original Swedish version of 'Fernando'
Since ABBA, Frida has released 2 solo albums internationally, and has appearred on some other records, most notably that of Ratata. Her most successful solo album was 'Something's going on' produced by Phil Collins, in 1982.
Benny Andersson
Benny Andersson was born on December 16th, 1946, in a suburb of Stockholm. Her was keyboardist, and sometimes the songwriter for The Hep Stars from 1964 to 1969. His pre-ABBA albums:
Hep Stars 1964-69 - a must for a fan as it contains the first Björn & Benny song, 'Isn't it easy to say', along with many other fine compositions by Benny. The English isn't very good, but the melodies are right up there.
Svenne and Lotta med Hep Stars - Svenne Hedlund was the group's lead singer, Lotta his wife. This album has some more compositions by Benny, and Björn & Benny.
Lycka - the joint Björn & Benny album from 1970, most famous for the first song featuring all four of the group, 'Hej Gamle Man'.
Since the ABBA days Benny has been involved in many projects. His most notable solo album being 'Klinga mina Klockor' from 1987.
Björn Ulvaeus
Björn Ulvaeus was born on April 25th, 1945, in Gothenberg, Sweden. Bjorn became the leader of a well-known folk/rock group, The Hootenanny Singers. He met Benny Andersson on 1966, but they didn't put a record together until 1970. ('Lycka'). His solo albums:
Hootenanny Singers Bästa - from 1967. A compilation, which includes 'Gabrielle' in Swedish. There is a very rare album of the group in English released in the US, and 'Gabrielle' was a single.
Bellman På vårt satt - 1968.
Hootenanny Singers med Björn Ulvaeus Bästa Vol. 2 - from 1969. Has an English track, 'Mrs. O' Grady', obviously influenced by The Beatles' 'Eleanor Rigby'.
Skilling Tryck - 1970
Sjunger Evert Taube - 1971
Våra Vackraste visor Vol 1 - 1971
Våra Vackraste visor Vol 2 - 1971
Dan Andersson På Vårt Satt - 1973
Evert Taube På Vårt Satt - 1974
Björn has been heavily involved with Benny in various projects since the ABBA days including Chess, and now 'Kristina från Duvemåla' which opened in Malmö, Sweden in October 1995. It moves to Gothenburg in the spring, before a brief appearance in Stockholm, and a return to Malmö.
Connections
Mention should be made of Anders Glenmark who with his sister, Karin formed Gemini in 1985. They had two albums, 'Gemini' and 'Geminism', which were produced and written by Björn & Benny. Maybe ABBA would have sounded like this in 1985-6. Björn & Benny also have written songs for 'The Ainbusk Singers', and their lead singer, Josefin Nilsson.

Benny's son Peter Grönvall has also formed two groups, 'Sound of Music', and more recently, 'One more time'. Both have tried to get into the Eurovision Song Contest, with no success to date. 'One more time' had a European hit with 'Highland' in 1992, and are entering this year's Swedish heat of The Eurovision Song Contest.

Some links to other ABBA related sites:


And you can always see more here: