---
Austria 1999
---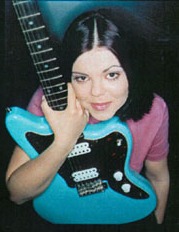 Austrian Television (ORF) announced on 11 February that Bobbie Singer (pictured on the left) will perform an English language song, "Reflections in Your Eyes" to represent Austria for the final in Jerusalem.
Thanks to all those of you who sent me the news.
Bobbie has an album out called "Egoistic", but this song isn't on it.
From the ORF web site I found a link to Bobbie Singer's own web page from where the picture and the text below in italics comes (I claim "fair use" as this is for promotional purposes).
"Bobbie Singer (real name Tina Schosser) is a 17 year old girl [birthday very soon! - GH] from Wels/Upper-Austria (born 22.2.1981) Very talented and blessed with a great voice, she writes her songs and lyrics herself, which is why she's put into the "female singer songwriter" category. The unusual thing about Bobbie is her advanced musical development for her age. Music is a way for her to vent her feelings. The words are about what teenagers are interested in: Love, friendship, alienation ... but also about nature and actual world events.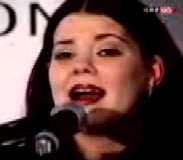 Bobbie is in the 12th grade class of the WRG grammar school in Wels. She plays the piano and both acoustic and 12-string guitar. Her biggest wish is to make her hobby, music, her job. Since she has a home recording studio, it is hard to get her away from her room, where she spends a lot of hours writing new songs...."
The picture on the right shows Bobbie performing the song at a press conference shown on Austrian TV.