---
Croatia 1996
---
Croatia chose its song on March 3rd, as usual in Opatija.
Fifteen of the 20 songs were written by top composers, and 5 by new composers.
In the event HRT International declined this year to even carry the contest on the radio service, after doing this for the past two years, however the TV news revealed the winner of the 'Dora', as it is called, as none other than Maja Blagdan, whose 'Jedini moj' failed in the 1993 Croatian contest. The song is, typically for Maja, an emotional strong ballad, and should do well, or there will be trouble from me!
The title is Sveta ljubavi (sacred love).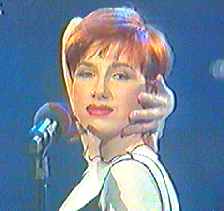 Maja Blagdan
The list of singers/songs/writers/points with help from Drazen Tatalovic:
Report

by your editor of these pages, Geoff Harrison:
A surberb contest which took well over three hours to present 20 songs - this was more like a final. The presentation and camera work were certainly worthy of a final, and so were most of the songs.
After a spectacular firework opening, and a reprise by Magazin and Lidija of last year's song, 'Nostalgija', we were off.
Novi Fosili stood out early on, after two rather ordinary male solos. They came 4th for Yugoslavia in the 1987 final, and this more modern song, 'Spray' was bouncy and catchy.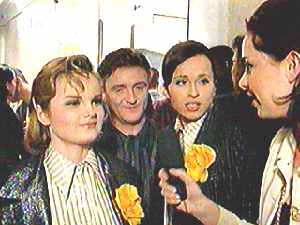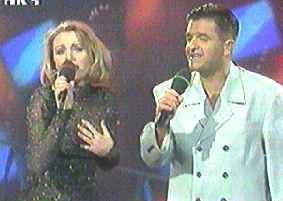 Novi Fosili and Srebrna Krila
After Leo's slow ballad came Srebrna Krila, now a duo with little connection to the 1988 Silver Wings group. Their unsucessful Dora song last year was still a hit in Croatia, and this fast one was equally catchy. The best so far for me.
Marinella was very popular in last year's 'Dora', and here with the group 'Tutti Frutti', she sang a medium paced duet which came third.
Massimo didn't seem to singing the same song as his backing, but the next two songs were fine, but..
I. Bee and Rene Cooler presented an off-key rap song that got a very cool reception, although I. Bee is a very successful performer in Croatia.
Then we had Renata Kos, a pretty girl in a yellow dress accompanied by a guitarist on stage. He latin-sounding 'Oh Mama' deserved a better place.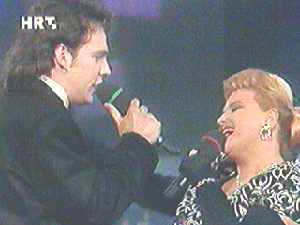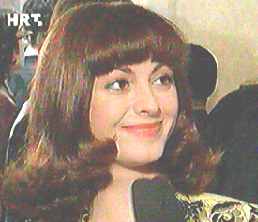 Marinella and Tutti Frutti / Renata Kos
Magical Maja
Maja Blagdan's song had the audience applauding halfway. A powerful ballad with an Irish-sounding wordless middle section where Maja does a little dance, her near-screaming may sound harsh at first, but she puts so much emotion into it that it really works. The obvious winner. Maja also took part in the 1993 Croatian final(and should have won!).
The Divas were four girls whose 'Sexy cool' was pretty hot, but the song itself wasn't good. They were.
Jelena's song 'Aha' was written by last year's winning writer Tonci Huljic. Jelena was dressed as a ballerina in a white dress, and danced gracefully through this nice song. Unusual, anyway.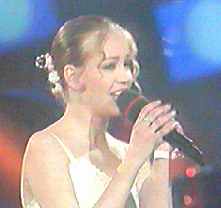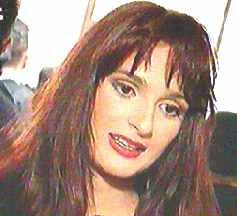 Jelena / Zrinka
The next song's only noticeable feature was a girl on stage with plastic roses on wires poking out of her dress. She didn't do much but stand.
Ivan Mikulvic, poorly-shaven, had a likeable medium-paced song, and then came stunning Zrinka, whose last year's song, 'Srce od zlata(Heart of gold)' was so popular. This year's ballad wasn't so good, but still excellent.
Petar was followed by Sandra Sagena, a blond in a sexy white costume, with a sexy song. She couldn't keep her hands off a male dancer. Catchy.
Interval
In the interval before voting, we had a dance to 'Nocturne', and almost a half-hour of Doris Dragovic, Yugoslavia's 1986 entrant, who performed superbly. She didn't sing the '86 song, perhaps because it was written by Zrinko Tutic, who wrote Maja Blagdan's song this year. He also had a hand in Taijci's song in 1990.
Latino, also in last year's 'Dora' made up the rest of the interval, before the voting, which rapidly turned into a one-horse race. The cameras were almost always on Maja, except when I.Bee and Rene Cooler got their only point. The entire green room gave a cheer!
Maja's triumph

Maja came on stage almost in tears, to fireworks, which set alight the back of the stage. Maja never seemed to notice the activity going on, as she prepared to sing 'Sveta ljubavi' again. She gave another great performance.
The 'Dora' songs are available in Croatia on a compilation CD album.
Links: