---
Croatian Pop Music
---
I couldn't find any web references to popular music from Croatia, so I thought I'd better start one. Croatia did provide former Yugoslavia's only Eurovision winner, Riva, but this page isn't about Eurovision, it's about a lighter side of a new nation.
For the moment I am only covering two stars, but I hope to add more.
I'd like to thank Drazen Tatalovic for the biographical details and inspiration for this page.
Maja Blagdan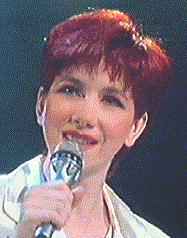 Maja was born in Split some 28 years ago, on 16th May 1968. She began to sing in a group called "Stijene"(= Rocks). Her solo career started in 1992 at the Zagrebfest with the song "Santa Maria". Her first big break was at the 1993 Croatian Eurovision selection competition, when she sang "Jedini moj"(=My only one).

She didn't win a place to go to Millstreet, but her first album 'Vino i gitare' was a hit. In March 1994, she won Porin'94 (Croatian record industry award) for the best debut as female singer. Her second album, 'Bijele Ruze'(=White Roses) was also a hit in Croatia in 1994.
Maja won the 1996 'Dora' competition, and represented Croatia at the 1996 Eurovision Song Contest on 18th May in Oslo, Norway. She came 4th.
Select this (internal) link for a general report on the 1996 European final with another picture of Maja.

Josipa Lisac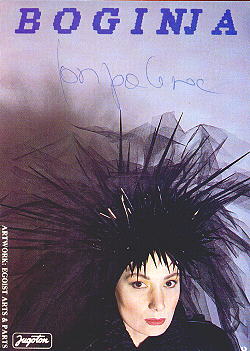 Josipa Lisac was born in February 1950 in Hlebine, but soon came to Zagreb. She first sang in a group called " Zlatni akordi". Later she started a solo career, singing all kinds of music rock, pop, and folk.
In 1968 she met Karlo Metikos (used the stage name Matt Collins), and he made Josipa into the star known today. He was her main composer and inspiration.
In 1968 she won the Opatija festival with the song "Sto me cini sretnom" (What makes me happy), a very beautiful song, composed by Arsen Dedic. She failed to get a place in the 1969 Eurovision Song Contest, but after 2 years of hard work in 1972 her anthology album was released, "Dnevnik jedne ljubavi" (Diary of one love).
For many music critics this is the best album ever released in Croatia. The most popular song from that album "O jednoj mladosti" (About the youth) is still popular even today, to young and old (it was no.1 in November last year in the top 20).
In 1975 Karlo wrote a rock opera "Gubec beg", in which she played Jana. Then, in 1978 she went to America for 2 years, the album "Made in USA" resulted.
Her career nearly stopped when Karlo died in 1992. She has recorded a few songs in cooperation with some other singers (Dino Dvornik, Boa, Guido Mineo) in the time since.
Her latest album is "Koncert u cast Karla Metikosa" (The concert for Karlo Metikos) with the HRT symphony orchestra and choir, and maybe it will win the 1996 Porin (Croatian record industry award) this May 5th.
Her albums: Dnevnik jedne ljubavi; Bijela ploca (White record); Made in USA; Hir,hir,hir; Lisica (The fox); Hocu samo tebe (I want only you);Najveci uspjesi (The greatest successes); Boginja (The goddess); Balade (Ballads); Live in Lap; Christmas songs.
Internal links:
Other external sites about Croatian music: