---
Croatia 1998
---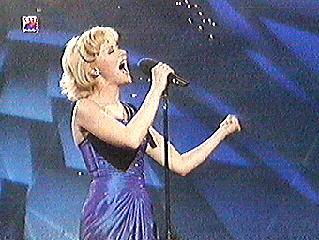 Croatia picked Danijela's (left) song "Neka mi ne svane" ("May the sun never rise") on Friday 6th March. For the first time ever Croatian TV screened the "Dora" contest live on the satellite service.
Another glittering contest from Croatia, with some very fine songs vying for the chance to be heard in Birmingham.
As usual, the twenty songs were performed in the Crystal hall of Hotel Kvarner in Opatija.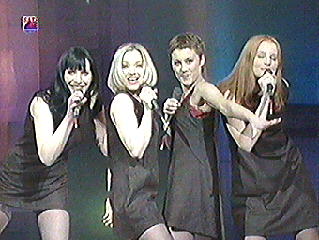 After opening the show with a performance by ENI of last year's song 'Probudi me' (right), the songs competing were sung in quick succession, separated only by the customary brief commercial breaks, and afterwards we had Katrina & the Waves performing their now traditional National Final set.
After Katrina, came the voting. As usual with Croatian finals, this was town by town in alphabetical order, and, as usual, I still can't believe how many places start with 'Z'.
This year's innovation was a telephone vote - but just as an extra jury after all the Z towns. Out of the telephone voters, one lucky individual voting for Danijela was picked to win a ticket to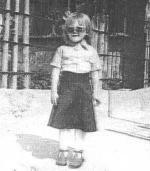 Birmingham. HRT flashed numbers like on a web counter as our presenters said 'stop!'. I found it interesting that the counter shown had 5 digits, but never showed anything over 200. Mister number one hundred and something had his name flashed up as the winner. I think the phone numbers to call were poorly presented - it seemed as if HRT were trying this method, but had little regard for it.
Quite a few artists returned from past years, including Magazin and Danijela. Danijela Martinovic (seen on the left aged 4!) was part of Magazin when they appeared with Lidija to sing "Nostalgia" in Dublin in 1995. Novi Fosili have been in many Dora competitions, and with a different line-up represented Yugoslavia with "Ja sam za ples" in 1987. Zrinka sang in both the 1995 and 1996 Dora, to best effect in 1995 with "Srce od zlata" (Heart of gold).

#

Title in Croatian

Title in English

Composers

Picture

Singer(s)

Pts/
Plc

My view

1

Sve sto si ti

All that is you

Valentina Brzovic / Valentina Brzovic / Miro Buljan

Valentina Brzovic

2

Cheerful, upbeat.

2

Nebo

The sky

Davor Tolja / Alida Sarar / Davor Tolja

Zorica Kondza

78

Slow & dramatic.

3

Zivot iza ponoci

After midnight

Marin Limic / Marin Limic

Ready - Cool

32

Simple tune, not quite catchy emough.

4

Jos te volim kao nekada

I still love you as before

Marin Limic / Marin Limic / Stipica Kalogjera

Stijene

70

Slow, a bit forgettable.

5

Stara zvona jedne ljubavi

Old loves ring true

Nenad Nincevic / Nenad Nincevic / Zeljko Sparmajer

Ena

0

Medium - paced, theatre - style song.

6

Ja cu po svom, ti ces po svom

I'll do as i like and you do as you like

Franjo Valentic / Fayo / Goran Macuzic

Melani

10

Bathed in blue in her underwear.

7

Ako me ikad pozelis

If you should want me

Niksa Jurinovic / Niksa Jurinovic / Branko Glavan

Tina & Niksa

48

Ordinary duet with a nice sax mid section.

8

Daj, daj

Give me

Branimir Mihaljevic / Fayo / Branimir Mihaljevic

Branimir Mihaljevic

132/
3rd

Irish fiddle sounds, pretty dancers, lively, catchy.

9

U ritmu ljubavi

In the rhythm of love

Boris Djurdjevic / Boris Djurdjevic / Boris Djurdjevic

Colonia

87

Deep voice in a good song.

10

Na svijetu sve

You are all i have

Tonci Huljic / Vjekoslava Huljic / Fedor Boic

Magazin

79

Pretty Jelena leads, but song not well enough developed.

11

Pjesma putuje

The song travels

Zrinko Tutic / Zrinko Tutic / Niksa Bratos

Ivan Mikulic

61

Anthemic ballad. I thought they'd go for this.

12

Sve je za tebe

It's all for you

Slobodan Vujovic / Marina Valkovic / Tihomir Preradovic

Marsell Benzon

52

Forgettable slow ballad.

13

Bez ljubavi

Without love

Alen Nizetic / Nenad Nincevic / Nenad Nincevic / Edo Botric

Alen Nizetic

63

Loud, medium paced, better than #12.

14

Samo ti je ljubav potrebna

Love is all you need

Davor Tolja / Alida Sarar / Davor Tolja

Andrea & Davor Tolja

42

All but Andrea wear glasses. Gospel style.

15

Da bar vjecno zivimo

If we could live forever

Zeljko Kruslin / Zeljko Kruslin / Hrvoje Hegedusic

Sanja Trumbic

0

Latin beat. Weak singing.

16

Ljubi me i to je to

KIss me and that's it

Miro Buljan / Sanja Mudrinic / Tihomir Preradovic

Lana Cencic

0

A real Croatian pop song, ending with a kiss.

17

Neka mi ne svane

May the sun never rise

Petar Graso / Petar Graso / Remi Kazinoti

Danijela

177/
1st

Typical Danijela, a fine rouser.

18

Bolero

Bolero

Zdenko Runjic / Vjekoslava Huljic / Stipica Kalogjera

Zrinka & Goran

133/
2nd

Nice ballad.

19

Pricaj mi o ljubavi

Talk to me about love

Rajko Dujmic / Stevo Cvikic / Vedran Ostojic

Novi fosili

69

Glitter in pockets - good, but nothing special.

20

Ruku na srce

With hand on heart

Zlatan Stipisic Gibonni / Zlatan Stipisic Gibonni / Miro Buljan

Azzurro & Nikad dosta

83

Nice female band. Not so keen on Azzurro or the song.
This list was taken from the pages of Croatian TV where there's still plenty to see on the Dora.