---
Dansk Melodi Grand Prix 1997
---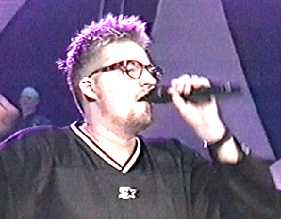 Special report for these pages by Søren R. Jensen:
So the Danes have made their choice, and apparently we are going to introduce the Europeans to Danish rap-music.
The winning song is "Stemmen i mit liv" (The Voice in my Life) performed by Thomas Lægaard aka Kølig Kaj, assisted on stage by Christina Juul Hansen and composer Lars Pedersen aka Chief One.
Follow this link for the scores at the foot of the page.
This year the Melodi Grand Prix returned to a somewhat more traditional form, open for all songwriters to make a contribution. 10 songs out of some 500 had been selected by a professional jury, lead by conductor Jan Glfsel.

Here is a short description of the songs, including an English version of the refrains (most of the rhymes missing though!)


1. Du er den eneste (You are the only one)
LARS NIELSEN
Lars Nielsen teaches at the Academy of Rhythmic Music in Copenhagen, and songwriter Peter Michael is leader of the band Heart'n'Soul. This song was the first in a string of soul- ballads presented this evening. Lyrics sort of green romance, a tribute to Earth, or even a religious tribute to God:



You are the only one we've got
You give us the Life that we take
Feeling the warmth
from Your arms
Trust You blindly
never forgetting what You were
You are the only one we've got.



---
2. Mon du tænker en smule på mig? (Are You thinking a little about me?)
GRY HARRIET
Gry Harriet has been around for some years as a backing singer, and even played the bass in a heavy-rock band. The 3 songwriters Kollerup, Nielsen and Nielsen are all connected with The Academy of Music in Aalborg. The song is a ballad, kept in minor chord - something inbetween a jazzballad and a rockballad, I should say.



Are You thinking a little about me?
cause I'm thinking so much about you
I am dizzy and confused
The seventh heaven is near
if only You were here



---
3. Sig mig li' Mari (Tell me please Mari)
GORM BULL SARNING
Sarning works at a local radio-station in a provincial town in Jutland. So does composer Ebbe Ravn. The newspaper BT compares the song to previous winners like 'Vi maler byen rød' or 'Ka' du se hva' jeg sa'?'. Well, it's a mid-tempo popsong, and the chorus is quite easy to remember, a so called hookline. Lyrics about a french affair with the girl Mari.



Tell me please Mari
Why wait for tomorrow?
Tell me please Mari
Do you think that love is hard?
Tell me please Mari
Why wait for tomorrow?
Tomorrow things might not be so easy anymore
Tomorrow everything might just be forgotten



---
4. Hyldest til livet (A tribute to life)
MARIA ABEL
A slow-tempo romantic song, rather than a grandious ballad. A girlish voice singing about spring and youth and love. Music by Rumanian-born Michael Ronson, who is mostly into classical music, and words by Maria Abel herself.



I think it's time
for every living thing
to fall in love
I'm feeling free and strong
Yes, free and wild with you



---
5. Hvor går man hen med kærlighed? (Where do you take your love?)
STAY TUNED
This quartet consists of Lilly Winkel, who teaches singing, Pia Trøjgaard, who was one of the backing-singers behind Aud Wilken, and Jan Tellefsen and last years winner Martin Loft who are both appearing in musicals. So is songwriter Jacob Lauenbjerg, this being his debut as a Melodi Grand Prix composer. The song quite inspired by the soul-ballads of the 70's, using the oppurtunity of a quartet to sing in four parts.



Where do you go with love?
When the one you love has gone
Life goes on without you
Thinking of nothing but you
without saying anything
Dreaming that the two of us
will start all over again



---
6. Livet er en U-båd (Life is a submarine)
DENNIS ADAMSEN JENSEN
Young Dennis is only 19 years of age - but is already quite experienced, as could tell from the performance. Usually he plays in the band Ransome. Songwriters Neergaard and Andersen are normally working as designers, writing music for a hobby. The song about living life in the rhythm of a submarine (?), was a so-called trip-hop, a slow-tempo mixture of different types of music.



Let me stay, let me whimper
Let me drift, let me sink
Let me reach rock bottom
As long as I get back,
Back home to you again
Life is like a submarine
Life is like a submarine

---
7. Stemmen i mit liv (The voice in my life)
KØLIG KAJ (Thomas Lægaard) featuring CHRISTINA JUUL HANSEN & CHIEF ONE (Lars Pedersen)
Kølig Kaj has taken this odd name as a danish version of american rapper-names (L.L.Cool Jay?). He comes from a small village in Jutland, and is a qualified grocer besides making music. Composer Lars Pedersen is a producer and leader of the rap-band Rockers By Choice, quite well-known in Denmark. Christina usually works at a insurance company. The song is of course a rapsong, with a quite ironical attitude towards the rather self- important section of rapmusic, and tells the story of a young man in love with the telephone- operator at the enquiries.



I'm turned on by you
But I can't reach you
'cause you're so far from me
Yeah, you are the voice in my life
I am calling you up
wish I could see you
'cause you're so far away
But you are the voice in my life

---
8. Utopia
JETTE TORP
Jette Torp is an experienced and able singer and has appeared on stage in several shows as a comedienne, singer and entertainer. This was her first appearance at Melodi Grand Prix. Songwriters are the married couple of Iver Lind Greiner and Iben Plesner, who made an entry themselves a few years ago. The song, a grandious ballad, the type of ballad you expect to find at the ESC or in a musical.



Heart of mine,
so fragile and so quiet
Like an open land
Like an ocean, dark and warm.
You will move your borders now and then
So to reach Utopia




---
9. Et Skyggespil (A play of shadows)
HANS OLSEN
Hans Olsen, yet another performer connected to the Academy of Music, lives in Aarhus and has been a backing singer for the techno/dance band Cut'n'Move. The song was another slow-tempo song reminiscent of the age of soulmusic. Words made by Hans Olsen's girlfriend, Cathrine Borg.



Is it so naive to think like I do
The world is so lonely without you
Was it only a play of shadows?
The mind goes wherever it wants to
Is it just a cry, a fantasy?
The sound of that sweet melody
Is it so naive to think like me?




---
10. Vejen til Paradis (The way to Paradise)
LEI MOE
Lei Moe has been a backing singer for a number of years, and has been touring with Randy Crawford, along with her sister Lupe Moe. The married couple Tom and Kirsten Østrup made the song together, as they have been doing with some success before. This, the last song of the night, was a fair popsong with an up-tempo chorus.



We have found the way to Paradise
- made a lucky hit
And once you get into Paradise
then two willl become one
We have found our private Paradise
Found the way, now it's you and me

---
Here are the votings (no regional details were announced, due to a technical mess-up I suppose).
| Place | Song | Artist | Votes |
| --- | --- | --- | --- |
| 1 | Stemmen i mit liv | Kølig Kaj & Co | 5695 votes (31,5 %) |
| 2 | Utopia | Jette Torp | 5331 votes (29,4 %) |
| 3 | Sig mig li' Mari | Gorm Bull Sarning | 1642 votes ( 9,1 %) |
| 4. | Vejen til Paradis | Lei Moe | 1432 votes ( 7,9 %) |
| 5 | Hymne til livet | Maria Abel | 1275 votes ( 7,0 %) |
| 6 | Et skyggespil | Hans Olsen | 916 votes( 5,1 %) |
| 7 | Livet er en ubed | Dennis Adamsen Jensen | 642 votes( 3,5 %) |
| 8 | Du er den eneste | Lars Nielsen | 535 votes( 3,0 %) |
| 9 | Hvor ger man hen .. | Stay Tuned | 452 votes( 2,5 %) |
| 10 | Mon du tænker en ... | Gry Harriet | 185 votes( 1,0%) |
A special thanks to Søren R. Jensen for this report which is mostly in his own HTML!
Internal links: