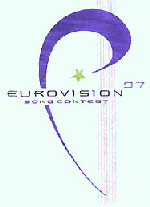 ---
1997 Eurovision Song Contest, Ireland
---
Updated October 22nd
Review of 1997 contest!
The United Kingdom won the contest on May 3rd, with 'Love Shine a light', sung by Katrina and the Waves. The score was the highest in the contest's history, and so was the winning margin.

I took over 200 pictures, and some of them can be seen on this site.

Thank you for being patient. Rather too many distractions have made my reports from Dublin get very much delayed, but there's still more work to do, but some of it is here, and we still have over 40 weeks to the 1998 contest!

I hope you will keep coming back to see me finally catch up with this year's contest!

Index to review of 1997 Contest

I-Spy the Eurovision stars (coming soon!)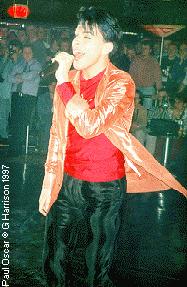 Paul Oscar, seen here at his Press Party in Dublin was the guest at the Eurovision Network Convention October 18-20 in Bingley, Yorkshine. It will be interesting to see if he does his Dana and Baccara impressions we saw at the Icelandic press party in Dublin!
Not to be outdone, OGAE UK, had Niamh Kavanagh, the 1993 winner, as their booked guest for their convention in Southampton October 10-12.(she also attended the Network convention)
OGAE Germany had Muriel Day as their guest in Frankfurt on September 6th.
This link will take you to a page about the fan clubs.
Trenhantiri, the specialist Greek record shop has a large proportion of this year's Eurosongs (and past ones) for sale. At the time of writing stocks are said to be running low, but they are hoping to get copies of the relatively rare Hungarian entry soon.
This link will take you to a page listing record suppliers.

Internal links: