---
Denmark 1999
---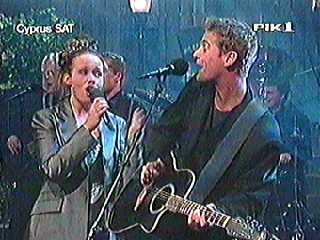 "Denne Gang" (This time) performed by Trine Jepsen & Michael Teschl (right) won the Danish Melodi Grand Prix on March 13th.
It has now been retitled ' This Time', and recorded in English, and it is this English version which will be performed in Jerusalem.
The English version is pretty good, and should pass muster in Israel, but why not try it for yourself, by playing the Real Audio file.

If you need the free Real Audio Player just click this logo. The file is encoded for older versions as well as new versions of the player. It certainly plays on versions 4 and above.
Roger Fry in Norway sent me a preview of the Danish selection for Jerusalem, and I have added to it my post event comments, and the scores. My comments are in blue italics:
This year's Danish Melodi Grand Prix took place on this Saturday, March 13th. It was presented by Keld Heick in the guise of a gala edition of his weekly show on DR1, Musikbutikken.

The following five songs competed:

1. FLAMMER UNDER VAND (Flames under water) 42 Points/ 3rd
(Søren Bundgaard)
Stine Findsen - A lady with strange eyebrows - enough said.

2. KYS MIG I NAT (Kiss me tonight) 30 Points/ 4th
(Thomas Negrijn)
Clark Best [aka Thomas Negrijn] - Clark pulled rubbish out of his pockets as he sang this slowish romantic song. Quite good, I thought.

3. 3 x EURO 44 Points/ 2nd
(Michael Hardinger/Rasmus Schwenger)
Jacob Haugaard - Not too serious a song brought to us by a man who seemed to be the Danish enbodiment of Jahn Teigen & Ketil Stokkan in one.

4. DENNE GANG (This time) 60 Points/ 1st
(Ebbe Ravn)
Trine Jepsen & Michael Teschl - Pleasant duet sung by a guy with a guitar & girl with problem hair

5. TO HJERTER (Two hearts) 24 Points/ 5th
(Tamra Rosanes/Susanne Marcussen)
Susanne Marcussen - Weak, slow song from a young singer.

The winning song was selected by a combination of televoting and an expert jury - the viewers' votes being worth 80% of the total.

The expert jury consisted of:
Anders Frandsen
Carola
Johnny Reimar
Anne Herdorf
Ann-Louise
Alex Nyborg Madsen

As well as the entries, the show included a lot of entertainment, including a quiz involving the six "experts". This was pretty embarassing. Most of the jury had difficulty answering the questions, and Carola seemed to be struggling to understand the questions, delivered in Danish. It was lovely to hear her answer in Swedish, though (I understand Swedish having studied it some years ago). Sadly she didn't sing. There was also a guest appearance by Brotherhood of Man, who sang, "Save all your kisses for me", as if they would sing anything else!
The programme was on DR1 from 20:35 - 22:05 (CET).
Roger Fry & Geoff Harrison
Thanks, Roger!