---
The Netherlands 1997
---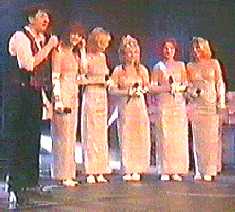 The Dutch contest was hosted on February 23rd by Bart Peeters, and the female-group Mrs Einstein (seen here) will sing 'Niemand heeft nog tijd' in Dublin.
Definitely not a girl-group (We are WOMEN said one), Mrs Einstein are more your cabaret act than a Dutch 'Spice girls'.
The show consisted mostly of a chat with the women, interspersed with interviews with guests, Corry Brokken, Heddy Lester, Gerard Joling, and Henry Klok from the Dutch fan club.
The songs varied in style, but were all best suited to a night club cabaret act. Voting was by telephone from the Dutch people, but regionalised, which made it go on forever.
The winning song reminds me of 'Live and let die', the James Bond movie theme, and the women stand, and walk around during it. I personally don't find it very inspired, but it was the most lively of the six songs offered.
Here was the line up (composers in italics):
Ik doe alsof (I pretend) - Erwin de Graaf (29 pts)
Dat liefde zo moet zijn (Love has to be that way) - Hans van Hemert (76 pts)
Samen sterk (Together strong) - Tjeerd van Zanen and Alan Michael (30 pts)
Niemand heeft nog tijd (No one has time) - Ed Hooymans (77 pts) - Winner!
Toen de arde stilstond (When the world stood still) - Gus Willemse (75 pts)
Laat het lo (Let it go) - Jerry van der Wolf (49 pts)
Why not revisit last year's Dutch contest at my attic site.
Internal links: