---
The Netherlands 1999
---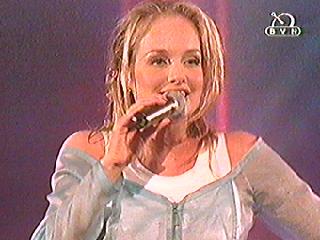 "One Good Reason" performed by Marlayne (left) won the Dutch selection on 14 March in Hilversum, and will represent The Netherlands in Jerusalem.
Play a full length Real Audio clip by selecting this link.
I was able to watch the show on BVN on satellite, and below is my review.
However, you may want to read another review and Werner Sewbalak from The Netherlands has kindly sent me an excellent detailed review of the contest from a Dutch point of view.
So click here to read Werner's review with pictures and very full results.
Or, back to my comments:
A very humourous and entertaining show, with some good songs, although I can't help saying that with all of them being in English, I was forced to compare them to English acts, and they didn't fare so well in that.
The show opened with Linda de Mol welcoming us to the show in English, but after a few lines she was interrupted by Paul de Leeuw who pointed out, in English, that she was speaking in English.
"But all the songs this year are in English, so I thought I would do the show in English", Linda said, so Paul replied, "Aren't you afraid of losing your identity? German or Dutch, please".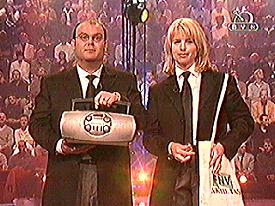 I think this refers to Linda's frequent appearances presenting on German TV shows. In the dark past she was a presenter on British Sky TV.
After some more humour, and a breif chat with last year's Dutch winner, Edsilia Rombley, who was in the audience, we were onto the show.
The set was full of ribbed metal structures, a bit like the final held in Norway in 1996. This was the style for the Portuguese and German finals earlier in the week, so maybe this set is "doing the rounds."
I've chosen to add my comments under the preview information sent to me by Erik Oosterwijk, so my comments are in blue, and Eric had nothing to do with them.
The pre-selection took place on 14 March in Hilversum and was again hosted by Paul de Leeuw and Linda de Mol (as last year).
10 songs have been chosen for this year's competition, of which 5 composers were invited to enter a song. The other 5 were so-called open entries.
Forever Night and Day (by All Mixed Up) - written by Ruben Tewari & Ricardo Leeuwin.(32 points - 8th) [Open Entry] A four piece boy band. Enough said.

Coming Home (by Tamara) - written by Jack Veerman, Jan Keizer & Jan Tuijp. These guys are members and composers of the well-known band BZN, who have been together for about 30 years and sold millions of albums and singles. I don't know the singer, but her second name is Tol, who also played in the band BZN, so I assume it might be family.(83 points - 4th) [Invited Entry] - A static girl singer with a sort of 'Torch Song'.

Positivity (There's a Better Way) (by Colorz) - written by John Ewbank, Eric van Tijn & Jochem Fluitsma. Even though I don't know this band either, I expect quite a bit from this group, as the composers are the ones of 'Vrede'(Ruth Jacott in '93) and last year's 'Hemel en Aarde' by Edsilia. John Ewbank joined Fluitsma/Van Tijn, which is quite unexpected, because last year he ended with his song just after Edsilia, so the Number 1 and 2 of last 1998 have joined forces. He is also responsible for most songs of Marco Borsato, a very famous Dutch singer. (68 points - 6th) [Invited Entry] A five piece group, with two girls in white. Looked, and acted a bit like 'Steps', but the song wasn't very memorable to me.

Dreams (by Jane) - written by Tom Bakker and Mark van Toot. (96 points - 3rd) [Open Entry] Lady with the 'Zeit' costume and problem hair. A slow dreamy song about..dreams. Not bad.

Maybe Love (by All of Us) - written by Eeg van Kruijsdijk & Ed van Otterdijk. These two are responsible for the hit-singles of the new female group Close II You, who have been quite successful in different parts of Europe. The performer I never hear of. (30 points - 9th) [Invited Entry] Five-piece boy band, all in black. Nice backing, but weak singing.

Before the clock strikes twelve (by Donya) - written by John van Katwijk, who is responsible for the songs of quite a few Dutch artists (like Rene Froger, Linda, Roos & Jessica, etc.). The singer Donya I don't know. (55 points - 7th) [Invited Entry] Donya Bassey is her name, and she's been on the Soundmix show. We had chimes on stage, and dark-haired Donya's song was a somewhat romantic thing about what she was going to do before twelve. She already seemed to be in her underwear.

E-mail to Berlin (by Double Date) - written by Jeroen Flamann, Jeff Porter & Jan Rot. Jeroen Flamann is quite famous for writing songs, which became quite big in the House-scene and Jan Rot is a famous Dutch singer/composer. As you may notice, this year we got most unknown artists, because the group Double Date again I have not heard of. (19 points - 10th) [Open Entry] Double Date are twins Isabel & Barbera, only distinguishable by Barbera's stud under her lip. This was a modern song with a harp on stage, all about the two girls sending all their love by e-mail all over the world, "Hello from Amsterdam". It would have helped if Double Date could sing, but they were off-key almost the whole song, and were eventually the butt of jokes from Linda & Paul.

Where is the time (by Roger Happel) - written by Tjeerd Oosterhuis, who is member and composer of the very popular band Total Touch. I am not sure, but I think the singer is one of the guys, who sang backing vocals with Edsilia's song last year. (82 points - 5th) [Invited Entry] Roger plays the piano, gets up, and wanders round, backed by male voices. Sounded like it might have been written for a boy band.

We don't live too long (by Deante) - written by Jerry Wolff, Roger Griffiths and Terence Isajas. Of the last 3 songs, I don't know any of the artists or composers. (103 points - 2nd) [Open Entry] Four-piece black boy band. Vaguely soul-inspired slow song about enjoying life. One of the guys had his hair looking like a leopard skin. This was the most interesting feature for me!

One Good Reason (by Marlayne) - written by Tjeerd van Zanten & Alam Michael, who wrote together one of the pre-selection songs in 1997 for Mrs. Einstein. Alan Michael also co-wrote one of the pre-selection songs in 1993 for Ruth Jacott. The singer again I don't know. (248 points - 1st) [Open Entry] 27 year-old blue-eyed Marlayne sang this vaguely country-style song accompanied by a man on guitar. Fairly immediate, I found it the best on first hearing.
After the songs we had Imaani, last year's British entrant, as guest, but she only sang "Where are You?".
Then there was the voting, firstly from juries, and then the telephone vote from the public which was so heavily weighted that the juries didn't matter. Quite exciting to watch, though.
Good luck to Marlayne!
And thanks to Erik Oosterwijk!
Peter Jasperse reports on the storm over this list:
The ESC is still capable of stirring up the normally boring Dutch political scene.
As you know it is this year allowed to enter a song in a language other than the official language(s) of your country.
The Dutch organisation promptly selected only English songs for this years qualifying round. A member of the Dutch parliament thinks that is an outrage and has asked the Minister for Culture to use his influence to reverse the decision of the Dutch Broadcasting Organisation. A member of parliament (member of a party which participates in the coalition governement) thinks it is a 'bloody shame' that the Dutch and Frisian languages (the 2 official languages in Holland) have lost out to English songs.
Thanks, Peter.