---
Finland 1998
---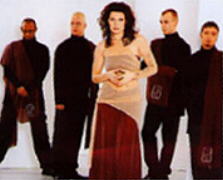 Finland selected its song for the 1998 final in their Euroviisut on February 14th.
It is "Aava", performed by Edea, lead singer is Marika Krook.
Here is a picture of Edea taken from the Finnish TV site (apologies to Finnish TV).
I have now received a report from one of the fan club judges of this contest. You can read Petri Tuunainen's fascinating report on it's own page at the link just below.

I have also three viewer's reports on the excellent Finnish final, and have decided to devote a page just to them.
And you can now visit Edea's web site from this link.

So this page contains just the result table, and pre-contest report.
Go to Petri Tuunainen's report on his day as a judge of the Finnish final (with lyrics to Aava) Now with pictures!
Go to the three post-contest reports by selecting this link. Now with pictures!
The results taken from the Finnish TV web site are:
| | | | |
| --- | --- | --- | --- |
| P | Performer(s) | Song Title | Pts |
| 1. | EDEA | "Aava" | 23 pts |
| 2. | JARI SILLANPÄÄ | "Valkeaa unelmaa" | 21 pts |
| 3. | NYLON BEAT | "Umm ma ma" | 19 pts |
| 4. | SARI KAASINEN | "Mielessäni" | 19 pts |
| 5. | ULTRA BRA | "Tyttöjen välisestä ystävyydestä" | 19 pts |
| 6. | SAMULI & SANI | "Olen luonasi sun" | 14 pts |
| 7. | KAIJA & ILE | "Maailman laitaan" | 11 pts |
| 8. | ELENA MADY | "Honeymoon" | 9 pts |
| 9. | LUKA | "Tuun sun luo" | 3 pts |
Here is a pre-contest commentary sent to me by Pasi Vanttaja. Below the list is a further commentary by Petri Tuunainen.
There are 9 songs participating, 7 of which are "ordered" from composers and 2 from an open contest (I don't know which, but it seems quite obvious). Here are the songs and their performers in order of appearance in the Finnish final:
(the translations of the names are my own, not "official".)
1. "Maailman laitaan tanssitaan" ("We dance to the edge of the world")
- performers: Kaija & Ile
;* note: Kaija sang "Hullu yo" in Rome 1991. Ile is her husband.
- music/lyrics: Ile Kallio & Kaija Kärkinen

2. "Honeymoon" (the same.. ;)
- performer: Elena Mady
;* note: never heard that name before, but...
- music: Maki Kolehmainen & Mika Mettälä
- lyrics: Vera
;* note: Maki & Vera are part of an extremely popular Finnish dance band "Aikakone"

3. "Umm ma ma" (hmm.. hope not the same as Yamma-Yamma... ;)
- performers: Nylon Beat
;* note: new, VERY popular two-girl-group
- music: Risto Asikainen
- lyrics: Risto Asikainen, Sipi Castren

4. "Olen luonasi sun" ("I'm here with you")
- performers: Samuli & Sani
;* note: Samuli (Edelmann) is quite popular Finnish male singer and Sani part of "Aikakone" (mentioned earlier)
- music: Maki Kolehmainen
- lyrics: Saija Aartela
;* note: music&lyrics by Aikakone, that is.. ;)

5. "Mielessäni" ("In my mind")
- performer: Sari Kaasinen
- music&lyrics: Sari Kaasinen
;* note: Sari Kaasinen is well known around the world for her being in the popular "Värttinä"-group playing traditional Finnish-sounding music

6. "Valkeaa unelmaa" ("White dream")
- performer: Jari Sillanpää
;* note: I guess the most popular Finnish male songer nowadays
- music: Mika Toivonen
;* note: Mika Toivonen is highly-ranked tango singer and composer in Finland
- lyrics: Pekka Laaksonen

7. "Tyttöjen välisestä ystävyydestä" ("About love between girls")
- performer: Ultra Bra
;* note: rising star in the field of Finnish singing groups, really nice sound
- music: Kerkko Koskinen
- lyrics: Anni Sinnemäki
;* note: obviously the writers of Ultra Bra

8. "Tuun sun luo" ("I come to you")
- performer: Luka
;* note: never heard of him before
- music&lyrics: Ville Vento & Luka

9. "Aava" (hard to translate.. Aava means "open" like in "open sea")
- performer: Edea
- music: Alexi Ahoniemi
- lyrics: Tommy Mansikka-aho
;* note: all of them unknown to me


So, there you have them. YLE (the Finnish Broadcasting Company) says that these songs were pre-selected on the following criteria: they should change the idea of the traditional Finnish entry being dull, simple and blue and to bring out more happy, upbeat music from Finland.
And, hopefully, bring out more points from the juries. All the 9 songs in the Finnish Final are sung in Finnish language.
There were 189 songs submitted in total to the Finnish preselection.
Furthermore, about the Finnish final juries as the National Finnish Jury to the European Final: there'll be three separate juries, the international jury, the ESC Fan Jury and Finnish people televoting. Both the international and the Fan Jury will have 8 members, of which 4 will be foreign members. The nationalities of these 8 foreign jury members are not known (at least I don't know).
The scoring in the Finnish final is indeed 10-8-7-...-1 for each of the 3 juries. In a draw-situation the same rule will be applied as in the European Final, that is, the song having more 10's will win, or if that doesn't help, 8's.
You'll find the YLE "official" Finnish ESC 1998 home page at
http://www.yle.fi/k-18/eurovi98/euroviis.htm (in Finnish)
Thanks again Pasi, or do you prefer to be Hauva?
And here's a commentary by Petri Tuunainen:
Finnish Euroviisut '98 has experienced " the rejuvenation operation". The style looks modern and up to date this year - despite of the fact that there are some unknown names between finalists and conductors.
The most familiar competitor to euro-fans is certainly Kaija Kärkinen + Ile Kallio (Fin '91).
Elena Mady is a new artist (hardly even known) and has published couple of singles produced by the band Aikakone.
NylonBeat is a fresh and energetic duett which consists of 2 teenage girls. They are singing disco music and have published 2 albums. Samuli Edelmann & Sani - both have been in Finnish pre-selections before,
Samuli in 1991 with the song "Peggy" and Sani is one member of the band Aikakone (Time machine) which participated to Euroviisut in 1996 by the song "Ihan hiljaa". Samuli & Sani have recorded before together too and their smash hit is the love song "Tuhat yötä" (thousand nights) in 1995.
Sari Kaasinen is the main character from the band Värttinä, which represents Finnish original folk music.
Simply the most famous finalist is Jari Sillanpää. During last two years he has been the most famous male singer in Finland. His song is conducted by Mika Toivanen who already conducted "Rakkauden kirja" for her wife, Eija Kantola in Euroviisut '96 and came 2nd. Is it his turn this time to win by this melody? Jari Sillanpää has spoken very positively in public about ESC and told that his biggest dream is to win ESC for Finland, so now he is already a little bit closer to this dream coming true becuse he is between 9 finalists.
Ultra Bra - has their own special style. (I'm sure that English people would laugh heartily if Ultra Bra would win mean, what "bra" means in English)
Luka also is quite new face - he has published one album without any bigger mess&ldots;
Edea is totally unknown group but the main singer, sexy Marika Krook is known as a speaker of one talk-show. Likely Edea will represent ethnic style.
By Petri Tuunainen, OGAE-Finland for next Eurosong- news
Thanks Petri!