---
Germany 1997
---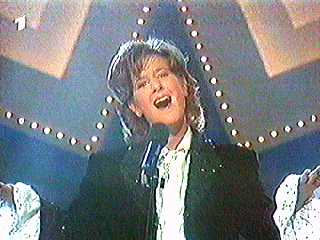 NDR hosted the German selection on February 27th in Lübeck in The Lübecker Musik und Kongreßhalle. Leon, last year's unfortunate German entrant, never got to Oslo but returned with another Hanne Haller song 'Schein', but is wasn't to be again, as Bianca Shomburg (seen here) won easily with 'Zeit', one of two Ralph Siegel songs. Bernd Meinunger was even busier with three songs.
The show, broadcast on ARD, opened as last year with all the entrants on stage singing a song, this time 'Der Countdown Läuft', the name of the show, and coincidentally, the name of the CD of the contest released 28th February by Siegel's Jupiter records. It includes all nine songs, plus those by Nicole, and Mekado, and last year's Leon song.
The stage itself was rather ordinary, as last year, a straight stage with a star shape at the back. Presenter Jens Riewa wasted no time in getting started in front of the very enthusiastic crowd.
Here's the list, in performance order: (Title, performers in italics, then writers), my comments in line below:
(Ich bin) Solo - Verliebte Jungs - C. Siemons, B. Arnz, Reiner Hömig
The curse of the boy band! This set gave us rather hesitant and wobbly singing, but it is always hard to start a show.
Es lebe die Liebe - Michaela - Wayne Morris, Wayne Morris, Sabine Morris
A bleached blond in shiny black. Lots of slow arm waving from her and three backing singers, in a song that reminded me of the 70's group ELO. Fairly good singer, big ending.
Bitte verzeih Mir - Jeana - Peter Hoff, Mike Bordt
A rather hesitant performance by this newcomer. On stage, a piano, a female violinist, and a guitarist. Monotonous medium-paced song.
Engel - All About Angels - Ralph Siegel, Bernd Meinunger
A girl-band! Five girls in white extolling the virtues of angels. lots of meaningless words, nothing special.
Im Auge des Orkans - Michelle - Jean Frankfurter, Irma Holder
A familiar face to regular viewers on German TV, little Michelle wore a white dress, and was backed on stage by a long-haired male pianist. Not one the better songs I've heard her perform. Nice, but too easy to forget
In one of the brief breaks, our presenter introduced Lys Assia, winner of the very first Eurovision contest, and still the only Swiss-born winner. Her birthday on Sunday, she said.
Schein (Meine kleine Taschenlampe) - Leon - Hanne Haller, Bernd Meinunger
Looking exactly like last year, but with 5 on stage, the song was rather different, a mild dance/techno novelty song. Well performed, but rather disappointing. We didn't get to see his little lamp which 'he always carries with him'
Zeit - Bianca Shomburg - Ralph Siegel, Bernd Meinunger
Did an impression for the German soundmix show of Celine Dion, and it shows. A strong voice in a rather theatrical slow song, with a powerful chorus. Lines like "Where are you", "I need a little time"
Komm zurück - Viveca - Martin de Vries, Roland Götz, Martin de Vries/Philipp Cassier
Viveca, born in Stockholm, wore hot pants,and had long curly blond hair. this was the nearest to dance music tonight, with 4 male dancers on stage, but Viveca wasn't much of a singer, and this wasn't much of a song
Zwischen Himmel und Erde - Anke Lautenbach - Thomas Natschinski, Inge Branoner
Very much a schlager song from the oldest of tonight's performers dressed in black
There was then the inevitable flashback, before the start of telephone voting which lasted less than 10 minutes. As last year, a dire act on stage, made voting the only alternative. This time three acrobats, their bodies painted gold. 'Golden boys', Jens said.
Then Jens gave us the results as percentages, saying it was just like Christmas. A series of bar graphs was shown on screen, the highest showed 40.2% as the score, and the smallest scoring 1.8%.
however, only the top three were ever named, and here they are:
Bianca Shomburg - 40.2%
Leon - 13.0%
Michelle - 11.8%
Boos and cheers greeted the winner, who won with a massive margin, and reprised the song.
It is a good song, well performed, but I would be surprised if was the kind of song that scored highly in the final.
Geoff Harrison
Frank Ehrlacher has a web page with more details on the contest, and pictures. Its in German.
Why not revisit last year's German contest at my attic site.
Internal links: