---
Ireland 1999
---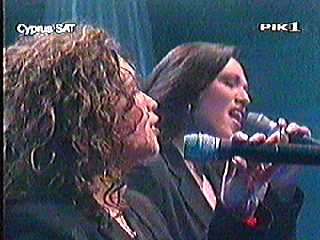 On March 7th Ireland chose "When you need me" written by Bronagh Mullan, and performed by Bronagh Mullan and Karen Mullan (left), to represent them in Israel.
This was a unanimous verdict of all the juries.
RTE radio 2 declined to feed the show to the rest of Europe this year.
It's a fairly lightweight song, which I doubt will do very well in Israel, but how often have I been wrong about Ireland!
The rest of the page is so far unchanged from earlier. There's still a list of songs below.
News from Ireland (updated 2/3):
RTE now has a website now open with pictures and biographies of the Irish entries. There are updated views on the songs so far at the foot of this page.

Just below is the Irish EuroSong line-up. The picture on the right is of Pat Kenny (who will host the contest) with Fionuala Sherry, half on Secret Garden, the 1995 Eurovision winners.
Songs will be presented from 9 January on RTÉ's 'Kenny Live' (This seems to have been the case since the dawn of time), with a final special edition on Sunday March 7th (2120-2235 GMT) which we may be able to hear on VH-1's RTÉ Radio 1 subcarrier (there is a story RTE Radio 1 won't be carrying it this year).
In a departure from the time-honoured tradition, there will be no votes from the jury in "Paddy O'Malley's bar in Ballybunion", or any other Bally place. RTÉ is going to use televoting.
I know I won't be the only one to miss those rustic voices telling us how it never rains in Cork, or suchlike.
Those not in Ireland who are lucky enough to get Tara TV on cable or on Sky Digital will be able to see each song unfold week by week.
Here's a report from The Irish Times on the Eurosong:
The final may well have a strong flavour of "Northern soul" with three of the eight finalists from the North.
For singers Tommy Quinn, Gary O'Shaughnessy and Maggie Toal it could well be a case of second time lucky. All three bring the experience of previous finals to the competition.
There is one Irish-language song in the final, An Bon Bon Carr, a psychedelic pop song about an old man's trip to Tír na nÓg.
Should Ireland win the Eurovision contest, RTÉ would host next year's event at a cost of about £3 million.
Mr Joe Mulholland, managing director of RTE TV, said: "For the good of the competition it would be a bit premature for RTÉ to host it again." Pat Kenny said he doubted if any of the contestants could capture the campness and kitsch of the contest as successfully as last year's winner, an Israeli transsexual called Dana International.
Irish Eurosong selection 1999

Title

Writer(s)

Performer(s)

A

I believed

Des and Danny Sheerin

Nigel Connell

B

You must have been crazy

Brendan Keely and Graham Murphy

Brendan Keely

C

Run to me

Barry Doyle

Barry Doyle

D

You can't fight it

John Fitzpatrick

Tommy Quinn

E

I won't ever let you go

Stephen Nimmon

Maggie Toal & Andy McComish

F

An bon bon carr

Prionsias Mac An Tuile and Bríd Ní Mhurchú

Prionsias Mac An Tuile

G

I'll be there

Denise Reynolds

Gary O'Shaughnessy

H

When you need me

Bronagh Mullan

Bronagh Mullan and Karen Mullan
Tara Brennan reports after seeing Kenny Live on 9th January:
The first song was previewed to-night. It was ok but the words reminded me of a mix of last year's Romanian and Swedish songs, it was sung by a Co. Meath man called Nigel Connell and was written by brothers Des and Danny Sheerin and its called "I believed". Des and Danny were also finalists in 1997.Next week it has been confirmed that well known Irish singer Brendan Keely will sing "you must have been crazy" which he collaborated on with Graham Murphy who is from Dublin.
Tara Brennan reports again after seeing Kenny Live on 16th January: The song wasn't that bad, but for anyone who's heard some of Brendan Keely's songs before, it sounds just like all the others. During the song I did notice that the backing singers were as familiar as Brendan Himself. his backing singers comprised of none other then Paul Harrington(of Rock and Roll Kids fame) and Karen Hamil who were both Dawn's backing singers last year. RTE seem to be relying on Paul again this year, and as he said when I interviewed him before last years final, He wants to continue on in the Eurovision for as long as he possible can.
Tara Brennan reports again after seeing Kenny Live on 23rd January:This week's song was written and performed by Dublin man Barry Doyle. Barry is a classically trained keyboard player, but he also plays guitar.He fronted a band called Shame who had numerous hits over here, and he is currentlly lead singer with a 70's tribute band called the Flares.
In my opinion it was the best song so far. It was very poppy and Barry sang it well.
Tara Brennan reports again after seeing Kenny Live on 30th January:This weeks song was sung by Tommy Quinn, who was runner up to Linda Martin in 92'. The song is called You can't fight it and it was written by John Fitzpatrick, who considers himself as a bit of a poet, and with opening lines such as "Some of us win, some of us lose, and there are some who get the blues" who would argue with him.The song was OK, not the best I've seen so far but its still in with a chance !!!
Tara Brennan reports again after seeing Kenny Live on 6th February: Surprise, surprise Maggie Toal sang on Saturday, but she wasn't alone, the song turned out to be a duet with a young Irish Singer called Andy McComish. Andy is lead singer with a the band Breathless and it was his first time on TV. At the moment Maggie is lead singer with a band called Vocalzone. The song is called "I won't ever let you go" and was written by Stephen Nimmon, who has been composing in musical theatre over the last couple of years and has been very successful there.
Tara Brennan reports again after seeing Kenny Live on 13th February: The song was called An bon bon carr (a fast fast car, according to the dictionary) It was written by Prionsias Mac an Tuile and Brid Ni Mhurchu, and sung by Prionsias.
Prionsias is from Ballycroy in Co. Mayo and works for a company in Castlebar. Brid is from Tuam in Galway and is a primary school teacher. The band, Duna come from Mayo, Galway and Dublin.
The song is very repetitive and gets really boring after the first minute.
The song seems to be about this guy bragging about having a fast car and that he's gonna travel to Tir na nOg. The first line is " Is mise an fear leis an bon bon carr " which is roughly translated as,"I am a man with a fast fast car " and apart from the odd Tir na nOg I didn't understand anything else. The only way this song could win is the fact that its catchy, Even though its a bad song you find yourself singing along. But I can't see this winning at all !!!
Thanks Tara!