---
Reports from Jerusalem
---
Hello from the Press Centre at the venue of The Eurovision Song Contest!
Updated 0200 Sunday - Sweden Wins! - see bottom of page!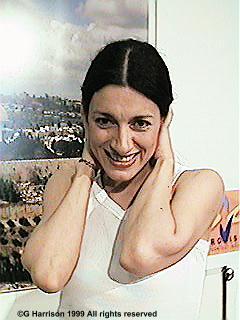 Monday - It's a hot and sunny day here, and the rehearsals are about to begin, so bye for now!
PS - I came in the bus with Marlayne from The Netherlands yesterday
Monday 2.20pm - And the first big story is a protest from the heads of delegation about Croatia whose backing track has male vocals on it - all the vocalists must be on stage, and they only have one girl (who sang with Danijela last year). Croatia has no other backing track.
Tonight's reception is open air at the Museum of Israel.
Precious just finished their press conference, Darja Svajger is on stage now.... the set looks great on the monitors, and is, as expected, on the theme of the Solar System. There should be pictures on this page later - I have a good one of Doris so far.
Posted 1600 Tuesday:
Monday was the first of six gruelling days of press conferences and parties. Away from the sweltering heat outside, Belgium's Vanessa Chinitor opened the rehearsals with the haunting "Like the wind".
The contest had its first row - Croatia's backing track had vocals - forbidden, and we saw the set for the first time. It's inspired by the Solar System - all globes and dials.
(The row is now settled - it seems the male vocals were synthesised)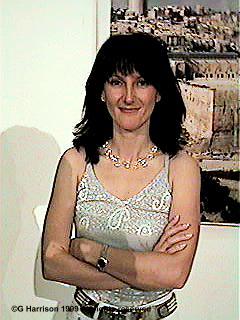 (Picture - Nayah without the hair-do from Gautier's hairdresser)
Britain's Precious were flattered to be compared to other British girl groups, but their music was sophisticated pop. "Say it Again" reached number 6 in the charts Sunday.
Iceland's Selma hopes not to be "All out of luck" (her song's title) when she sings thirteenth in the running order. "Thirteen is my lucky number - I was born on 13th June", she said.
Thankfully there was plenty of food and drink at the first party at the Museum of Israel - we hadn't yet stopped to eat!
Posted 2000 Tuesday (Israel time) - I will add more tomorrow evening when there may be more pictures. Tomorrow I take a tour to the Dead Sea and Masada.....
Tuesday was another day of rehearsals, but not for me. I took a tour of old and new Jerusalem with the Turkish and Spanish parties. I was able to touch the Western Wall, the holiest place for Jews, and touch the stone which supported Christ's cross - and eat a Falafel - Israel's national snack - a salad in a pitta bread sandwich.
It was all a tough time for tour guide Dalia and our armed guard as both Tugba Onal, Turkey's tall and beautiful singer and Spain's gum-chewing 19-year old Lydia, were constantly lost in the hundreds of bazaars in the winding alleyways.
Marlayne, singer of country song, "One good reason" was on another tour, surrounded by camera crews - the song is highly rated.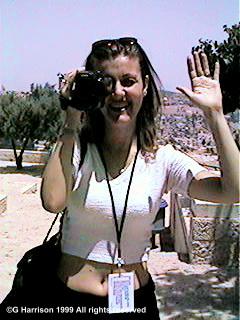 (Picture Tuba Onal filming her Reise Nach Jerusalem)
We were back just in time to see Lithuania's Aiste rehearse her song about a thrush standing on melting ice. Lots of 'Ooohs' and 'Aaahs', but its hauntingly different.
Tonight is the Slovenian party - always one of the best with a sing-a-long guaranteed.
Posted 2300 Wednesday (Israel time): Saturday's show will end, as usual, with a reprise of the winning song, but before performers from all twenty-three countries will come on stage to sing "Hallelujah", the Israeli 1979 Eurovision Song Contest winning song.
This was rehearsed at the end of a hectic Wednesday, which saw a previous winner, Cheryl Baker from Bucks Fizz, question hot favourite, Selma in Iceland's press conference. Cheryl got some good material for her documentary for BBC-TV, when Selma, encouraged by the crowd, sang a few past winners, including "All kinds of Everything", the 1970 winner for Ireland's Dana.

Earlier Evelin Samuel, singer of Estonia's song, "Diamond of Night", was too tired to swim in the Dead Sea on the tour which I joined - she'd been dancing at the Euro-Disco until 5am, after partying with Slovenia past midnight. She missed the bizarre experience of floating in slimy salty sea in scorching sunshine - unforgettable!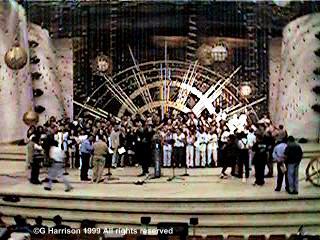 (Picture - we were allowed to photograph the rehearsal of the end of the show, but stage lights were off - the white boards change colour and behind the dials there's a video screen)
Posted 2300 Thursday (Israel time): You wouldn't expect to see a rugby scrum here at the Song Contest, but for the true fan collecting the year's CDs is a must. Some are never released - the only place to get them is here. If the CD is in demand - hey presto - dozens will dive on the unfortunate dishing them out. Alp Tuncaci was one such unfortunate with promo CDs of the Turkish song, "Don Artik", and he survived.
Ireland's Karen & Bronagh Mullan were badly sunburned yesterday, but should be fine for Saturday, as should slightly burned Francesca from Maltese girl trio, Times Three. Their stunning dresses and choreography are by Ofer Shafrir who did the same for last year's winner, Dana International.
Tonight saw the final party round, the Dutch, the Icelandic, and the Norwegian were a blur, and the biggest row is over the full rehearsal on Saturday afternoon - on the Jewish Sabbath.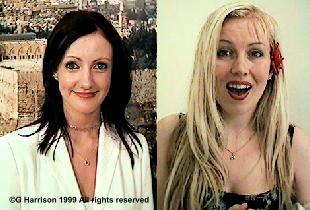 (Picture - Evelin Samuel & Camille for Estonia - PS Camille didn't like this picture, but I think it has something)
Posted 1200 Saturday (Israel time): Croatia's "Maria Magdalene" was the favourite song of Orna, an Israeli girl seated next to me in the first public dress rehearsal this (Friday) morning. She, like me, was still on the quest for the coveted ticket for Saturday evening, but was thrilled to see this show - she'd been in England last year but couldn't get a ticket for Eurovision '98. We agreed the show was spectacular, with twenty-three great songs, plus a bonus songs from "Fiddler on the roof", and Dana International's new song. "Free" before the voting, but Dana was only on film - she wasn't in this rehearsal.
Dana was in the Press Conference afterwards - a circus with tens of video cameras, some of them professional, and tens of fawning fans, some of them journalists. Dana had an easy ride, "What was it like when the votes came in", was one, surely a year late, and then she was mobbed at the photo-call. I gave Orna my afternoon rehearsal ticket - Dana was on stage for a few moments - I hope Orna thought it was worth it!
And additional stuff just for you on the web..
There's going to be trouble this afternoon when the orthodox jews will protest the rehearsal starting at 3pm here on the Sabbath, which ends at dusk. Shabbat, as they call it, is pretty strange for me. We took a walk into town last night - no buses, almost no traffic, and NOTHING open, until we got to old Jerusalem where the Moslem-run places were still plying there trade in crucifixes, Jewish menorahs, and mugs. There are shabbat elevators in each hotel, which stop at every floor, and the Crown Plaza serves no hot food today.
Meanwhile Croatia is now the favourite after a fabulous rehearsal yesterday, with Iceland, Cyprus and Sweden pulling in great support from the audience too, so I tip these four plus the UK as top 5.
Things about the show ... watch out for a brief chat with Terry Wogan as the show starts, and incidentally it takes 15 minutes to get to the first song!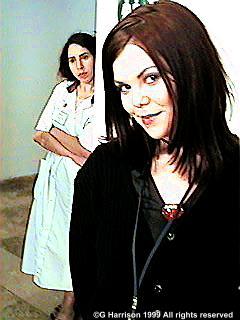 (Picture - Bobbie Singer has a competition for the most unusual picture of her taken with a disposable camera given at a press conference. It has sort of backfired, as one man followed her into a toilet! - I wish this was taken on their camera - I'm sure it would win the free trip to Vienna! It's a great song, and looks very much a dark horse)
Aiste is in black - sounded weak
Vanessa is in a red long dress, Has learned how to say 'The Wind' rather than 'der wind'. Like it, but no winner.
Doris is on 4th for Croatia, starts kneeling and drops here white cape over her long white dress as she storms forward - it's great
Lydia precedes her for Spain - this is good time to check your TV, as she has a dress which looks like colour bars.
Precious looked worn out Friday morning when Cheryl Baker interviewed them, but put in a creditable performance.
Postcard of 'Adam & Eve' takes us to Slovenia. Darja is all in yellow. Went down well, but not so well sung this time. The words are by an American living in Slovenia, but she must have forgotten English, I think.
Norway's Van Eyck stuck to the old red costume of the Melodi Grand Prix - his party saw him sing some Elvis.
Denmark - another low scorer for sure - 'nuff said
Turkey's Tugba Onal (or Tuba - both OK) has gone for exotic with a red skirt and a shiny bejeweled top - and it really helps - it will do well.
France's Nayah gave her best performance so far in a long black slinky dress, and followed it by saying Thank-you in Hebrew
Poland looks like the no points candidate - he wears black, and the audience started chatting during the song, which was followed by a 'commercial break' for some countries. Those who don't have that will see presenters Dafna & Sigal sing a song from 'Fiddler on the Roof' - "To life".
Then onward to Iceland preceded by the postcard 'Manna from heaven' (The postcards are on a biblical theme - no performers in them). Selma wears a white dress with shiny bits, with male dancers in long coats. Very well received.
Marlain for Cyprus wears a head mike - its still in Greek, but packs a real punch now. She wears a strapless black all-in-one.
The Irish delegation say Sweden's Charlotte looks like a bad porn star - her tight-fitting red trousers and top has a design which accentuates her very ample bust, but the song goes down a storm, probably because we all heard it before in 1974.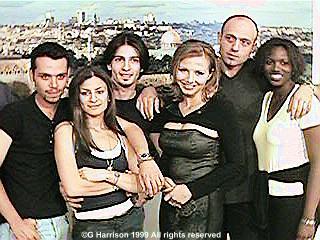 (Picture - Marlain and backing vocalists)
Ireland's duo still look well sunburnt and have the most awful dresses - white and silver sort of overdresses. They are alone on stage, and it wasn't sounding good yesterday, but Eimear Quinn was on hand at the Irish party last night.
I love Bobbie Singer's song now, but the cheeky performance didn't come over well yesterday. Much better acapella in the Press Conference on Thursday. Red trouser suit.
A postcard of 'The Promised Land' led us to Israel. Predictably went down well.
Glittery dresses for Malta with Chris & Moira (writers) as backing vocalists, but they sounding a little hoarse. Great choreography by Dana International's Ofer Shafrir, and a great finish.
'Tower of Babel' precedes Germany which sounds good. Looks just like the Germany final. I don't like it, but it may do very well.
Bosnia still seems to bore, despite a violinist moving around the stage, and then Estonia - cream dress, Camille in white - looks good, Evelin sings divinely, but it will never win.
Then we have the Interval act - Free, the new single by Dana International, in a filmed segment. Lots of banging of tins, before she starts singing. VERY spectacular, and then she is on stage - briefly, and we're into voting with the male presenter Yigal Ravid.
He's not so hot, but it will be OK, I guess. An innovation here is that each delegation in the green room has a camera, so we can have little pictures of them all on screen.
Scoreboard is like last year - even the BBC logo appears!
TV presentation visually is good - not too many long shots.
Well, that's it for now, phew!
And here's the result at 0200 Sunday
1 - Sweden 163 pts
2 - Iceland 146 pts
3 - Germany 140 pts
4 - Croatia 118 pts
5 - Israel 93 pts
What a exciting final! - up to the last but one vote Selma could've won for Iceland - and what happened to Dana? - she fell over while presenting the trophy!
Anyway I've just been at the Press Conference, and here's a picture taken there.
Next year's show will be at The Globe, Stockholm.
Press Centre is closing, and the party is on, so bye from Jerusalem!
All pictures & text ©G Harrison 1999 All rights reserved