---
Meet Marlain
---
On May 9th, a year to the day after the 1998 contest, the 1999 Cypriot entrant, Marlain attended a CD signing in the Trehantiri record shop in London.

I was there along with some other familiar faces including Chris Melville from the Euronet web site, Lyn Baird, and Nicky Bell, who is behind the BBC web site.

Marlain told me she was studying music in London, and had one more year of studies before graduation. She has a degree in Biochemistry & Management, also gained in London at Imperial college.

Born in Athens of Greek & English parents she has lived in the United States, England and in Greece & Cyprus.

Lyn Baird asked her how the song was going to be performed in Jerusalem - would there be any use of English, as the song was sandwiched amongst songs in English?

Marlain said that the song had been registered as being sung in Greek, but they were looking into the possibility of inserting some lines in English, but not a whole verse.

Marlain waits to sign more CDs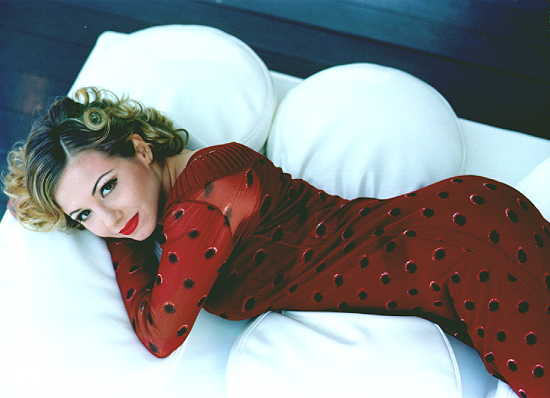 Publicity shot given to The Eurovision Database by Marlain from her video
The song is her first commercially released CD, and is selling well in Cyprus, and is in the airplay top 10. Cyprus has no record sales charts.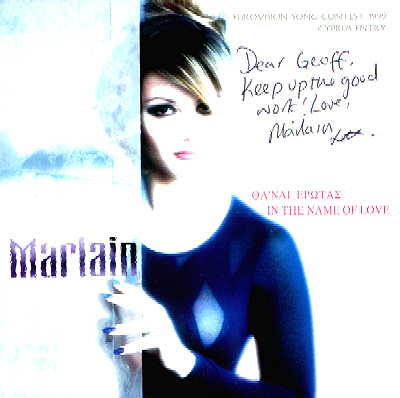 Marlain plans an album after the contest in collaboration with the writer of "Tha ne Erotas", George Kallis.
Negotiations are already taking place to internationally release the single, which has a fine English version, "In the Name of Love",.
I asked about the video, which for a pleasant change, wasn't full of 'tourist board moments'. It had been shot entirely by CYBC in a top nightclub in Cyprus, Marlain said.
Aki, one the guys behind the Trehantiri Greek record shop was running some of the videos from the previews, and I said how impressed I was by the witty Icelandic video. "It's pure musical theatre", Marlain said, adding that she had done some music theatre work in the US.
Trehantiri is the exclusive source for UK copies of the Cypriot entry, and if you contact them soon, you may still be able to get a signed copy. They also have stocks of this year's Maltese, German, Swedish, and Dutch entries, and are hoping to soon have copies of the Croatian, Polish and other singles from this year's contest.