---
Norway 1997
---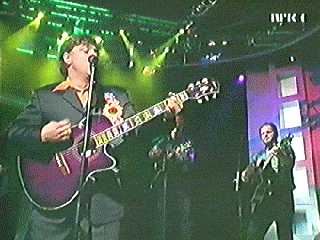 Tor Endresen (seen here) will represent Norway in Dublin with 'San Francisco
Here's all the news on the Norsk Grand Prix 1997 from Morten Thomassen via Tobias Larsson. Additional commentary by Kim Smeby, and final comments on the show as watched live by your editor, Geoff Harrison, over Intelsat 607, are given in italics. Last year's presenter, Tande P (Alf Tande-Pettersen), presented the show.
Here is the list of this year's participants who competed on February 8th to represent Norway in Dublin, with final telephone vote percentages in bold. Below the list I've added a few more comments:
"Min egen superstar" (My own superstar) - MARIANNE ELSTAD OLSEN 11.8%

(Henning Hoel Eriksen/Fredrik Friis)
Marianne participated in 95 with "Kan ikke du"
Lively country-style number

"So ro lille tull" (Sleep tight little girl) - KIM ANGELA LUIS 14.7%

(Torstein Bieler Østveit/Chris Påhlman/Nora Skaug)
Kim Angela is totally unknown
Accompanied by a violinist on stage, this repetitive song was lullaby like

"Consensus" - GURO HÅVIK 10.6%

(Gunnar Lorentzen)
Guro is also totally unknown
Slow and dull sung by a large woman in a purple tent

"Om du elsket meg" (If you loved me) - PENTHOUSE PLAYBOYS 12.6%

(Kjetil Rolness)
This group had great success last year withtheir cover version in easy-listening style
Like 'Arvingarna' grown old, a group of six 50's throw-backs in white. I thought the lead singer couldn't sing. They had a power failure halfway, and went almost silent, and had to restart.

"Venter på deg" (Waiting for you) - GEIR RØNNING 7.0%

(Are Selheim)
Third try for Geir, came second last year
A slow ballad, by Geir with a Mr Spock haircut, and Jan Johansen shaving problem

"Rolig" (Calm) - BEATE OLSEN 2.9%

(Beate Olsen)
Another unknown girl
Debut by a typically blond Scandinavian. Slow and langerous.

"San Francisco" - TOR ENDRESEN 23.0%

(Tor Endresen/Arne Myksvoll)
The only "Superstar" this year, he was chosen by the readers of Norway's largest newspaper, VG. He was originally chosen to sing duet with last year's participant for Norway, Elisabeth Andreassen, but since she's pregnant, he'll have to sing alone.
Tor had only managed second place before. Here, guitar in hand, he sings about flowers in the hair, and 'Everybody sang make love not war', and lots of other nostagic references to the US in the 1960s, including even a bit of 'All you need is love' by the Beatles. Lively, but typically Endresen. Rather similar to his 1993 MGP song 'Radio Luxemburg'(by Rolf Løvland)

"Lys" (Lights) - MANJARI 18.0%

(Rune Lindstrøm)
Manjari is Trude Trefall, another unknown girl
Modern song sung by young fair-haired girl. seemed to have several melodies, but never settled on one. Heavy bass guitar. Interesting, but not immediate.
Rather disappointing I thought. We did have OGAE Norway's main man, Kato Hansen, getting a long interview about the fan club, and Rolf Løvland got a bunch of flowers for being Norway's only winning writer (who didn't enter this year). We had a montage of his eight entries to the MGP, 1982, 85, 87, 89, 92, 93, 94, and 1995. Fionnuala Sherry was there to help him perform 'The Rap' from 'Secret Garden's first album, whilst the Norwegians voted by phone. He had dodged a question about his women by comedian Tande-P.
Norway won't win with Tor Endresen's song, I am sure.
Why not revisit last year's Norwegian contest at my attic site.
Internal links: