---
Norway 1999
---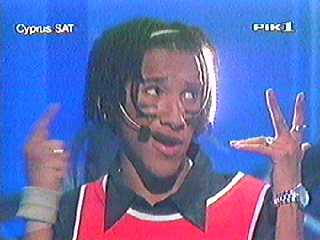 Updated 10 March with a very amusing report by Roger Fry - please click on this link to jump down to it, but scroll down if you still need to see the score sheet, my comments and the link to the sound file.
"Living my life without you", sung by (Stig Andre) Van Eijk (right) won the Norwegian contest, and will represent Norway in Jerusalem. It's a rather modern number, in contrast to some of the songs in the final, but was definitely odd to hear the winning song in English, despite the same thing last year.
Anyway, it should appeal to the younger element watching come May 29.
Now along with the descriptions you my read my comments, and there's a score table.
NRK now has a Melodi Grand Prix page with pictures.
Here's my (Geoff Harrison) translation of NRK P1's Norwegian details of the songs, with my comments in blue.
Below that, you can read Roger Fry's preview written in late January.
Song A "I'll be your friend"
Performed by: Ingvild, Dag Arnold and Håvard Gryting
Music: Anders Moberg/Håvard Gryting
Lyrics: Ingvild Gryting
This is the first time a trio of brothers & sisters takes part in the Melodi Grand Prix. They have a solid musical background - all were in the gospel choir Mosaik. Håvard is a member of the Oslo Gospel Choir, and he also sang on the winning song in the Norwegian final in 1998. They were born in Alta, and in 1982 moved to Ål in Hallingdal. Now they live in Oslo.
Cheerful uptempo close harmony song, but it sounded rather dated - OK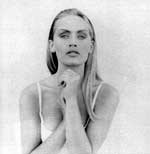 Song B "The night before the morning after"
Performed by: Mette Hartmann (right - one of the pictures from NRK's site)
Music: Stein Berge Svendsen
Lyrics: Jan Vincents Johannessen
Mette Hartmann's debut CD was "Swan" when she was 19 in Autumn 1995, and the album sold well in Germany & Japan. In 1996 she moved to London and has lived there since. In the spring a new album comes out which she has been working on for the past two years.
Slow rather nice romantic song. Bit like Sade - OK

Song C "Untold"
Performed by: Brandth
Music: Dag Brandth
Lyrics: Dag Brandth
Dag Brandth is 27, was born in Sandnessjøen and grew up in Halden. At the end of the 1980's he was part of the teen band "Shatoo". He has worked as a recording manager for TV production, and as lyricist and music composer for theatre & review shows.
This group sang a a slowish song with some dreary lyrics ending with "You can't have the cake and eat it too" - poor

Song D "Lost again"
Performed by: Stephen Ackles
Music: Kyrre Mosleth/Stephen Ackles
Lyrics: Kyrre Mosleth/Stephen Ackles
This is the third time popular singer Stephen Ackles has taken part in Melodi Grand Prix. The first time was with the song "Lørdag og rock'n roll" in 1993. Stephen has been a professional singer for 19 years, and is one of the most experienced taking part this year.
Terrible singing in a dull ballad - a real bummer
Song E "Stay"
Performed by: Midnight Sons
Music: Lars Aass/B. Løddemel
Lyrics: Lars Aass/B. Løddemel
Midnight Sons are a 4-piece boysband consisting of Vidar Jørgensen (23), Henrik Lindhjem (22), Terje Havnes (19) and Tonny Lehne (20). They began to work together in April 1998, and have a contract with Waterfall productions, who discovered "Babel Fish".
Pretty standard boy band stuff. Medium paced close harmony with the traditional key shift for the ending - fair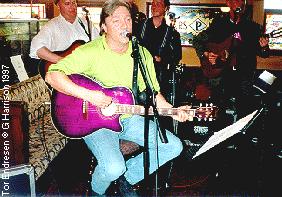 Song F "Lover"
Performed by: Tor Endresen
Music: Kyrre Fritzner
Lyrics: Kyrre Fritzner
This is the ninth time Tor Endresen (pictured right in Dublin in 1997), from Bergen, takes part. The all-round artist has had great success with his entries in the Melodi Grand Prix and is keeping his fingers crossed for this time.
Vaguely soul, medium-paced. Quite forgettable. Tor was great at the Norwegian party in Dublin - why does he sing such dull songs in the MGP?

Song G "You used to be mine"
Performed by: Toril Moe
Music: Anita Skorgan
Lyrics: Anita Skorgan
Hairdresser Toril Moe is 22, and is from Skei in Surnadal. She came third place in the International final in "Stars in their Eyes" in 1998. Toril has a recording contract with Norske Gram, and the first record comes out in the Autumn.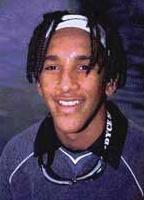 Romantic ballad, but I found Toril's nasal voice jarring.

Song H "Living my life without you"
Performed by: Van Eijk (right - one of the pictures from NRK's site)
Music: Van Eijk
Lyrics: Van Eijk
He's really called Stig Andre Van Eijk, is 17, and is from Bergen. He attends music & drama classes at Fyllingsdalen school. He came second in TV2's in "Stars in their Eyes" in 1998 as R. Kelly.
Medium-paced dance with a rather familiar-sounding chorus. Stood out from the rest.
After the songs there was a comic interlude followed by a tribute to Israeli Eurovision songs by the Norwegian theatre & ballet Acedemy, and then the voting - two rounds - first the votes excluding top marks and then the top marks. There were telephone-based points from regions of Norway, plus double-rated marks from the "expert" jury in the studio which included Rolf Løvland.
| | | | | | | | | |
| --- | --- | --- | --- | --- | --- | --- | --- | --- |
| Jury/Song | | Trondheim | Bergen | Kristiansand | Oslo | Expert | Total | Place |
| A | 3 | 1 | | 5 | 5 | | 14 | 6 |
| B | | | 1 | 1 | 1 | 14 | 17 | 5 |
| C | 1 | | | | | 6 | 7 | 8 |
| D | | 2 | 3 | 2 | 2 | 10 | 19 | 4 |
| E | 5 | 7 | 5 | 7 | 7 | 4 | 35 | 2 |
| F | 10 | 3 | 7 | 3 | 3 | 2 | 28 | 3 |
| G | 7 | 5 | 2 | | | | 14 | 6 |
| H | 2 | 10 | 10 | 10 | 10 | 20 | 62 | 1 |
---
Norway or Sweden, a somewhat irreverant report on the two finals by Roger Fry:
Saturday, February 27th was a day of difficult decisions - Should I watch Norway's Grand Prix and record Sweden's Melodifestival or vice versa? After careful consideration I decided to settle down to the Norwegian final, my reasoning being that I could vote here! And as both shows were to be repeated the following day, it really didn't matter. But would I be able to resist a bit of channel hopping?

My first thought as the MGP got underway was how impressive and big the set was, after last year's minimal effort. Also a fairly decent sized audience to whoop and cheer as much as they could.
Presenters, Rune Gokstad and Øystein Bache started with some humour, then a little more banter, and even a joke or two for luck. We were introduced to the orchestra, and the voting was explained. Like last year televoting going to five regional centres. Ready for Song A? Well, not quite.
It was deemed necessary to have a 'little' chat with the spokesmen in each of the cities, starting in Tromsø. This started to be ever so slightly boring....
ZAP!
In Sweden a woman with stripey hair and wearing something shiny was belting out a bouncy thing about the "fairytale of our love" coming true if some poor bloke loved her for "a thousand and one nights". Well, at least they'd started the songs.....
ZAP!
We'd made it down to the Bergen 'jury' spokesperson, going on about how much fun....
ZAP!
Back in Stockholm a stomper of a song was being performed, including a bit of rap. Wow! This song had to win. Getting excited about what may be ahead...
ZAP!
Finally, NRK had got round to showing a short presentation video about the composers of Song 1. "I'll Be Your Friend" was something with a dance beat, but not a lot of 'hook', and was a bit boring. And after hearing the excellent Swedish song, this wasn't holding my attention...however in Sweden a woman was singing something very depressing about angels in the clouds...déja vu...so back to Norway...
And that was how the evening was to go. Generally dull songs in Norway had me zapping over to Sweden, where things were much much better.

However, I had been looking forward to Mette Hartmann's "The Night Before The Morning After" and I was not dissapointed. I was simply (although not literally) glued to the screen for three fantastic minutes. A wonderful song with a very good lyric. But would it be too good for Eurovision, as indeed Mette had suggested to the papers?

From heaven to hell in one easy step. Dag Brandth's "Untold" had awful lyrics, sung with badly pronounced English. This was pure torture and possibly the worst thing I've ever heard. The remote control was getting warm...

Fortunately, when I came back from seeing Roger Pontare wearing a dead polar bear, Brandth had gone. Unfortunately Stephen Ackles had turned up in his place, possessed by the spirit of Julio Iglesias. "Lost Again" was not a bad song really, just very, very, old fashioned. Whilst Ackles was crooning away in Oslo, hip and swinging Martin was entering stage right in Stockholm, with a catchy, modern, quirky number which looked like a strong contender. The perfect comparison which sums up the whole night.
"Stay" by the Midnight Sons was standard boy band stuff, and looked in fact very strong in the field it was up against.

The thought of Tor Endresen singing "Be my ooh-la-la-la lover" may not be a pleasant one, but this song was above expectations, although still not a winner.

Anita Skorgan and Toril Moe was a promising combination, but Toril's nerves got the better of her and she sang appalingly. I think it would have been an average song at best, so nothing lost really.

Finally, Van Eijk sang "Living My Life Without You". A nice enough pop song, if somewhat repetetive, this was strongly reminiscent of Backstreet Boys. Indeed they might want to sue!
We had about twenty five minutes to vote, in which I was glad to have a redial button to try and ensure success for Mette Hartmann. After a visit to NRK's team at the World Nordic Skiing Championships in Austria, we had a song and dance to some previous Israeli entries, including our two presenters giving us their "Lazy Bums". Possibly the highlight of the evening.

The voting was fairly mixed for the lower places, but apart from in the North, all the top marks went to Van Eijk, giving him a comfortable victory.

As you will have gathered, Mette Hartmann was my favourite, and I consider her song to be several thousand times better than the other seven put together. However, Van Eijk had far from the worst song and should manage a reasonable position in Jerusalem, but not a winner, I fear.
Thanks, Roger, very amusing!
---
A preview report sent to the Eurovision Database by Roger Fry (revised 30 Jan).
Over to you, Roger:
On 15th January, the NRK announced the composers, lyricists and performers of this year's Melodi Grand Prix.
All eight songs will be sung in English.
According to VG, we can expect a mix of gospel inspired music, music inspired by David Bowie and the 60s, modern dance, a little Backstreet Boys inspired music, a couple of beautiful ballads and a song reminiscent of Roy Orbison. I would think that this is referring to respectively songs 1, 3, 2, 7, 5 & 8 and 4. Which just leaves good old Tor unaccounted for. His song is supposedly a modern pop/soul tune.
The interval act will focus on Israel's contributions to the Eurovision through the years, although executive producer Jon Ola Sand says that this will not be in the form of drag act.
Some familiar names and faces here!
Håvard Grytting is this year's representative from the Oslo Gospel Choir! He was also one of Lars Fredriksen's backing singers last year.
Stephen Ackles has appeared in a couple of MGP's before.
Anita Skorgan should need no introduction, having taken part in Eurovision before in 77, 79, 82, 83 and 88, as well as other Norwegian finals in 76, 78, 80 and 85.
The singer Toril Moe won Norway's "Stars in Their Eyes/Soundmix" in 1997 as Celine Dion. So some good pedigree here!
Tor Endresen is back after his nul points in Dublin two years ago.
Kyrre Fritzner co-wrote last year's 3rd placed song "Always Will". He is an eminent producer, including of Hanne Krogh's latest album Stein Berge Svendsen co-wrote "En ny mårrån" in last year's MGP.
Mette Hartmann is a well known singer, whose style is something along the lines of Sade. Her debut album "Swan" sold 75 000 copies in Japan in 1995. In 1997 she could be seen advertising Head and Shoulders!!
Stig André Van Eijk, to give him his full name, appeared in the Norwegian 'Stars In Their Eyes' last year as R Kelly, but did not make the final. Van Eijk has worked with Tor Endresen, when they sang Beatles and Eagles songs together at a show in the autumn.
As for the show itself, the date is confirmed as February 27th. The venue will be the NRK studios and there will be "room for plenty of audience". Presenters will be as last year, Rune Gokstad and Øystein Bache. The voting will be partly on the phones and partly 'expert' jury.
Also like last year. Executive producer Jon Ola Sand said: "I think the experts jury is important in the Norwegian final as it can judge an artist's potential and the song on a different basis than people who hear the song just once during the programme." Well, yes, but that's not the case in Jerusalem, is it?
Language will be free choice, so there could be eight songs in English."We just have to accept that," Sand said. There will be an orchestra, conducted by Geir Langslet.
Thanks, Roger!