---
Portugal 1997
---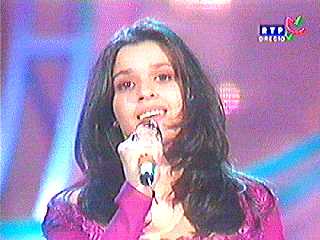 Celia Lawson (seen here) will repesent Portugal in Dublin with 'Antes do adeus'.
The 34th Festival de Canção took place in Lisbon on 7th March. RTP also chose to celebrate 40 years of its own existence in the show, and also the history of Eurovision for good measure. Maybe that was why the show ran to 185 minutes, with only 8 songs!
None the less, an excellent show.
Well here it is, in order of appearance in the final, with the available biographies of the singers.
The original pre-contest notes are by Rodrigo Ortigão de Oliveira, with additional comments on viewing the contest by yours truly, Geoff Harrison, in italics.
Nosso canto chao (65 points - 8th)
Music: Jan van Dijck(10th participation! One win in 1990)
Lyrics: Nuno Gomes dos Santos (never won)
Conductor: Ramon Galarza ("official" Jan van Dijck's conductor)
Singer: Oriundi

The group Oriundi is made of three men and three ladies. They are Nuno Brito, Nuno Alexandre (Music and enterprising student), Mario Redondo (Weather reporter in RTP), Catarina Burnay (2nd place at 95's talent show "Selessao de Esperanssas"), Mara Jesus and Raquel Ferreira (Actress, performing in a Soap Opera right now)
Rather ethnic-sounding close harmony group. Fairly pleasant song marred by acoustic feedback.

Quando eu te beijo (115 points- 3rd)
Music: Joao Oliveira
Lyrics: Jose Miguel Oliveira
Singer: Raquel Alao
Conductor: Pedro Duarte (newcomer)

Raquel Alao is 19 years old and has participated in 95's talent show. She the solist of a pop band. She's studying to be a music teacher.
Introduced by last year's winner, Lucia Moniz. Moderately fast; cheerful, if a bit repetitive. Three female backing singers in shiny plastic.

Senhora da saia verde (104 points - 5th)
Music: Carlos Canelhas (won in 66)
Lyrics: Amalia Ortiz da Fonseca (the official Canelhas' lyricist)
Singer: Cristina Almeida
Conductor: Jose Marinho

Cristina Almeida is 21 years old and is studying law. She participated in "Soundmix Show", and released a record with other singers in 94. She sang for the Soundtrack of a sopa opera one year ago. She wants to sing opera.
Slow ballad; plenty of piccolo. There was an accordion and cello on stage. Singer in black. Again feedback cursed this song.

Madrigal de Lianor (111 points - 4th)
Music & Lyrics: Josi Manuel Coelho
Singer: Telmo Miranda
Conductor: Jose Marinho

Telmo Miranda is 23 years old, and has a degree in Musical education. He's a part of Gulbenkian's choir, one of portugal's best, and sings in the portuguese versions of Walt Disney's films. He was part of last year's choir. He's an actor too.
A harp, a violin, cello, and timpani on stage. Rather strange medium-paced medieval-sounding in parts. Quite definitely a madrigal-cum-ballad. Not to my taste.

Canção urgente (102 points - 6th)
Music & Lyrics: Jose Cid (won in 1980)
Singer: Os meninos da Sacristia (the church boys)
Conductor: Mike Seargent

"Os meninos da Sacristia" is the support band of Jose Cid. They are: Joa Tiago Menano (Solist), Joao Pedro Soares (bass), Luis Miguel Almeida (keyboards), Silverio Gabriel (percussionist). They are recording their first album.
Slightly old-fashioned pop band with an old-fashioned fairly catchy pop song, with fine orchestral accompaniment towards the end. Good 'un.

Da primeira vez (116 points - 2nd)
The biggest surprise of this years contest!
Music: Joao Carlos Campos de Sousa da Mota Oliveira (won in 94, 2nd in 95 and 96)
Lyrics: Nuno Gomes dos Santos (Big surprise. This poet always writes for Jan van dijck and was second in 94. Everybody thought Joao Mota Oliveira was competing alone!)
Singer: Sonia Mendes
Conductor: Pedro Duarte

Sonia was made for this song! She won the talent competition "Cantigas da Rua" this year with an imitation of Sara Tavares. With only 16 years of age she has a splendid voice. High winning chances!
Introduced by Anabela (1993), the style of this singer was very reminiscent of Sara Tavares, but the song didn't build much, and the singer seemed rather hestitant.

Antes do adeus (127 points - 1st - winner!)
Music: Thilo Krassman (famous conductor. Five appearences in the ESC, last one in 95)
Lyrics: Rosa Lobato de Faria (won in 92,94 and 95, 2nd in 96 and 91, third in 92 and 96. Wow!)
Singer: Celia Lawson
Conductor: Thilo Krasman

Celia Lawson has a superb voice. She was in the national final of "Soundmix Show", and was part of the choir in 94's edition of Festival da Cancao. She is a music student and had already two appearences in other TV shows. She's releasing her debut album soon, but sung only in English.
Pretty girl in a purple dress, backed by four guys with shades on, this slowish ballad was well sung, and well constructed, building in intensity with a fine orchestration. Popular in the hall, and with me.

Rosa dos ventos (79 points - 7th)
Music: Simon Wadsworth
Lyrics: Fernando Soares & Ramiro Martins
Singer: Susana Pinto
Conductor: Simon Wadsworth

Susana Pinto is a 20 years old student. She was placed 2nd in "the big night of the fado" the most important fado competition, and has a number of participations in Soundmix Show, and other talent competitions. She contended in 95, but didn't reach the semifinals.
Sava Tavares(1994) introduced this one. No fado here, a much rockier song with electric guitar and synthesizer on stage. The singer was fair-haired for a change. Rythmic, rocky, and fairly catchy. Big ending, good.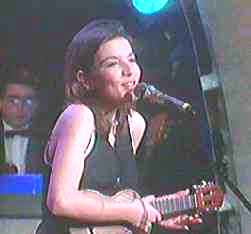 After the songs there was a long-long interval, mostly featuring comedy, but in there was a history of Eurovision. Various Portugues stars came on to sing Eurovision songs of the past, either winners, or Portuguese entries. The foreign ones were sung in the original language, and some were surprisingly good.
Lucia Moniz easily stole this part with her bare-footed excellent version of 'Puppet on a string' wearing a shiny plastic pink dress, and she was soon back in 'Waterloo'. There were also tributes to Johnny Logan, a rendition of 'All kinds of everything', a weak 'Merci cherie', and plenty more. One of my favourite Portuguese entries, 'Playback', also featured.
Eventually we got to the voting. I may have miscounted, but I think 20 juries voted from all over Portugal, plus the telephone voting of the public (a new feature). It went on forever, and was almost always very close, the madrigal song always looking likely, but it wasn't to be.
I think Celia Lawson will do well in Dublin. It is a good song.
Well, I hope you enjoy the show on friday and that you give me your opinions on the songs afterwards!
Rodrigo Ortigão de Oliveira
Thanks, Rodrigo. I already have, here!
Visit Rodrigo Ortigão de Oliveira's Portugal at Eurovision site
Or why not revisit last year's Portugal contest at my attic site.
Internal links: