---
Portugal 1999
---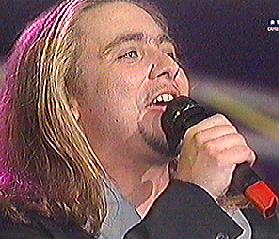 On March 10th, Portugal chose song Number 4, "Como Tudo Começou", performed by Rui Bandeira, (left) to represent them in Israel.
It's a rocky ballad which grows on you, and should do fairly well.
Scores are below
Listen to a full length Real Audio clip of the song by clicking on this link.
My favourite song was Menina Alegria sung by Sofia Froes. It was much like last year's Portuguese entry by Alma Lusa, even down to bagpipes accompanying the swaying girl singer, but it wasn't as strong, and didn't make it past the 11 regional juries.
The juries also awarded best performance to Célia Oliveira.
The set was a lot of metal framework, a set we were to see again for Germany and for The Netherlands!, and the Interval act was VERY Portuguese, and best ignored for the rest of us.
A good show, but not as fine a collection of songs as last year, in my humble opinion.
The rest of the page is unchanged for the moment because I lost my notes on this final!
I'll just have to watch it again!
Rodrigo de Ortigão de Oliveira, Webmaster of Portugal at Eurovision, brings us his preview from Portugal:
The final will be held on March the 8th, in Lisbon, in the Tejo Room of the Multipurpose Pavillion, rebaptized "Atlantic Pavillion" after the Espo'98.
Easily the biggest venue ever, accomodating a total of 2500!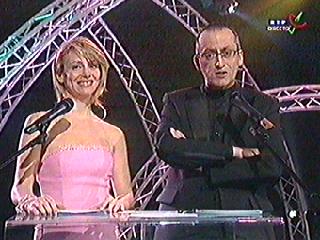 8 competitors in the final, chosen from a national competition with a very short one week time to deliver the original songs.
The presenters are Manuel Luís Goucha, presenter of a long-lasting morning show in RTP, and on the feminine side of the hopefully glittering gala, we'll have a Portuguese version of Ulrika-ka-ka, Alexandra Lencastre, blond sex symbol of every bus driver in Portugal.
There will be an orchestra, after last years protest from jury member Paulo de Carvalho (Por74). Due to pre-recorded backing, Simone d'Oliveira (Por69) gave up her jury function.
To avoid any such kind of criticism, RTP abolished the room-jury and the backing tracks, so we'll have 10 juries, equivalent to 10 RTP delegations spread over Portugal, "Fra Faro til Bragança" in the words of Aud Wilken...
The trailer currently running on RTP, inviting everyone over 16 to send a song, finishes with the sentence: "Festival RTP da Canção- A tradition that distinguishes us"
There have been huge changes in RTP lately, but it seems they've been of great benefit to our beloved pre-selection. The presenters are popular, and there seems to be a good mood towards spending the vast amount of money this sort of event asks for.
#

Title

Lyrics

Music

Performer(s)

Points

Place

1

Uma Parte de Mim

Samuel Lopes

Samuel Lopes

Tempo

51

5

2

Eu, Tu e Nós

Tó Sanches & Liliana Pinheiro

Tó Sanches & Rui Bagulho

Liliana Pinheiro

32

7

3

Romanzeira

Francisco Ceia

Francisco Ceia

Francisco Ceia

21

8

4

Como Tudo Começou

Tó Andrade

Jorge do Carmo

Rui Bandeira

90

1

5

Menina Alegria

Firmino Mendes

José Sarmento

Sofia Froes

72

2

6

Ser o Que Sou

Célia Oliveira

Célia Oliveira & António José Guerra

Célia Oliveira & "Sons da Lua"

64

3

7

Sete Anos, Sete Dias

José Fanha

Eduardo Paes Mamede

Tó Leal

44

6

8

No Cais da Solidão

Carlos Soares

Simon Wadsworth

Filipa Lourenço

57

4
Thanks, Rodrigo