---
Slovenia 1997
---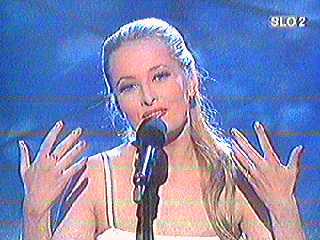 At 2100 GMT on Saturday 22nd February Slovenian radio announced Tanja Ribic (seen here) will represent Slovenia in Dublin with 'Zbudi se' (Wake Up), a haunting slow lullaby-like song.
The Slovenian public picked the song after a telephone vote.
Report from your editor, Geoff Harrison:
A truly excellent contest, with some fine songs, and a winner with a real chance.
The show opened with our presenter, Mojca Mavec, introducing the first of thirteen songs onto a simple stage with huge fabric 'chandeliers' hanging down, and plenty of 'fog'.
Here was the line up and scores(thanks to Tobias Larsson and Marko Prpic) for the Slovenian contest, held on February 22nd in Ljubljana:
Nekdo (Someone) - Natalija - 265 pts
A rousing strong ballad by a lady in red dress
Zaradi nje (Because Of Her) - Dominik Kozaric - 650 pts
A faster ballad sung by a man wearing a cravat and high collar. Quite catchy, with 'Zaradi nje' as the hook.
Zbudi se (Wake up) - Tanja Ribic - 4493 pts
In a log white dress, and bearing an uncanny resemblance to Gina G, actress Tanja was accompanied on stage by a stunning dark-haired female acoustic guitarist, and a lady cellist. A really haunting song, opening like a lullaby, building into a dramatic sad song, and returning to the original melody.
Veter z juga (South wind) - Tinkara Kovac - 574 pts
Medium-paced song that goes nowhere. She was all in black
Kadar bos ob njej zaspal (When you fell asleep) - Irena Vrckovnik - 1010 pts
Striking black hair, gloves, and dress for the singer, but a slow forgettable ballad
Daljave - Melita in Klarisa - 512 pts
A folksy trio, two women, and a bearded older male guitarist. There was a harp in there too
Le en poljub - (Just A Kiss) - G.R.O.M - 895 pts
A boy-band. 4 boys, all unable to sing. One took his shirt off in order to get a sympathy vote
Prosim, ostani (Please, stay)- Napoleon - 1794 pts
Another boy-band, but these four could sing. OK
Korak v dezju (A step in the rain) - Katarina - 213 pts
3 girl backing singers, 2 girl dancers. Katarina wore a sexy white dress, but this ballad didn't come off
Jagode i cokolada (Strawberries and chocolate)- Rok N` Band - 2226 pts
Dire 50's throwbacks with guitars. "Whoa, whoa, whoa...."
Vsakdanji cudezi (Everyday miracles) - Darja Svajger - 3706 pts
Darja can really sing, but although this song started fresh, it soon became a retread of the excellent 'Prishlunhi mi'. Still very good, but here wierd hair style wasn't attractive
Tvoja Pesem - Vili Resnik - 1521 pts
A rambling rocky ballad from a long-haired band. Not bad
Objemi ne nezno (Hold me tender) - M4M - 2047 pts
The two girls wrote this themselves, and wore red and turquoise dresses. Their sexy act reminded me of Baccara, and so did the song, to some extent. Rather short on words, but pleasant, they ended by blowing us all a kiss
After the commercial break, phone lines were opened for just ten minutes for the public, but here was a clever twist, as votes were displayed in real time as the numbers were clocking up. This must have added to the excitment of the usually dull idea of a phone vote.
While numbers were clicking we had a choir sing the 1966 Yugoslav entry, Brez Bresed, and Norina Radovan sang 'Ti in jaz', a jazz song.
Pretty soon the trophy for what is now called the 'Ema' (Is this a case of copying neighbour Croatia's Dora, I wonder?) was presented, and Tanja did it again.
It will be a great pity if Tanja doesn't do well in Dublin
An earlier report from Damir Ivankic:
I saw Slovenian final in Saturday and must say they have chosen a good song that could do well in Dublin. "Zbudi se" is ethnically inspired but not Slovenian though considering that the composer is a Bosnian Croat. Other songs were not so good although they had invited composers this year. It's enough to say that Darja's song was really like the watered copy of "Prisluhni mi" but it anyway anded up second. You can imagine how the others were.
Thanks, Damir!
My pre-contest background:
M4M are a couple of girls (Mirjam Beranek and Maja Lesnik) whose only album "Straight to you" is very commercial, if old-fashioned, pop. It is all in English.
Darja Svajger came 7th when she represented Slovenia in the 1995 contest in Dublin, and was the interval act in last year's Slovenian contest.
Vili Resnik and Irena Vrckovnic performed in the 1996 Slovenian contest, which you can review at my attic site.
This year's contest has a home page at this link, but its in Slovenian (thanks to Tobias Larsson for the news of this link).
Internal links: