---
Slovenia 1999
---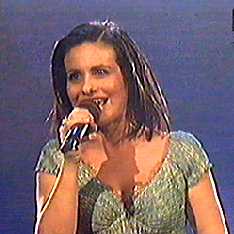 Updated 20 March:
Darja Svajger (right) will represent Slovenia in Jerusalem after winning the Slovenian contest (the EMA) with her atmospheric ballad "Se Tisoc Let". Darja represented Slovenia in the 1995 Eurovision Song Contest with "Prisluhni mi", and came 7th.
Listen to a full length clip of the song here in Real Audio.

This is an improved clip taken from the video recording I have.
Also listen to the second-placed song Zakaj sung by Tinkara Kovac.
There is a Slovenian Radio 2 preview programme (in the Real Audio archives of Slovene Radio - the programme is 'Leva Scena' on 23rd Feb), with all the songs played and there is the Real Video recording of the entire EMA, or the winning clip now on the Slovenian Radio/TV web site.
As ever, Mojca Mavec was the charming presenter, and Marc Roberts (IRE'97) was the interval act. (pictured together, left)
An excellent show with some great songs in it. I was particularly impressed by the songs from Sound Attack and from Tinkara Kovac.
There were some other interesting sounds - the one from Viktory sounding like an old Swedish entry, and Babilon was pretty good too.
Thoroughly recommended.
Marc Roberts gave us two songs, Mysterious Woman and Goodbye, and for good measure was a juror also. Mojca recommended he took a look at the Irish pubs in Ljubljana - "The wild side of my country".
We had some rather lengthy jury voting in the studio which was won by Zakaj sung by Tinkara Kovac, but the rather heavily weighted telephone voting was rather stronger for Darja Svajger, and she won.
It's fairly typical Darja - should do OK, but I can't help thinking Tinkara's unusual song with it alternating flute-playing and strong voice would have been more interesting in Israel.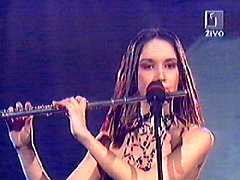 Judge for yourself with the Real Audio clips listed above.
Tinkara Kovac in quieter mood playing her flute >
If you tried to find the Real Video feed of the contest and failed, well so did I (but it was there!), but there was a Real Audio feed of Slovene Radio 1 which had it, and on 918 KHz Medium Wave I also got reasonable reception here in England.
Here is the list of the 17 songs for the Slovenian National Final held on February 26 in Slovene TV studios in Ljubljana.
Slovenian TV now has it's web site at:
Some familiar faces here. Viktory and Sound Attack were in last year's final (1998), and I think we all know of Darja Svajger who sang for Slovenia, coming 7th, in the 1995 final in Dublin, but has appeared in several Slovene finals, including 1997 and 1998.
After some thought, I have replaced the Slovenian characters with standard ones.
OK, it isn't really right, but it's easier to work with and print!
Song Title

Performer(s), Composers, Etc

Points

Place

1.

CAS JE, DA NAJDEM TE

MITJA
Music: ALES BERKOPEC
Lyrics: MITJA SEDLBAUER and ALES BERKOPEC
Arrangements: ALES BERKOPEC, PETER PENKO and MITJA SEDLBAUER

22

5

2.

DLAN OKROG SRCA

TATJANA MIHELJ
Music: BOR ZULJAN
Lyrics: MARJAN KUKOVEC
Arrangements: BOR ZULJAN

1

17

3.

SANJE

MONIKA TRATNIK
Music: NENAD KOKOVIC and IGOR MISDARIS
Lyrics: NENAD KOKOVIC and IGOR MISDARIS
Arrangements: NENAD KOKOVIC and IGOR MISDARIS

3

16

4.

TISOC KILOMETROV

KALIFORNIJA
Music: MATJAZ ZUPAN
Lyrics: MATJAZ ZUPAN
Arrangements: MATJAZ ZUPAN

6

15

5.

DRUGACEN DAN

KANTOR
Music: MARK LEMER
Lyrics: TONE KOSMRLJ
Arrangements: KANTOR

7

13

6.

LE POVEJTE JI

VIKTORY
Music: MARTIN STIBERNIK
Lyrics: KARMEN STAVEC

18

9

7.

IGRA JE KONCANA

SANJA, DAMJANA and IRENA
Music: KAREL NOVAK
Lyrics: JANEZ ZMAZEK
Arrangements: KAREL NOVAK

22

5

8.

TI SI SE BAL

LARA BARUCA
Music: DANILO KOCJANCIC
Lyrics: DRAGO MISLEJ
Arrangements: J. OGRIN/ZDENKO COTIC/DANILO KOCJANCIC

22

5

9.

KJE SI ZDAJ

SOUND ATTACK
Music: PIKA BOZIC and SIMON SUREV
Lyrics: PIKA BOZIC and SIMON SUREV
Arrangements: SIMON SUREV and GREGOR ZEMLJIC

10

11

10.

SE TISOC LET *Winner*

DARJA SVAJGER
Music: PRIMOZ PETERCA
Lyrics: PRIMOZ PETERCA
Arrangements: SASO FAJON

64

1

11.

NE IZDAJTE ME

AVIA BAND
Music: MATJAZ VLASIC
Lyrics: URSA VLASIC
Arrangements: BOSTJAN GRABNAR and MATJAZ VLASIC

24

4

12.

NEKAJ LEPEGA JE V MENI

NUSA DERENDA
Music: MATIJA ORAZEN
Lyrics: DAMJANA KENDA HUSSU
Arrangements: MATIJA ORAZEN

10

11

13.

SI'Z D BES

NUDE
Music: P. POGELJSEK and G. MAROLT
Lyrics: P. POGELJSEK and G. MAROLT
Arrangements: N. BELAN, Z. PAK and NUDE

7

13

14.

KOT OCEAN

BABILON
Music: M. MERLJAK and D. KLADNIK
Lyrics: S. ARTIC and D. KLADNIK
Arrangements: M. MERLJAK

11

10

15.

ZAKAJ

TINKARA KOVAC
Music: MARINO LEGOVIC
Lyrics: DRAGO MISLEJ
Arrangements: MARINO LEGOVIC

62

2

16.

LJUBEZEN JE LE ENA

GIANNI RIJAVEC and VLADIMIR CADEZ
Music: GIANNI RIJAVEC
Lyrics: MISA CERMAK
Arrangements: SASO FAJON

21

8

17.

MOJA DEZELA

JAN PLESTENJAK
Music: JAN PLESTENJAK
Lyrics: JAN PLESTENJAK
Arrangements: JAN PLESTENJAK

38

3