---
United Kingdom 1999
---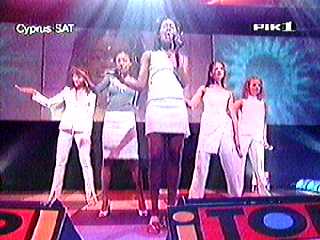 The United Kingdom selected girl-band Precious (right) to sing "Say it again" in Jerusalem, it was announced on March 12th.
Here are the close, but somewhat few in number, votes:
Say it again - Precious 52,457 votes
So Strange - Alberta 51,708 votes
Until you saved my life - Sister Sway 51,398 votes
No votes were announced for the boy band Jay.
Alberta appearred to be rather upset at losing again.
Rest of page unchanged.
United Kingdom Songs - now down to last four (updated 2/3) - sound samples below, more pictures - Jay is up next on Top of the Pops on 5 March, and there's a Real Audio clip of Alberta's song below.
Some changes to the BBC's plans - The Great British Song Contest goes out on BBC-1 on Sunday March 7th 1440-1510 GMT, with phone poll straight after. winning song now will be announced on Top of The Pops on BBC-2 on Friday 12th March from 1855 GMT.
Numbers to call on Sunday.
Precious 0891 980 111


Sister Sway 0891 980 222

Alberta 0891 980 333

Jay 0891 980 444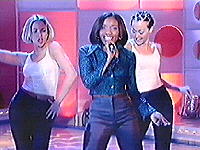 Paul Walters, producer on the BBC Radio 2 'Wake up to Wogan' programme confirmed Intrepid Ian Fowell's news from Music Week that on 14 January BASCA met at The Savoy to whittle down the British songs submitted to the last 20.
These were passed to the BBC who cut it down to 8 on Thursday 21st, who broadcast on BBC Radio 2 from 1st February in the method of recent years on both the Wogan and Ken Bruce shows. On Friday 5th February there was a full run-down of all eight from 0930-1000, followed by telephone vote by the Radio 2 listeners. Over 21,300 Radio 2 listeners voted to select the four to go to the final round. The winning four are marked in red.
The songs:
"Say it again" performed by Precious (a girl group, not the lead singer) was last act on Top of the Pops on Friday Feb 12th, and was the first of the four songs to be shown on successive weeks.
Seemed a reasonable performance - there's a still frame above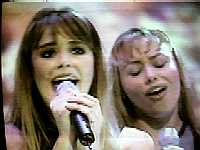 Sister Sway (left) appeared on Top of the Pops on February 19th to perform their song "Until You Saved My Life".
Two girls doing lots of gyrating around each other, they reminded me of the ABBA girls. It looked good.
More on Sister Sway from the Manchester Evening News:
SINGING duo Sister Sway are hoping to sway the judges with a Song for Europe. Manchester sisters Nikki Jackson, 26, and 18-year-old Mandy have reached the last eight in the annual search to find the UK's Eurovision Song Contest entry. Their song, Until You Saved My Life, will be played daily on Radio 2 by DJs Terry Wogan and Ken Bruce along with the other entries. "I have no Idea what we are up against, but the song is classic Eurovision - like a modern-day Bucks Fizz number," said Nikki, from Droylsden.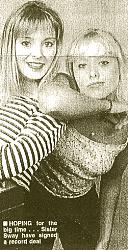 She has been on the professional singing circuit for years, but secretary Mandy is a showbiz newcomer. The pair have already struck a record deal with the Blackburn-based All Around The World label and Nikki said: "I'm hoping that this will be the one to take us to the big time." Nikki said the song, written by Pete King and Lee Monterverdi was not originally planned as a Eurovision entry, but she added: "As time went on we realised it was very Euro — and would be just right."
So far only Sister Sway and Alberta have secured a record contact.
Many of you will remember the forecasts of a Christmas No 1 for Alberta's 'Yo-Yo Boy', but it never made it, like her song from last year's GBSC. Better luck this time Alberta.
The four finalists selected by the Radio 2 audience will appear on Top of the Pops on consecutive Fridays from Friday February 12. Viewers to BBC-1 will be able to vote for the UK entry for the Eurovision Song Contest 1999 on Sunday, March 7.
The winning song will be presented on the Top of The Pops on Friday March 12.