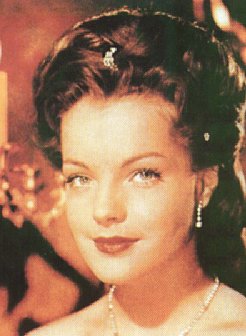 The most famous movies about Sisi star Romy Schneider. 'Sissi' was made in 1954, and catapulted Schneider to stardom in her native Austria. Two sequels followed, but she herself was a tragic figure who died, worn out, at the age of 44.
In the years before her death, her son died after accidentally impaling himself on railings, and her first husband hanged himself.

The Sissi films are not a very accurate account, but they are wonderful family films, and are available on video, in Germany and Austria.
There was a 1962 English-dubbed compilation of the movies called "Forever my Love", - it's now available from Tyrol International, Catalogue #11639 at $39.95 - thanks to John G. Stevens for the news of this!
In fact the distributors of the video, The German Language Video Center also sell the video directly, and I recommend getting it from them