---
Israel 2002
---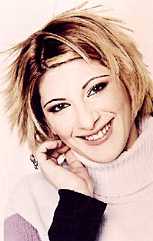 Sarit Hadad has been chosen to represent Israel by a special committee in the Department of Entertainment of the Israeli Television. Sarit Hadad is 23 years old and began her career at 15, with her first album. Her song is called, "Lets light a candle together", and has alternate lines in English & Hebrew in the version heard recently on TV in Israel. I'd describe the song as an uptempo ballad with a traditional Eurovision-style anthemic chorus with a fairly obvious message of hope and peace.
"Light a candle with me
A thousand candles in the dark
Will open our hearts"
The song is written by Tzvika Pick & Yoav Ginay who wrote the winning song Diva for Dana International in 1998
Sarit's latest album has sold over 180,000 copies.
Her official site is at http://www.sarit.co.il but is in Hebrew
If you have any news or updates on this country's National selection I'd like to hear about it. E-Mail me, Geoff Harrison, at my contact page