---
Cyprus 1999
---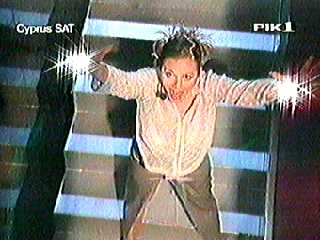 "Tha 'Nai Erotas" (It will be love) - written by Giorgos Kallis & Andreas Karanikolas and performed by Marlain Angelidou (left) won the Cyprus National Final on February 9th.
It's a lively uptempo number which scored maximum 12 points from almost all the expert jury in the Monte Caputo night spot who had the task of selecting the entry.
Meet Marlain - see an illustrated report about her recent record signing in London.
In my opinion it well outshone all the others, but judge for yourself if you have

Real Media Player, by playing back the whole song from this link.This is an improved recording, so I'm sure you'll get the idea, and will be able to see how well this song will polish up by the time it gets to Jerusalem.
Good luck Cyprus!
Marlain Angelidou is no stranger to the Cyprus final, having come second in the 1998 Cypriot final in an excellent duet with Alex Panayi (of Sti Fotia - ESC 1995)
Thanks to Martinos Perdikis for information before the show, including the list of songs.
Martinos has now corrected my Greek singers' names - thanks!, and has supplied lyrics with a translation - see below..
Wander over to Martinos's web site on Cyprus at Eurovision to get a fuller view from someone who speaks Greek, but here's my information & views.
"Tha 'Nai Erotas" (It will be love) - Giorgos Kallis & Andreas Karanikolas, performed by Marlain Angelidou (225pts - 1st *Winner*)


"Moni" (Alone) - Savvas Gavriel - Savvas Gavriel, performed by Riana Athanasiou (107pts) An emotional ballad sung by a dark-haired girl

"Aspro Fengari" (White Moon) - Marios Takoushis & Polly Georgiou Takoushi, performed by Elena Tsolaki (116pts) Loud cheers greeted this singer in a white dress singing a breathy ballad

"Adeio Fengari" (Empty Moon) - Michalis & Christos Constantinidis & Kyriakos Pastides, performed by Christina Saranti (right) (102pts) A severe hairstyle marked this rocky number

"Methysmeno Fengari" (Dizzy Moon) - Lucas Xenophontos & Tonia Hadjicosti, performed by Stelios Konstantas (125pts) The last of three 'Lunar' songs, this was pretty uptempo.

"Maria" - Yiannos Savvidis & Vicky Efstathiou, performed by Giorgos Stamataris (143pts -3rd)

"An Gyriseis" (If You Return) - Theos Kallias & Ioanna Provitsioti, performed by Lukas Christodoulou (113pts) A female dancer and a man with a small drum distracted us from this slightly strange song

"Pios Erotas Glykos?" (Which Sweet Love?) - Michalis Antoniou & Christos Christofi, performed by Giorgos Gavriel (88pts)

"Tha Sou Edina Oli Mou Ti Zoi" (I would give all my life to you) - Dimos Beke & Zinonas Zintilis, performed by Dimos Beke (178pts -2nd) Half of the Cyprus 1993 team - very popular

"Eikosi Tessera Hronia" (Twenty Four Years) - Aristos Moschovakis & Yula Georgiou - withdrawn before contest because Elena Patroklou and Constantinos could not make it to Cyprus to sing!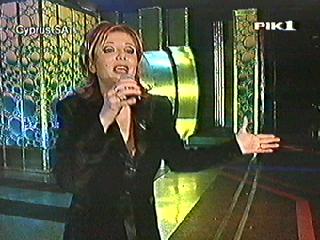 Here are the lyrics of "Tha'nai Erotas" provided to Martinos Perdikis by the lyricist himself.

Stin poli tremosvinei to fengari (The moon lights dimly in the city)
ki an tin anteheis tin skini (and if you can stand the scene)
ta matia sou dio stales ehoun parei (Your eyes have taken two drops)
ap' tin vrohi tin proini. (From the morning rain)

Pare t' asteria t' ouranou (Take the stars of the sky)
stolise tin matia tou. (Ornament your sight)
Angixe to anthos tou lotou (Touch the flower of the lotos=a fruit from Greek mythology)
Fonaxe t' onoma tou (Call his name)
Kai tha 'nai erotas. (And it will be love)

Stin poli tremosvinei kapio asteri (The star lights dimly in the city)
ki esi apomeines na zeis, nai na zeis (and you remained to live, yeah to live)
sto proto tis kardias sou kalokairi (in the first of your heart's Summer)
stis angalies tis Kyriakis (in the hugs of Sunday)

Pare t' asteria......... (Take the stars.....)
Omos mi rotas, tha 'nai Erotas... (But don't ask, it will be love... )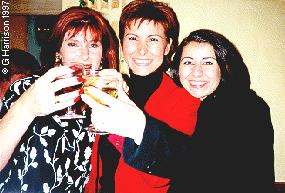 (Pictured right: Linda Martin, Constantina, and Hara in 1997 >>)
The show was on from 1900-2145 GMT.
Guest interval acts were Michaelis Hadjiyannis (last year, 1998), Spyros Spyrakos and Constantina (the writer of 'Mana Mou' in 1997, and sang for Cyprus in 1983).
Earlier news from Martinos, here preserved for posterity:
Martinos Perdikis brings us up to date with news from Cyprus:
A SHORTLIST OF TEN SONGS CHOSEN FOR 9th of FEBRUARY FINAL!
After a marathon session at CyBC's headquarters, on Sunday 17th January, a jury of well known media people and artists auditioned 65 anonymous songs and whittled them down to ten! CyBC have announced the titles and songwriters of the ten songs which will compete on February 9th at 'Monte Caputo Night Spot' in Limassol in a televised final.
Thanks to Martinos Perdikis for providing the list. Visit his site on Cyprus at Eurovision for more news.