---
1997 Eurovision Song Contest - report from Dublin Part 1
---
The Editor of these pages, Geoff Harrison, reports live from Dublin:
29th April 1997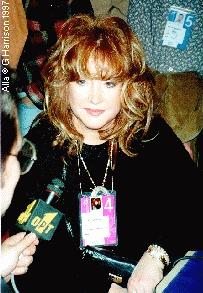 I arrived here at lunch-time, and was quickly dropped into the mass of things that is Eurovision.
The first act I saw was Malta, and I can report Debbie Scerri is in fine voice, and this, her first rehearsal, went perfectly. the song is unchanged from the videos.
The same cannot be said for 'Love shine a light', the UK entry, which has a changed arrangement with a more tinkly sound, but the song is fast becoming a real favourite here. In the Press Conference afterwards, Katrina was frank about the group's past, "For a decade our career's been near the toilet. Everyone has some bad years, we've had a decade -10 of them in a row. She also told us Dolly Parton had recorded 'Walking on sunshine', and gave a impression of it - very funny.
Katrina also was frank about how they'd got to Dublin. 'People said it was the kind of song that wins Eurovision, so we submitted the song with our £40 fee, and here we are'. About the Lottery show programme when the winner was announced, Katrina told us her thoughts at the time were, 'Am I gonna shit my pants?'.
A brief mention of the set - the stage is relatively small, and circular, with a silvery stage surround. Behind, there are a myriad of various sized TVs hanging on chains, playing various images. The whole effect looks like 'Star Trek meets the Time Tunnel', with our heroes and heroines on the transporter pads.
It looks good on the monitors, but the stage can look crowded with some songs, notably the Russian with it 5 backing singers.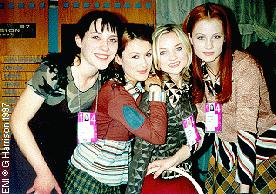 Alla herself only speaks Russian, but through an interpreter commented on the lack of life in the other songs. Her husband, Phillip Kirkorov, is here, not quite as flambouyant as in 1995, but sporting a little beard and moustache, and wearing a long coat. Alla's performance is really something, down to the drinking from the microphone at the end - you'll know what I mean on Saturday.The Croatian spice-girls, E.N.I., pronounced 'ANY', admire Britain's Spice Girls, but were there first, they say, having started 4 years ago. Iva, the dark-haired tall girl, did most of the talking, and explained the dramatic halt to their first rehearsal, when she walked straight off the set. 'I was feeling dizzy with the smoky air', she said.
It wasn't the only drama in the hall, as a piece of wood fell from the roof on one unsuspecting person's arm, but she was unhurt.
By the time Paul Oscar brought his sofa on stage, most people were about to hit the party trail.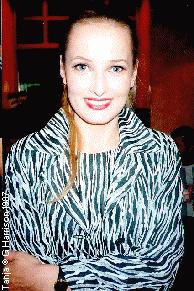 The Slovenian party brought plenty of drink, but not much food, and Tanja Ribic, was mingling. She said she was having difficulty coping with the pressure, it wasn't like her acting. On stage, and on the video, she is joined by Anna with a cello, and Mateja, on guitar. Anna told me the video was filmed at Lake Bled, and she had to play on the ledge overlooking the drop. She is really a film director, and on Saturday a backing track will be used. The cello she has is from RTE, and unplayable. Slovenia's TV presenter, Mojca Mavec, will be in vision with their votes on Saturday.
At a later party at 'Buskers', backing singers from Cyprus gave us a song or too, like 'Crazy', but the two-thirds of blond, and Niamh Kavanagh, who were also there didn't.
The Estonian, and Polish teams took a day off to Killarney.

30th April 1997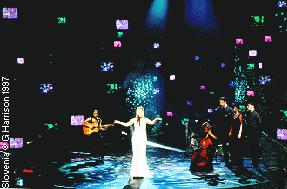 I've just seen the Cyprus rehearsal, and its very impressive, although I can't say I like the way the 'dab-a-dab' bit looks. They all stand in a line, the camera cutting between Hara and Andros.
Turkey was excellent, the stage being brightly lit with orange.
Norway was pretty much as in Norwegian final, except there seemed to be nothing but guitars in sight.
Bettina Soriat gave a very lively performance of her song, and gasped on the microphone for several minutes after each time. She and her dancers are all in turquoise - easily the liveliest performance.
Ireland is a very confident performance, and many of us think it can't lose now.
Slovenia is very beautiful still, Tanja is in a white jacket, and gets some great close-ups, but the pretty cellist has her head down.
Mrs Einstein were terrific in rehearsal, with inpromtu versions of Wannabe, and Hallelujah, showing there excellent range of talents. 'That's what we do best', Susanne Venneker told me.
Germany was rather dull, being a unchanged version from the German final. Even the costume is the same. Few give it much chance.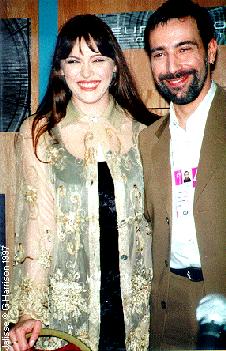 Italy's performance was somewhat hesitant, with quite a few problems. In the Press Conference I asked if this was due the song having been shortened to get it to 3 minutes. Neither Fabio or Alessandra would say yes in so many words (through their interpreter), but it's quite that is the problem. The song doesn't have enough time to build, and the backing track isn't as good as the San Remo one. That version is my favourite, but as it is now, I think it will not win.
Poland's Anna-Maria is rather shy, and has poor English, but told us Jazz is her great passion. The song sounds great, but suffers from a static performance. She said she'd try to do something about it. Her black dress doesn't really seem right this ethnic folk-pop fusion.
Estonia's confident star, Maarja, cut us rather short in the press conference, but it sounds good.
The parties Wednesday were great, Katrina gave us a live 'Shine..', and 'Walking on sunshine.' Blond were there, along with V.I.P. dancing, and Mrs Einstein couldn't keep away, either - very lively team, very amusing.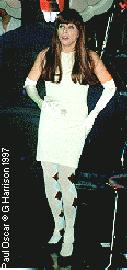 Iceland's party was the best with Paul Oscar giving us a great drag performance of 'All kinds of Everything', and 'Parlez vous francais' with his friend Reynir, who had earlier been a rather large Celine Dion. Truly stunning! - Paul Oscar would be quite a star if he could break out of Iceland.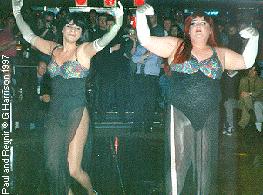 In an interview later, Paul told me he'd been in the Icelandic jury for the 1996 Eurovision Song Contest. He'd wanted Iceland to give 12 points to the UK's Gina G, but an old lady in the jury didn't like the song. This is why, he said, he supported the idea of televoting.
Denmark's Kølig Kaj was also at the Icelandic party, fresh from his party. He has put 1000 Danish Crowns (about £100) on Demark to win. The odds are 200-1. He will be rich, he says.
1st May 1997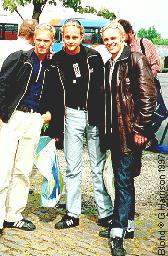 A fine day here. Blond are outside, now (lunch time) being interviewed for TV. Mrs Einstein have a party this afternoon.
Bosnia's Alma, in a blue jacket, sings 'Goodbye' well. The've added a lot of finger snapping at the beginning, which doesn't work well. It's a nice song, but I fear this is goodbye for Bosnia.
Russia's Alla Pugacheva still brings the house down with her performance.
Security has stepped up, but there are still hundreds of girls getting in on day passes, hoping to see Boyzone, but they will probably be disappointed. They are doing a Press Conference this afternoon, but we haven't seen their bit of the show yet.
We did get to see Carrie Crowley and Ronan Keating yesterday. Ronan seems very relaxed. I'm sure he will be excellent. Carrie is very pretty. Asked about her french, she said she could now handle the votes, but might have a problem if things don't go smoothly.
We can now see the monitors better, and the camerawork looks better than I feared. A lot of wide shots, but some good close work, despite not using a steadycam.
No fancy scoreboard this year - very similar to last time here, plain. Noel Curran explained, "Its the most important thing people look for on TV, and I think it should be clear who's scoring, and in front".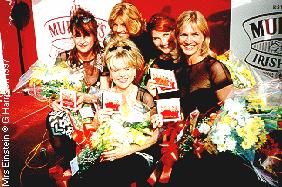 Anyway, back to the grind. Full rehearsal tomorrow, and more parties tonight.
Well, yesterday's parties were great fun. Whilst some 'lucky' delegates got to got to Dublin castle to meet various politicians, we went to the Dutch party, which was in a pub's beer garden - lovely on such a sunny evening
Mrs Einstein did a great set of their songs live, and were presented with their new album, which has three of the Dutch final songs on it. Susanne Venneker told me the Dutch entry was their favourite, though.