---
1997 Eurovision Song Contest - report from Dublin Part 2
---
The Editor of these pages, Geoff Harrison, reports live from Dublin: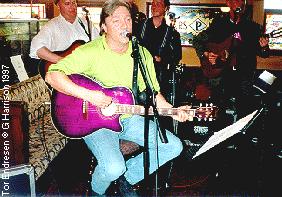 At the same place a little later, Tor Endresen gave us 'San Francisco', but also a version of 'Dzuli' and quite a few country songs. When I told him I thought it was great to see he had such a range, he agreed, 'The problem with Eurovision is you only get one song'.


Pat Kenny was there talking to Fionualla Sherry of Secret Garden, and told me how their new album was No 9 in the US New Age charts. She said it had been released in 65 countries, but not the UK.
Rolf Løvland was there too, and so was Niamh Kavanagh.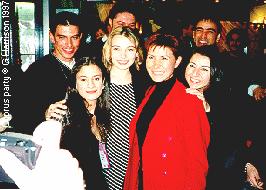 After that onto the Cyprus party at a Greek taverna. So many were there it spilled onto the street. Jalisse soon left, and Blond were a fleeting vision. Everyone was waiting for the big star, Constantina, who came direct from the airport. She is the writer of the Cyprus song, and their 1983 entrant, and is now based in Athens.
Eventually, she appearred! Pretty soon there was singing, and before long, dancing on the tables. The wine ran out, but the party didn't stop until well past midnight.
I spoke to a RTE crew member who said 21 of the 25 songs were using backing tracks this year.
2nd May 1997
Closed set this morning, so trips around the hotels meeting people - more later!
After a police escort for the buses!
The Rehearsal!
We are in for a cracker of a show!
Despite my reservations about the camerawork sometimes using too many wide shots, it works most of the time.
I'll give you some of the exciting stuff first:
Televoting is in Sweden, UK, Switzerland, Germany, and Austria. For them, we will have a 4 minute reprise of all the songs after all 25. This is only 10 seconds each, so it must just be for the numbers to be given. Wasn't shown to us.
The interval act is stunning, but modern. Boyzone, atop scaffolding (except Ronan), are accompanied by dancers in 'Let the message run free'. Then, after only 8 minutes from the reprise end, Cyprus will be called for its votes. I guess this will be the voting time given to us.
The Songs
After a very flashy opening, on comes Carrie and Ronan. Fairly standard stuff, Carrie had a coughing fit this time around in the Gaelic, but it was OK. They are using Autocue, unlike last year.
Cyprus - after a techy postcard, here they were. Hara in a white shiny skirt. They now all get a look-in on the dab-a-dabs.
Then we get a few words from Celine Dion who says 'Have a good time'.
Turkey - Black dress, silver belt, now with those finger cymbal things. Long shots reduce the impact of Sebnem's gyrations, but it sounds great.
Norway - Postcards of a library, then Tor in his yellow jacket. Strong performance, but drowned by the orchestra.
Austria - preced by Bjorn and Benny of Abba saying, 'Winning Eurovision never helped anyone - complete waste of time, really"
Bettina and co. in blue and turqouise. Energetic as ever. Here the camerawork shows the energy. Already a bit hit in Austria, this is growing on me.
Ireland - In grey jacket, purple colours and fog fill the stage. Very effective. Strong chance.
Slovenia - preceded by Johnny Logan. Tanja is in a white dress, like a wedding dress. Purple stage colours. The ending fooled the press audience - they began applause before the last quiet bit, but very popular. I love it.
Switzerland - Barbara seems to be in brown pyjamas. Lots of long shots, and she seems to be shouting. Some very strong close-ups too. Too much of a French-style chanson for me.
Netherlands - preceded by Bobbysocks wishing luck, and giggling. Mrs. Einstein have 3 in black, 2 in white, and the dresses don't flatter the ladies well. Red stage colour. Effective, but very loud.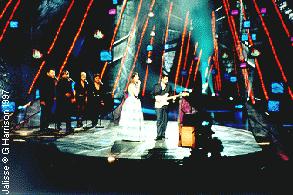 Italy - Alessandra wouldn't tell me about the dress this morning, but I can see why. It was awful. Blue and white coming out at the waist making this tall, slender beautiful girl look so much less so. Fabio has a black suit, white guitar. Backing track doesn't have enough body, and there's not enough violins. Alessandra gets some great close-ups though, and its still a great song.
Spain - after another postcard of a library, Marcos dons a black suit. Still rather forgettable for me.
Germany - preceded by Eimear Quinn recommending nervous artists to think of the post-event party, which is odd, as she missed most of her's. Bianca did her song as on the German final, with her 'clown' costume, as one friend unkindly called it. Perfect, and still sterile, and mechanical.
Poland - Black dress, white wrap for Anna-Maria. Stage filled with purple patterns. Still too static for such a lively cheerful song, but it sounds good.
Estonia - The stage was black and red, and rather foggy. Maarja, as she now calls herself, was in the long plain black number. OK.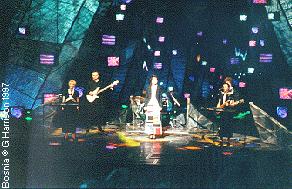 Bosnia - preceded by Cliff Richard - 'I lost the Eurovision twice'. Gone is the air hostess blue costume, to be replaced by a grey jacket over an awful white dress with patterns at the bottom. The stage is green, and we still have the somewhat corny finger clicking. Everyone on stage gets a shot. I like it, but it could be lost in the crowd.
Portugal - Black dress almost contains Celia, and has a side slit to the hip. Too many long shots reduce the impact.
Sweden - Stage is in Swedish colours, blue and yellow. Excellent, but just as in the Melodifestivalen. Totally unchanged.
Greece - preceded by 1992-4 winners. Marianna wears a yellow dress on a yellow stage. Voice drowned - needs to be much more gentle.
Malta - Purple and Turqoise long dress. Excellent performance - sounds like top 5.
Hungary - preceded by half of 'Bucks Fizz' - Cheryl wishes 'Good Luck'. The boys are on stools in Black and White, and so is the foggy stage. Feedback marred this, but there's more orchestral backing with flutes and violins, and a proper ending. Hard to forecast.
Russia - Alla in black gives a towering performance, to a very supportive audience. Very expressive, but some is lost by the frequent use of distant views from the back of the stage. She still 'drinks' from the microphone at the end.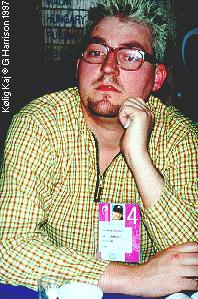 Denmark - preceded by Julio Inglesias - 'One of the most beautiful moments in my life'. Denmark has just gone up in my estimation. It's now just like the video, and looks great on the TV. They follow the action superbly, and I can see it doing better than most people expect.
France - Fanny in black top, and trousers with a blue stage. She still looks like your kid sister, and I find this chanson dull. Still smirks at the end!
Croatia - preceded by Sandra Kim admitting, 'I was only 13, not 14 years old when I wwon in 1986'. ENI now have fluorescent costumes, and Iva sports pigtails. Her green costume makes her look like a large leprachaun. However, this is fast becoming one of my favourite songs, and they look great on the stage. I still feel the stodgy RTE camera work doesn't do them justice. Cuts are slow, and there's a lot of long shots. Despite this, I expect a high score.
United Kingdom - Katrina has a green shirt, black trousers. The stage is filled with light - maybe the lyrics have been read literally? - Good performance, and Katrina doesn't bend down so much. The song is now improved with the addition of lots of violins. A top 5 for sure.
Iceland - preceded by Rolf and Fionualla of Secret Garden. Paul's David Sylvian meets Gary Numan performance is a great hit amongst people here. The song is performed on a black sofa, with girls in sexy black costumes draped over it, and Paul amongst it all. Sure to be a cult behind this one, but not top 5 - not wide enough appeal.
Well, that's all!
My forecast:
5th - Slovenia
4th - Croatia
3rd - Malta
2nd - United Kingdom
1st - Ireland