---
My Trip to Eurovision 1995
---
Here is my report on my visit to last year's Eurovision Song Contest at The Point, Dublin.
Arrival
I arrived on Friday May 12th, and immediately after checking in at the hotel went down to the Point to get a look at the first proper rehearsal that afternoon.

I'd seen the previews on Norwegian TV, and I already had my favourites which were Norway, Germany, Belgium, Malta, and Cyprus. It was already quite polished as a presentation, but some artists didn't take it as a dress rehearsal - there were jeans etc. The Russian artist however, wore his pink jacket with gold buttons, which he would abandon on the night. Souvenirs were on sale only at the point - Sweat shirts, mugs, T-shirts, pens were selling well. However in Dublin there was nothing to be had. Only the UK, and Irish songs were seen on sale, apart from an Irish Eurovision compilation CD, which had been issued last year. Dublin was hardly noticing Eurovision.

There were two other rehearsals, on Friday evening, and on Saturday afternoon, the latter being seen by the Juries all over Europe. We didn't get to these, but I have seen the last rehearsal at a previous Song Contest (this was my third) - it usually ends with mock voting to practice the all-important douze point stuff, and even a mock winner. The juries don't see this part, of course. (I have a friend who was a UK juror in 1989).

Hotels were well sussed-out. Sweden was in the Davenport, Portugal and Slovenia at the Temple Bar, and the more intrepid of our party did some stake-outs!
The night itself
Dublin was grid-locked Saturday tea-time by the total exclusion zone close to The Point, so we were pleased our taxi was early. The driver played the Riverdance cassette album on the way. I had my UK and Norwegian flags, as I was particularly fond of Norway's song ever since I first heard it in mid-March. Other people had flags for their favourites. We were at The Point at 6.25, and were able to photograph some of the stars arriving through the front door.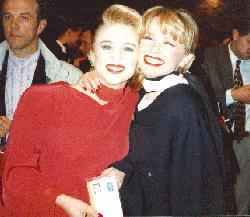 Lidija & Danejela from Croatia
Jonathan King wore a multi-coloured afro wig, which certainly got him noticed. Asked about Norway's song he said it was obviously modelled on Riverdance. He was confident about Love City Groove beating it, though.
Before long it was time to take our seats at 7.30, but not before we got our freebies of a box of chocolates, a pen, a programme, and a tape of the Irish compilation mentioned above. We had to be in early so the President and Taoseach of Ireland could come in later. It was pretty hot in there, and there was real excitement. The big screens were displaying sound synchronization signals being sent over Eurovision, and the lasers were showing a clock ticking towards eight. We were rehearsed for our opening cheer, and before we knew they we playing our tune - the Eurovision theme (which, BTW is from 'Te Deum' by Charpentier), and we were off.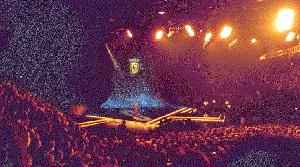 Start of the show
I can tell you the sound was great, and no Terry Wogan!, and we could see it all, even Hungary's blind (?) singer being led in. The stage looked much smaller, and brighter than it looks on TV, and those lasers in 'Love City Groove' shone right up to my seat. Not very pleasant! Near to me one fan flew his Croatian flag, and then partly folded it to become a French flag! Of course I flew Norway and the UK. After hearing them again, I still felt Norway was my favourite, but Spain and Cyprus had risen in my estimation, and I felt the new arrangement for Germany had much improved it. Denmark sounded poorer, by contrast, the pizzicato violins replaced by a xylophone. The monks interval act were actually on tape, apart from a few shots, so quite a few drifted out, but the voting was pretty exciting. The UK fairly quickly slipped away, but I was watching Norway. It was always strong but only became a sure winner after Israel's voting. The Norwegian contingent began waving 'Victory for Norway' straight away. I was very pleased - it had been my favourite all along. I promised to become unbearably smug, having forecast Norway as the winner before the show. Some of the fireworks at the end of the show failed to go off, and there was a minor panic after the end of transmission.
Press Conference
For us crazies, it was straight outside to get to the sort-of press conference in the foyer. Philipp Kirkorov was already being being filmed by German TV. He fills stadiums in Russia, but he seemed well out of date with his hair and mascara. Germany's duo, were well mobbed and looked very disappointed. They didn't stay long, but I managed to get an autograph and photo from them. Jan Johansen was impressed by my Swedish and straightened my tie, as he told me he was quite happy about Norway's win - he was half Norwegian. Aud Wilken was being interviewed in various languages, including her native German. Alex Panayi was very chatty, and said it was a pity we couldn't look forward to having next year's show on the beach at Limassol.
Nathalie Santamaria was almost unnoticed sitting down waiting for someone with a single red rose in her hand. She was very cute. Lidija and Danijela of Croatia posed endlessly for photos, but spoke little English. The group's manager Tonci Huljic (the piano player), was amazed we had seen them on Croatian TV. I didn't tell him I had an LP by Magazin. He said it was a pity there were two songs with violin solos. Spain's Anabel Conde soaked up the praise wearing that strange dress. She had sung brilliantly we thought.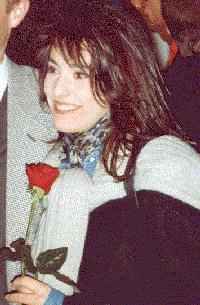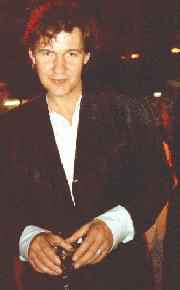 Nathalie Santamaria & Johnny Logan
The RTE party
Anyway we then went to the RTE party at the RDS. The beer ran out within an hour, but it was great fun to see Liora dancing, and talk to Johnny Logan (it was his 40th birthday).
I managed to miss Evridiki, who was over with her husband (conductor for Cyprus). She was compere and interval act in this year's Cyprus selection show.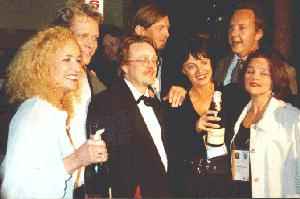 Secret Garden
Norway came in to a massive cheer, and eventually got on stage to sing with Linda Martin. To Cruz from Portugal was there too, as were Love City Groove, not greatly disappointed. Hungary's Csaba Szigeti was walking about. Was he blind? The part fizzled away around 2.30, and we went back to our hotel, and talked until 4.30!.
Next day I bumped into To Cruz's dad at the Temple Bar hotel. Those Eurovision shirts get you noticed! He was very proud of his son's song which is a plea for racial tolerance. Vanilla and Chocolate is the English title.
Airport stakeout
At the airport, about to leave, we noticed a wooden box on a trolley. Yes, it was the trophy, and it was awful to carry - no handle! Fionnuala and Rolf of Secret Garden were checking in. Fionnuala had a hat on, but still wore tight leather trousers. They both looked dead tired, but told us they hoped for a UK single and album release. We got a copy of the single to add to the collection, and went through customs to find Jan Johansen buying a walkman. He was happy to talk, and proudly showed us his gold disk for 25,000 copies of 'Se paa mej'. He'd sold 30,000 now. This was his first solo single, and unusually for a Eurovision Song, it had got to Number One in Sweden. Our programmes were produced for autographs. Jan told us he had a copy with everyone's autograph. He wasn't looking forward to going home - it was snowing in Stockholm. He was the nicest person we spoke to. Very genuine.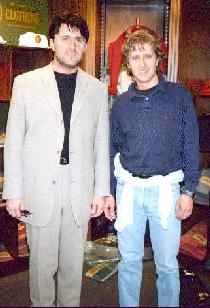 Jan and Frederic
Just then Frederic Etherlinck showed up and talked with Jan about a record Jan had promised him. They posed together for me and I noticed Frederic had a copy of the Cyprus song in his case. He was unsure of his future prospects. "This song is selling well right now, but who knows for the future?"
He was the last we saw, and it was home to reflect on a crazy weekend. Next year it will start all over again!
Finally, in case you want to sing along, here are the English lyrics to 'Nocturne' (Rolf Lovland / Petter Skalvan) :

Now let the day
Just slip away
So the dark night
May watch over you
Nocturne


Though darkness lay
It will give way
When the dark night
Delivers the day.
This article first appearred on Compuserve European Forum in May 1995. Written, and photographed by Geoff Harrison.