---
Malta 1997
---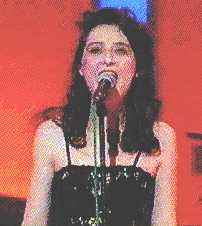 Here was the line up for the Maltese contest, to be held on the weekend of January 23rd/24th in Valetta:
According to Reuters, Debbie Scerri won with 'Let me fly' and will be in Dublin on May 3rd.
She is pictured here performing the song at the contest.
Debbie now has her own web site at http://www.keyworld.net/debbie for pictures and information, or..
Those of you with no fear of large phone bills may like to visit the Malta Song web site where there is a 9Mb 28 second video clip (which took 90 minutes to download), or a full video at 23Mb.
Georgina sang for Malta in 1991, coming 6th with "Could it be" (with Paul Geordimaina), and was in the 1996 Maltese contest, as was Renato who last represented Malta in 1975, coming 12th with "Singing this song", but Mary Spiteri gave Malta its highest place in 1992 with "Little child", which came 3rd. She also took part in the 1995 Maltese contest. Claudette Pace, Triccas, Godwin Lucas, Manolito, June May, Alexander Schembri and Debbie Scerri (as Debbie Xerri) all tried last year in the 1996 Maltese contest.
Compare the lists by looking at the 1996 line-up
Internal links: