---
Turkey 2002
---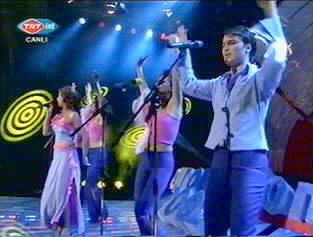 The group Safir (right) will represent Turkey in Tallinn with Leylaklar soldu kalbinde (Lilacs Filled My Heart)
It has a lively Eurovision-style opening, but turns into a rather traditional Turkish song similar to the 2000 song
Turkey staged its final on February 15th. This time only 5 songs took part, but the show still ran to 90 minutes with the addition of appearances by past Turkish representatives Sedat Yüce, Pinar Ayhan & the S.O.S, & Tuba Önal.
As ever, there was an expert jury to pick just the winning song, and no other results were announced.
This year no CD of the songs either.
The five songs:
| | | | |
| --- | --- | --- | --- |
| # | Title | Composers | Performers |
| 1 | Leylaklar soldu kalbinde | Fani Hodara | Safir |
| 2 | Günes dogarken | Akin Bayraktar | Dolunay |
| 3 | Saril bana | Ayça Dönmez | Ayça Dönmez |
| 4 | Son sans | Cenk Yeles | Cenk Yeles |
| 5 | Ne olursun birseyler söyle | Semih Bayraktar | Semih Bayraktar |
If you have any news or updates on this country's National selection I'd like to hear about it. E-Mail me, Geoff Harrison, at my contact page