---
Croatia 1997
---
News on the 1997 Dora from Marko Prpic (results), Tomislav Karas, Damir Ivankic and Drazen Tatalovic, and thanks to Craig Stoddart for some corrections regarding Magazin, and placings.
The winning song was 'Probudi me' (Wake me up), performed by four girls named ENI (seen here with the Dora trophy). They started together in group PUTOKAZI and then in PUT (the 1993 Croatian entrants). However, none of these four were in Millstreet to sing 'Don't ever Cry' in 1993.
The winning song got 170 votes, second one IDI (go) sang by Petar Graso got 161. Maja Blagdan, last year`s winner, finished as third place with 134 votes.

Here is a full report on seeing the contest on videotape, by the editor of these pages, and Cro-pop fan, Geoff Harrison: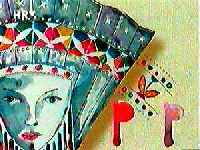 There were 20 songs, 13 written by invited authors such are Zrinko Tutic, Tonci Huljic, Rajko Dujmic or Djordje Novkovic and 7 chosen by public contest.
As ever, beautifully mounted in the Hotel Kvarner, the Dora this year was presented by Ljudevit Grguric-Grga, and opned with Maja Blagdan singing last year's song, "Sveta Ljubav". We were to see her again later in the show.
Here was a complete Dora list in running order, with my comments in italics:
Song No - Song Title - Performer
Composer/ Author
POVEDI ME (Lead me) - Tajana (=19th)
Ivan Mikulic/Fayo
A good song, but a bad opening, because Tajana sang it so badly

NEMAMO TO PRAVO (We don't have the right) - Ksenija (17th)
Andrej Babic/Andrej Babic
Lots of arm-waving, not very memorable.

LUCIJA - Oliver Dragojevic (8th)
Zdenko Runjic/Eva Silas
Rather monotonous, not really in old Oliver's style or in his vocal range.

BOJE LJUBAVI (The colours of love)- Bay Bis (=19th)
Zrinko Tutic/Zrinko Tutic
Three pretty girls in a song by last year's winning writer. Some dancing, and it was lively and cheerful, but had rather too many "Woo"'s for my taste. Not one of Zrinko's better songs.

NASOJ LJUBAVI (To our love) - Branka B. (18th)
Gibonni/Gibonni
Solo girl singer who kept getting up and then sitting again on a chair. Backed by two ballerinas. Pleasant, undeserving of almost last place.

OPIUM - Magazin (7th)
Tonci Huljic/Vjekoslava Huljic
Easily the best so far. Jelena from last year's contest was there as lead singer, singing well. A catchy melody with harp at the end, but why did she stand on one leg at the end?

ZORA (Dawn)- Ivana Plechinger (10th)
Ivana Plechinger/Bruno Kovacic
A vaguely folksy piece with a male/female couple of distracting dancers who were into wrestling. Disappointing.

PROBUDI ME (Wake me) - E.N.I. (Winner !!)
Davor Tolja/Alida Sarar
Not quite the Croatian Spice Girls, but these 4 girls sang a cheerful lively song well, and it stood out so far.

ZADNJA NOC (The last night) - Donna Ares (12th)
Guido Mineo/Mavrin/Pilepic
Donna was a blond sitting at a piano. Uninteresting song with a sudden ending.

IDI (Go away) - Petar Graso (2nd)
Petar Graso/Petar Graso
Long-haired bearded Petar had been favourite to win with this very effective dramatic ballad, which he sang well, to a good reception in the hall.

ZORA DJEVOJKA (Girl called Zora)- Lidija Bajuk (5th)
Lidija Bajuk/Lidija Bajuk
A girl with a guitar in a very folksy song. Four backing musicians on stage, but despite being pleasant, it didn't have enough impact.

TI SI SUPER, TI SI MRAK (You're great, you're cool) - Lana Cencic (16th)
Lana Cencic/Fayo
3 girls, 3 men on stage, but only Lana, a blond-haired girl sang. A much more modern song, but quite forgettable, apart from the odd graphic overlay of a moving transparent box Croatian TV choose to use on this song.

VOLJET CU TE VJECNO (i'll love you forever)- Breskovic Brothers (9th)
Tonci Breskovic/Nikola Breskovic
Piano, bass and xylophone on stage, but the xylophone-playing brother was a girl. Vaguely jazz in style.

VRIJEME (Time) - Novi Fosili (11th)
Rajko Dujmic/Fayo
A slow opening from a male lead, the two girl singers walking slowly down a staircase onto the stage. The melody was so slowly developed there wasn't enough of before they ran out of 'vrijeme'. Not a patch on last year's offering.

MAGLA (Mist) - Minea (14th)
Fedor Boic/Vjekoslava Huljic
Totally out of character, Minea usually does fast songs. Here she was in a long dress singing a ballad, and making a good job of it. I'd have rather had something like her 'Uberi ljubicu', but this one should've done better.

ZA NAS (For us)- Maja Blagdan (3rd)
Slobodan Vujovic/Marina Valkovic
Another powerful shout-the-house-down song from Maja, this time wearing a purple trouser suit. Very good, and very much what Maja is best at, but no 'Sveta Ljubav'.

MOJE NEBO (My heaven) - Leo (6th)
Djordje Novkovic/Stefanija Soldan/Eduard Matesic
Rather forgettable ballad

ZAMANTAN (Seduced) - Drazen Zanko (15th)
Drazen Zanko/Drazen Zanko
Another fairly standard, but rather un-outstanding ballad.

PROLJECE (spring) - Ivan Mikulic (13th)
Miro Buljan/Fayo
Uptempo and rockier, but still nothing special, despite Ivan's excellent credentials.

TI (You)- Alan Nizetic (4th)
Nenad Nincevic/Nenad Nincevic
Another rather forgettable ballad, a pity.
After all this, the interval act was Brazilian singer Corona, who was on for over half an hour, and was thoroughly awful, in my opinion, with her style of dance rock music. Why we couldn't get a decent Croatian artist, I don't know.
Then came the rather drawn-out voting assisted by Miss Croatia (who got the job the day before), Vanja Rupena, and eventually E.N.I. reprised the winning song.
To sum up, the 'Dora' was below par this year, but only because the standard since the 1994 contest had been so very high. It was still one of this year's best contests.
I wish Ivona, Nikolina, Elena, and Iva well, but I find it hard to forecast how well the song will do in Dublin. People here in England who I have shown it to are not expecting much from it, but it may surprise us.
More information, and sound files of all songs now on the Croatian TV home page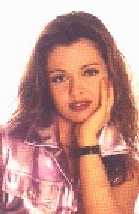 http://www.hrt.hr/eurovizija/rez_eng.html
Here is my earlier preview of this year's Dora.
The "Dora" will be staged in, as usual, Hotel Kvarner in Opatija, and falls the same weekend as the Croatian record industry awards - the Porin - held also at Hotel Kvarner.
Some list! - Here's some background written my your editor, Geoff Harrison:
Ivana Plechinger is a very successful young singer whose biggest hit was 'Male ptice nebeske' in 1995, but has had success in 1996 with 'Lopovi'.
Ivana's material is only slightly less cheerful than the ever-smiling Minea (seen above), whose 'Good boy' in the 1995 Dora launched her career.
Now 19 years old, Minea (real name Renata Koncic) continues to sing very upbeat songs, and has had two albums. My favourite single is 'Uberi ljubicu', which features bagpipes, and is something about teenagers, I think.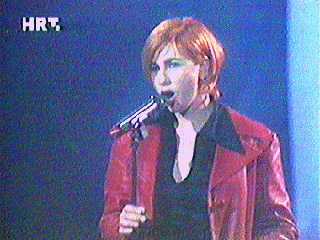 E N I are a girl group very similar to 'Divas' in last year's Croatian contest.
Magazin are no strangers to the contest, having appeared in the 1995 contest in Dublin. Their band leader, Tonci Huljic, wrote the song 'Aha' sung by Jelena in last year's Dora, so in a way they are ever present. No Lidija, this time, and Danijela Martinovic has now left as vocalist, to be replaced by Jelena.
Maja Blagdan (right) obviously never gives up - this was her third 'Dora'. She came 4th last year in Oslo with 'Sveta Ljubav' and is one of Croatia's biggest stars. I have all three of her albums, and in the latest, 'Sveta Ljubav' there is a distinct change from the traditional Croatian ballad-style. Although she didn't win the 'Dora' this year, she did win an award in the Croatian record industry prize, the Porin, two days before the contest, and is seen here performing in the Porin 1997.
Novi Fossili again took part, having done so well in last year's Dora with 'Spray'. This band go right back to the sixties in Croatia, but there have been changes in the line-up, particulary the girls.
There are many other well-known acts in this Dora. It will surely be the best National final again, as it was last last year.
Follow this link for more about Maja Blagdan, Novi Fossili, and Minea. At this link you can read about my visit to Dublin in 1995, and see a picture of Magazin.
Why not revisit last year's Croatian contest and see more of Maja, and Novi Fossili at my attic site.
Internal links: