Elisabeth, the musical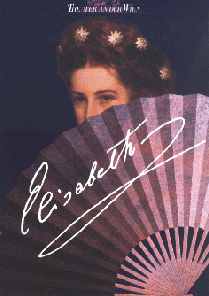 Elisabeth, the musical based on her life, had its World Premiere on 3rd September 1992, at the Theater An Der Wien, Vienna.
The musical is written by Michael Kunze and Sylvester Levay, and is truly original, unlike so many British musicals.
The music is truly superb, and is available on an original cast recording, which has sold over 150,000 copies. There is now also a 'live' recording with Maya Hakvoort as 'Elisabeth' and Addo Kruizinga as 'Death', as well as a 3-CD recording of the Japanese version.
There have been over 1000 performances, and well over 1,000,000 people have now seen this most successful ever German-language musical.
The story is related by Sisi's murderer, Luigi Lucheni, and is partly allegorical, death taking form as Sisi's one true love. It is Death that passes Lucheni the knife that fateful day in 1898. Highly recommended!
Please select a link on the left to find out more about the diferent productions of "Elisabeth".