---
Convention 1996 Report
---
November 2nd and 3rd saw the 10th annual convention of Eurovision Network, the UK's biggest Eurovision fan club, and I was there for the second day. The event was held in Bingley, Yorkshire.
On this page you can see two photos taken by me, Geoff Harrison.
One of the highlights of the first day was the record fair where one of the most highly prized CDs from this year was the Swiss entry, rumoured to be worth over 75 pounds. I am pleased to say I have such a CD personally autographed for me by Kathy Leander!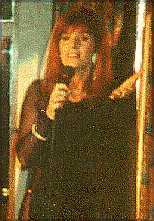 The second day's highlight was the live performance of Linda Martin, second place in the 1984 contest, and winner in the 1992 with 'Why Me?", but Linda has performed in many Irish contests.
She opened with 'Love isn't love', the English version of Carola's 1983 song 'Främling', which she had sung in the interval of the 1993 Irish Eurosong. She then ran through an excellent and very entertaining set including one of my favourites, 'All the people in the world' from the 1990 Irish Eurosong contest.
Both 'Terminal 3' and 'Why Me?' were presented, and plenty more. Linda was very happy to pose for photos and write autographs afterward.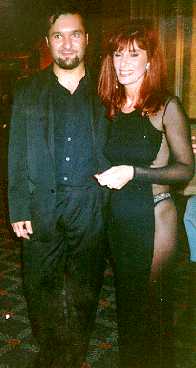 She was preceded on stage by Marcel Polander, this year's Slovakian singer.
Marcel sang a few numbers, including the English version of his Eurovision song 'Right on time', and 'Amazing grace'.
Afterwards I spoke to him and his new manager, Mhairi Derby-Pitt (from Scotland).
Marcel has a new album partly recorded, but it still needs some further work in the studio. Currently it's partly in Slovakian, but decisions on its eventual marketing are not yet made. He is hopeful of a release in Europe, at least, in early 1997.
Asked if he'd like to work in the UK, Marcel told me, "That's what I hope to do'. I'd like to live outside Slovakia for a time". He told me the comparative failure of his entry had not been well received in Slovakia, particularly in government circles.
Remembering his press conferences in Oslo had been conducted in French, (he lived for many years in Monaco) I asked him how his English was coming on. "I've been learning it for a week now", he said.
About the famous 'MC Erik and Barbara' saga (for those who don't know, up to the last few weeks before Oslo they were believed to be representing Slovakia), Marcel told me he had always been the entrant from the closed Slovakian contest. MC Erik and Barbara were very well known in Slovakia, and had announced their going to Oslo, before the decision had actually been made.
Marcel is a genuinely charming man, and I wish him well in his plans for the future. I also recommend hearing the dance version of 'Right on time'.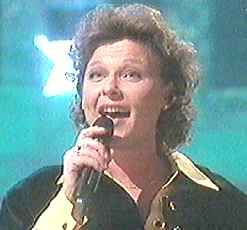 Another day one event was the Network Convention Contest where songs which didn't make it to an international final are nominated by members to do battle. Videos of the songs are shown, the audience divided into juries, and votes cast.
This year's winning song was Lotta Engberg's 'Juliette och Jonathon' from the 1996 Melodifestivalen, which was a contest I had the pleasure of seeing live (thanks to Tobias Larsson), and should've won that contest too. Still Lotta had some triumph in Bingley!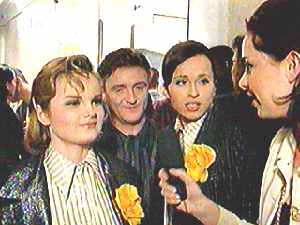 Second place went to 'Spray' by Novi Fosili from the 1996 Croatian contest, which was narrowly beat by Lotta.
Internal links: